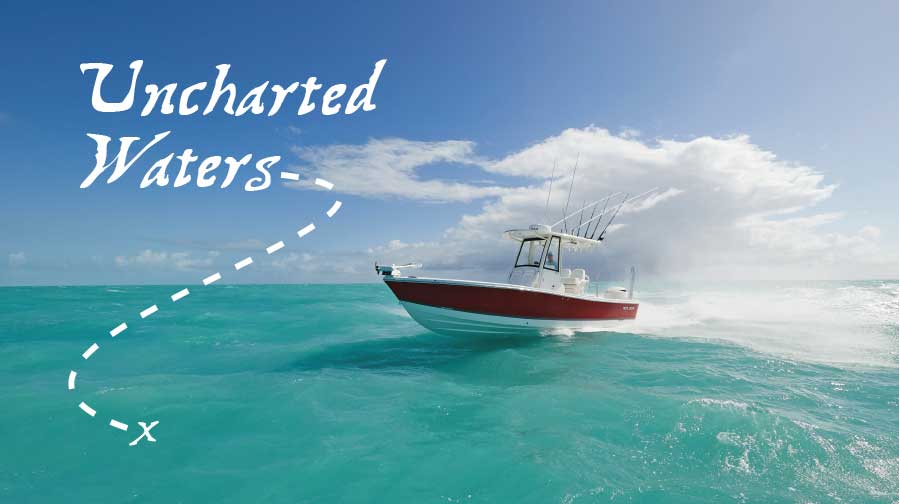 The New Regulator 26XO Covers All The Bases
Are you looking for a center console that can take you anywhere? A boat that is practical for the family, but equipped for serious fishing? A boat that is nimble enough to navigate the flats, but robust enough to venture offshore? Arguably, such a boat did not exist until now: Regulator Marine has just launched their latest innovation in the center console market—the unprecedented 26XO.
The 26XO is the most recent addition to Regulator's lineup of center consoles and can perform in bays, lakes and rivers, while also offering the stability to be taken offshore. Regulator used their long-time partnership with naval architect Lou Codega to develop a hybrid design that sports characteristics of both traditional "deep-v" center consoles and popular "bay boat" styles.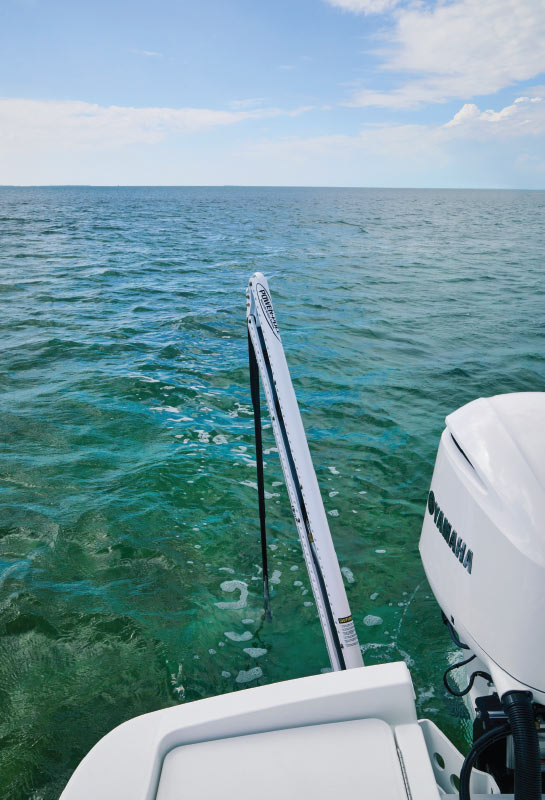 Regulator President and co-founder Joan Maxwell spoke to its uniqueness, saying, "There is not anything that we can really compare this to on the market." The 26 will be the first of an entire XO series, with more models being planned for the near future. "This launch marks our entry into a new category. Some call it a hybrid, some call it a crossover, we call it a Regulator," added Maxwell.
When comparing the 26XO to its deep-v cousins, this boat looks remarkably familiar. It still possesses distinct Regulator lines, riding angle, and finish; however, it is decisively different than any of its predecessors. The 17-degree deadrise is much shallower than the 24-degree deadrise of the traditional Regulator models, which allows for versatility in different boating conditions.
Introducing a Regulator that can take you onto the flats or venture offshore.
When asked about Regulator's inspiration for developing and launching the new XO series, Maxwell explained, "Our customers and fans have been asking for a Regulator that can take them into skinny waters but still go offshore, a boat that maintains our commitment to quality and sportfishing, but focuses more on the recreational aspects of boating and family time on the water."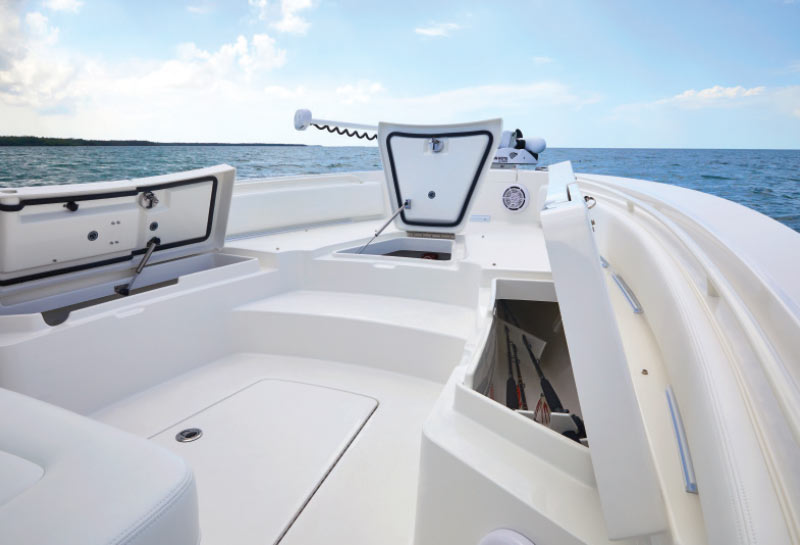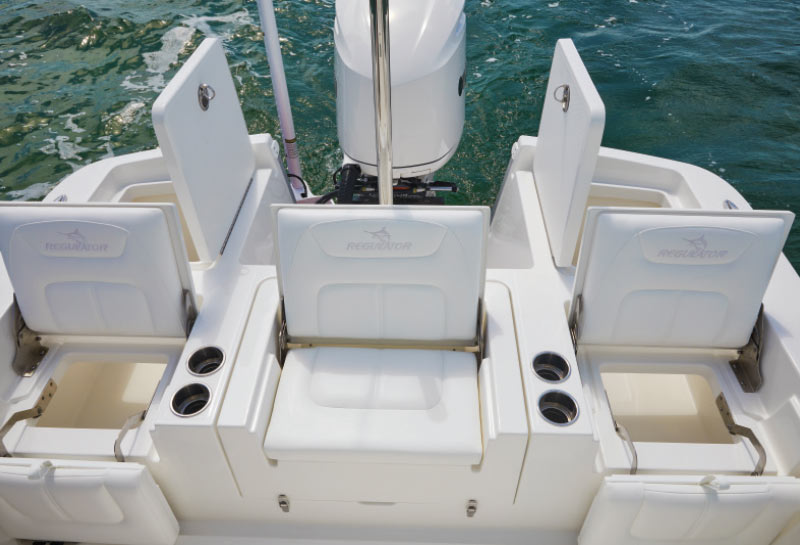 The first new Regulator to be offered with a jack plate, power pole and trolling motor.
Feature Focused
Bluewater Sales Professional Roger Mooney was one of the first to tour the demo boat. "My initial impression was that the 26XO is going to be a huge hit and has already proven to be one. The customers I spoke with at the Miami debut were blown away," recounts Mooney. Its versatility is enabled by an ability to perform in shallow water with a standard Yamaha F300 outboard and a SeaStar Solutions hydraulic jackplate. Working in tandem, this provides a maximum draft of 30 inches and a minimum draft of just 14 inches. With options like a Minn Kota trolling motor with i-Pilot GPS and a 10' Power Pole blade anchor, the new 26XO demands attention from those searching for a shallow water boat.
"The customers I spoke with were blown away."
In addition to all the inshore fishing features, this boat also hosts plenty of comforts for the entire family. The 26XO has Regulator's signature forward seating with built-in backrests, dual helm chairs, plus three cockpit seats that fold flat to create a large casting platform. "The 26XO has a fantastic helm design and T-Top with integrated wraparound windshield that really sets the boat off," summarizes Mooney. The Garmin 16 Fish Package comes standard as does stand-up head space with a portable marine toilet. A plumbed head with holding tank is an available option. There is ample storage for a day on the water with a console cooler seat, a 70 gallon in-deck fishbox, and large storage compartments. It also beckons families for a fun-filled day on the water with removable watersports tow bar, integrated ladder in the swim platform and the copious amounts of seating available forward and aft.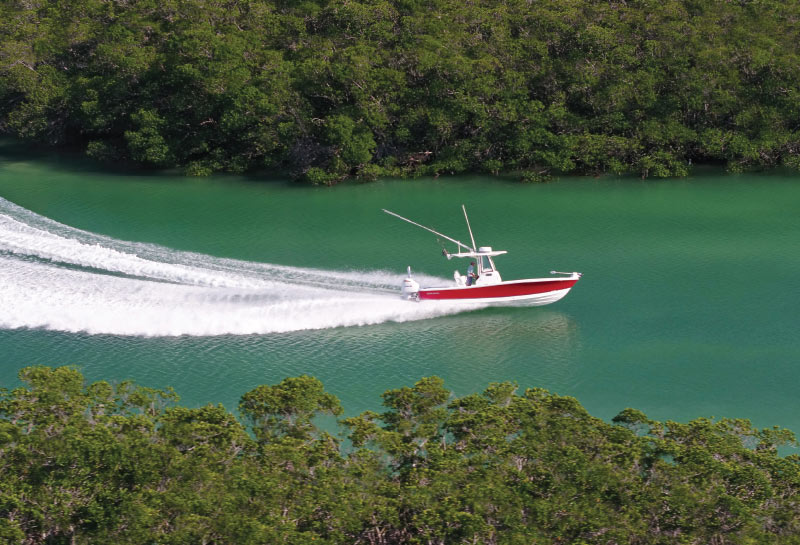 REGULATOR 26XO
LOA: 26' 9″
Beam: 9' 3"
Draft: 1' 2" – 2′ 6″
Fuel Capacity: 107 gal.
Water Capacity: 20 gal.
Dry Weight: 5,900 lbs.
Deadrise: 17°
Power: Single Yamaha F300
Top Speed: 39.5 knots
The model also offers the best of both worlds when it comes to speed, handling and efficiency. The single Yamaha F300 has a long track record of proven reliability and offers efficient cruise speeds of 29 MPH (25 knots) returning an impressive 2.43 miles per gallon (12 GPH consumption). Regulator co-founder and VP of Product Development, Owen Maxwell boasts, "The new 26XO is rock solid, very stable, very predictable, it's a Regulator."
Clearly, when it comes to performance on the water, the new 26XO delivers in nearly any condition. This boat is ready to fish the flats, the bays, or head offshore.
Increasing Capacity
The new XO series was made possible in part by a major factory expansion and the hiring of 45 new skilled workers to bring Regulator's full labor force to over 220 people. The expansion provides offices and more space for the growing engineering and development teams, plus 35,000 square feet of additional assembly space along with 8,000 square feet becoming part of the main lamination facility. The added space at Regulator's Edenton, North Carolina production plant will rearrange some processes and departments, leading to greater efficiency for different areas of production and assembly.
Regulator never stops pioneering new ideas and never rests with what their most current boat lineup can do. Each year, new features and options are added to Regulator models based on input from customers and long-time dealers like Bluewater Yacht Sales. Most recently, the 41 received major upgrades for both fishing amenities and cabin finishes, plus Regulator's new integrated wraparound windshield design which has already trickled down to the 26XO.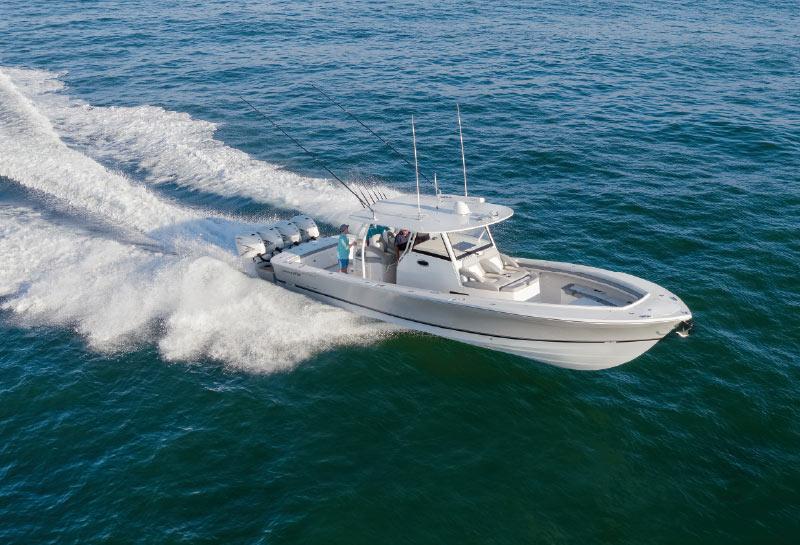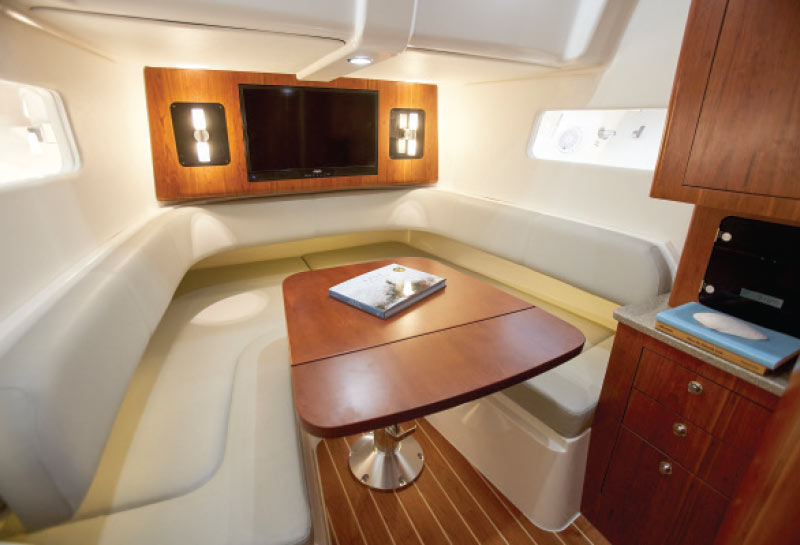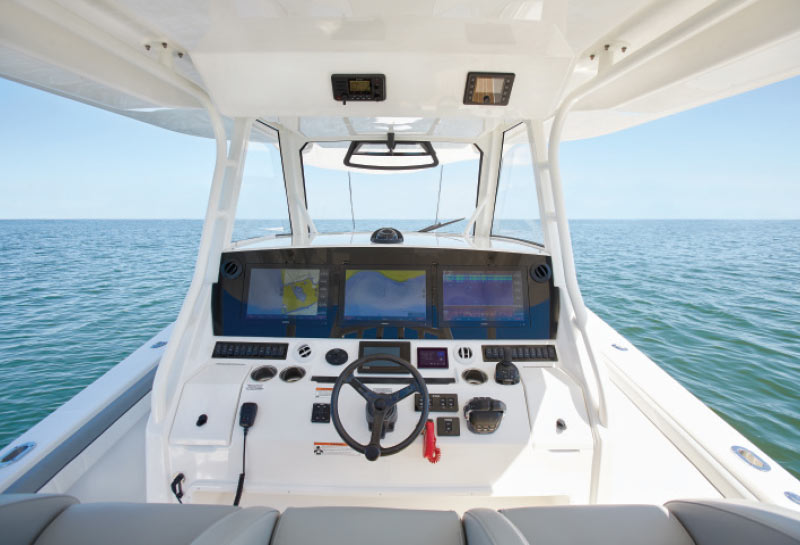 REGULATOR 41 UPDATES
The revised Regulator 41 boasts innovation at its core with an expanded cabin, redesigned tower access, and updated features to meet every offshore need. Improved protection at the helm is provided by an integrated wraparound windshield while the new cockpit SureShade® offers comfort for the new aft mezzanine seat and built-in tackle center.
When not fishing, the new 41 offers upgraded accommodations and features below deck with a galley, double berth, and spacious head with shower. Additional options for 2019 include Taco® Grand Slam 380 outrigger bases with 20' carbon fiber telescoping poles, a Seakeeper 6 and 1,700hp on tap from Yamaha's recently released quad XTO 425hp engines.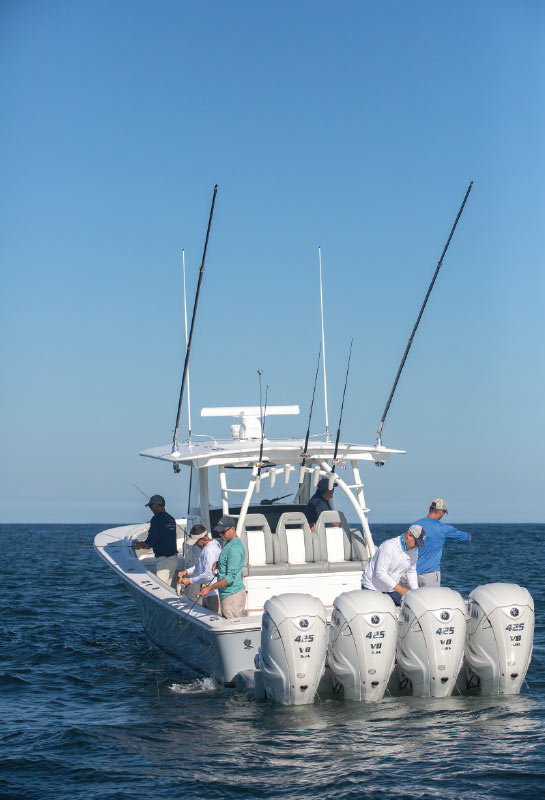 Much buzz was generated prior to the 26XO debut at the Miami International Boat Show, and the unveiling did not disappoint. This boat has the brawn of her Regulator relatives with the modified hull design to run in thin water. Regulator's attention to detail coupled with an impressive list of standard features and fishing amenities back it all up. Its innovations and striking aesthetics has helped the new 26XO receive unending positive feedback from customers, dealers and media outlets.
Regulator's refusal to settle for status quo helps deliver us all into the future with incredible new models like the 26XO. To Regulator: Don't ever lose that tenacity and constant drive to improve!