Two Marine Emergency Kits That May Save Your Life
The low light of Spring Break '91 was Dad and I being airlifted from our boat trip to the hospital. Our injuries weren't life threatening, but serious. It took quite a concert of first responders to get us to the nearest marina.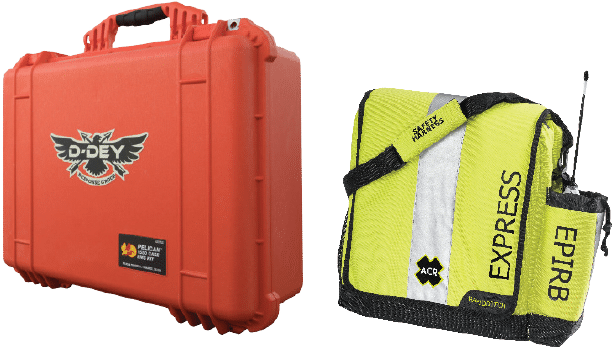 From there we were ambulanced to a makeshift helipad (a sandy softball field in Boca Grande, Florida) before truly being on our way to treatment via air. It was a lengthy extraction coordinated over VHF—an event that puts the seriousness of more critical onboard traumas into sharp perspective for me.
Through that lens, this won't be another checklist about keeping your boat's fire extinguishers and flares up-to-date. Sure, that's always important, but we're going to discuss next-level preparedness here. We're talking about responding favorably to a grisly injury or life-threatening condition; grave situations that need capably triaged while the nearest help is still hours—or even days—away.
When an accident happens on the water, you and your crew need to be mentally prepared to stay calm and physically equipped to steer the situation toward a positive outcome. Beyond your mandatory flares, throw-ables and life jackets, there's a whole range of extraordinary products and services that can greatly boost your preparedness and survivability.
Plan, Prepare, Perform
D-Dey is a relative newcomer in the boating sector, but has an impressive history of training military, fire, and law enforcement personnel. Don Deyo, former Special Forces Green Beret and firefighter-paramedic, references a call from his friend, the owner of a 61' Garlington sportfish, as a flash point. "A passenger fell off their bridge one day and suffered a compound fracture while the boat was still 80-some miles from shore," recounts Deyo. Ultimately, they had gotten the patient in okay, but it had clearly left the Captain shaken and looking for more resources. They asked Don to train their family and crew, plus build a top-notch first aid kit for the boat—there would be no budget. It was a natural extension of D-Dey's military expertise; teaching civilians to practice austere medicine to save lives while in the middle of nowhere.
D-Dey has since developed an Emergency Life Saver (ELS) course for boating customers based on military battlefield experience and decades of paramedic training. They offer 8-hour classes and custom-made kits that help prepare crews for routine injuries and serious threats. D-Dey team member Joel Gupton explains, "That might mean something minor, like a hook in the arm or a broken tooth, or it could be as serious as a 'widow-maker' heart attack. You never know." The group focuses on the most critical life saving techniques, tools and training that will give a patient the best possible chance at survival. Students are trained and hands-on tested in administering tourniquets, pressure dressings, splinting and CPR.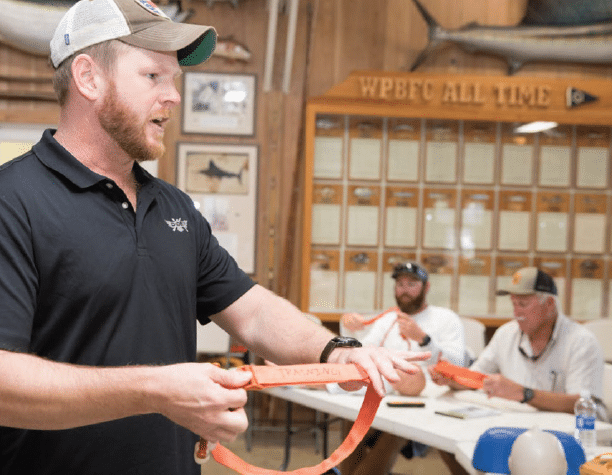 Medical issues aboard can run the gamut, but fishing activities are particularly accident-prone. "Catching a billfish or toothy wahoo, spear fishing and free diving… These are high risk activities and we have heard a lot of war stories from Captains," says Gupton. D-Dey's seminars are tailored for their participants' situations and can include the subtleties of recognizing stroke or allergic reactions to more gritty, hands-on scenarios such as dressing severe bleeds and burns or even suturing cuts. The program has been particularly popular with fishing teams and charter crews who find themselves hosting new passengers (and thus an unknown array of pre-existing conditions) on a day-to-day basis.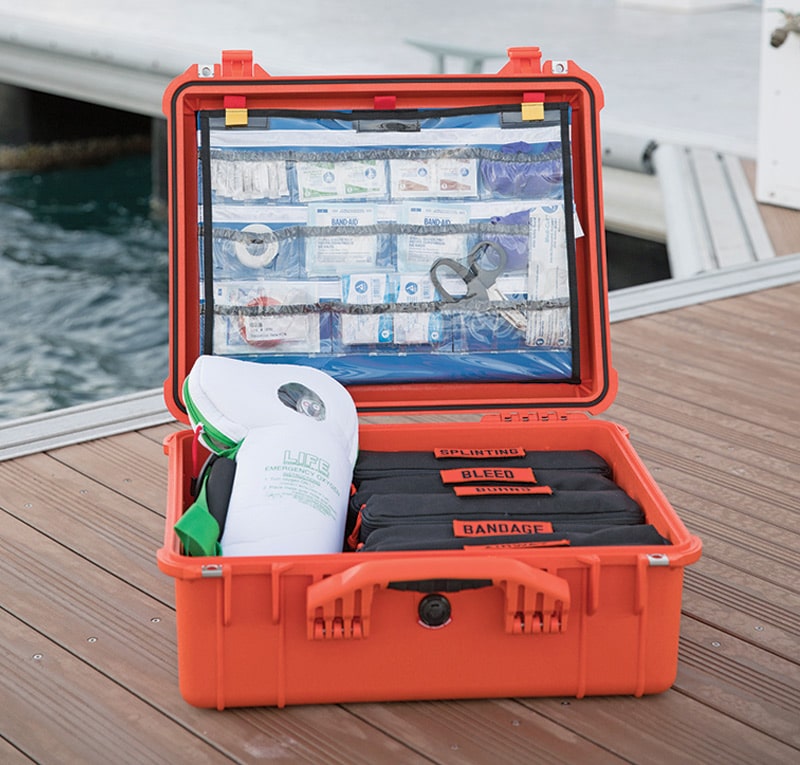 Kit for a king
In addition to trainings, D-Dey has developed a variety of top-notch, military-grade first aid kits. They all include common over-the-counter medicines and gear, dressings, tourniquets and compression bandages. Where they take it up a notch is in preparing for more serious issues. AED (defibrillators) for diagnosing life-threatening cardiac issues, staplers for wound closure, and Rx drug kits which include anaphylaxis drugs, antibiotics, anti-nausea, and analgesic pain treatments.
All are custom organized, vacuum-sealed for longevity and smartly organized into a high-vis, submergible Pelican case.
Gupton describes a variety of kits for different needs, "We have mini-kits without AEDs and O2, to keep things light and small. We also outfit superyachts for clients who have kits on every floor." He and Don stress that their emphasis is on point of injury and acute illness care. "The first 1-5 minutes is what changes the outcome of any critical medical issue," insists Gupton. "Our kits are specially organized with that urgency in mind."
Abandon Ship
Nothing warrants quick and decisive action like being on a sinking boat—it's a make-or-break few moments. When you have no choice but to abandon ship, you're going to want every advantage available to improve your situation. An EPIRB or PLB distress beacon is one of the critical pieces of gear that can almost guarantee a prompt rescue. VHF radios and line-of-sight signaling devices like flares and mirrors are essential parts of your safety gear, but a locator beacon instantly makes your emergency horizonless. Within three minutes of activating an EPIRB, the distress signal will be routed via satellite through Mission Control and Rescue Coordination Centers to confirm your emergency and dispatch a response solution.
…a locator beacon instantly makes your emergency horizonless.
There are two primary types of devices, the Emergency Position Indicating Radio Beacon (EPIRB) and Personal Locator Beacon (PLB); ACR Electronics is a leading producer of both. Despite the old school "radio" term, these devices are quite sophisticated, operating on redundant satellite networks to broadcast your exact location to authorities. Mountable EPIRBs must be registered to a vessel and work automatically—they begin transmitting when they hit the water and will remain floating in an upright position. A PLB is a smaller, handheld device which must be manually activated and held out of the water for its signal to function properly.
According to Mikele D'Arcangelo, ACR's VP of Global Marketing and Product Management, EPIRB technology has advanced greatly over the last 15 years and prices have dropped around 75% in that span. Yet only about 10% of boaters are estimated to have an EPIRB or PLB—something Mikele and ACR are working to change. Nowadays, a bare-bones beacon costs around $360. Frankly, there might not be a better dollar you can spend. "It's really an invaluable piece of gear for peace of mind and insurance," he adds.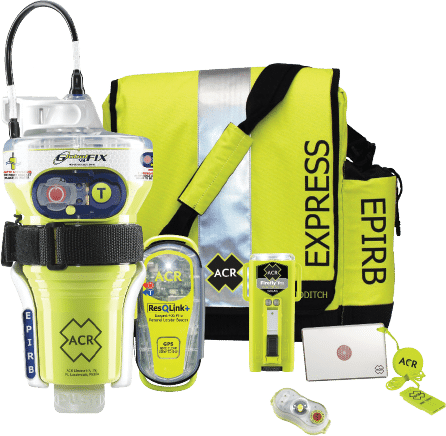 the top choice
D'Arcangelo singles out the GlobalFIX V4 as one of ACR's most popular products. This floating ditch bag comes with the company's finest survival electronics and signaling devices, plus space for 15 lbs. of additional gear, such as flares and personal effects. "We encourage customers to include 3 pyros [flares], a first aid kit, water, food, wallet, etc." Mikele adds, "the key is having everything you might need in one place, where it's easy to grab in an emergency." Should that moment arrive, once you hit the water the kits have harnesses for clipping to life jackets and tethering everyone together. "Sticking together in the water can be incredibly difficult. Imagine trying to keep your head above the waves and your arms linked while waiting several hours for a rescue," warns Mikele.
Modern Day Support
D-Dey has also taken their consultations a step further to offer telemedicine in their "365" subscription service. "Our medical team has developed a detailed method and tele-consultation workflow built to achieve the best possible outcome for a sick patient," explains Deyo. Not only can customers receive training and purchase kits, but they can get 24/7 access to D-Dey's on-call team—a literal lifeline. The group also monitors expiration dates in their kits and performs follow-ups on replacements, including AED batteries, epi-pens, and other expiring medications. "It's all about giving customers one less safety concern to worry about," concludes Deyo. ACR's electronics also need routine maintenance including staying up-to-date with EPIRB registrations and batteries. Their expansive network of battery and service provider locations cover just about any coast you could plan to visit, making for straightforward maintenance.
Beyond their advanced products, both D-Dey and ACR emphasize education, training and constant improvement to prepare their customers for the very worst. Their mission is to provide you with the tools and information you need to be self-sufficient and equipped to capably deal with a life-threatening ordeal at sea. The difference between saving a life and not is undoubtedly worth the investment.