Viking Yachts Reinvisions the Motoryacht Horizon
When Viking and the Healey family pursue a goal, they do it with true gusto and tenacity. Anyone fortunate enough to spend time around Viking Yachts President Pat Healey will instantly recognize his intense ambition and enthusiasm. This passionate drive is always focused on building a better boat for Viking customers, and in-turn capturing more market share for the company his father (Bill) and uncle (Bob) co-founded over 53 years ago. These infectious attitudes and work ethic ripple their way throughout upper management as well as across the rest of the Viking Yacht Company.
As talks first floated internally about returning to the motoryacht segment, it was clearly going to be an "all-in" type of proposition. If they decided to move forward, they wouldn't just be testing the waters, but orchestrating a strong break-out into the upscale motoryacht market.
A Respected History
Motoryachts have always proven to be a strong segment for the venerable builder. Since their early days of constructing fishing and cruising yachts available in cockpit and flybridge configurations, Viking has produced many popular hits in the cruising community. In 1987, Viking stepped up their motoryacht game with the acquisition of Gulfstar Yachts, who were said to be way ahead of their time in design and amenities.
Most of these Viking motoryachts and sport cruisers have always been built alongside their sportfishing siblings at the Viking plant in New Gretna, New Jersey.
Participants also have the unique opportunity of mingling with expert marine industry representatives from the Cruise's many sponsors. Questions about engines, electronics, navigation, insurance and financing can all be answered in a relaxing atmosphere, often with a cocktail in hand! The fun and adventure was also extended beyond the St. Michaels Marina property with a competitive scavenger hunt, encouraging teams to seek out specific landmarks and notable trinkets around the downtown St. Michaels area before the lunch bell rang. The competition was closely contested, as the 1st place team was deemed the winner on time!
In 1995, Viking's all-new 60' Cockpit Sports Yacht was awarded Boat of the Year by Boating Magazine. This boat was praised for its remarkable speed (35 knots at WOT), spacious accommodations and impressive low-speed maneuverability. This award-winning model would go on selling successfully for six years, up until Viking's eventual exit from motoryacht construction. Forming a unique partnership with Princess Yachts International, Viking took a sustained pause from producing motoryachts directly.
Instead they worked to import Princess models specifically built for the U.S. market under the brand name Viking Sport Cruisers throughout the early 2000s. Viking management aptly used this time to envision the type of motoryacht future they wanted to shape for themselves and focused on design innovations and infrastructure investments that would help thrust them there. Amid a recovering economy in 2012, it was decided the time was right to re-apply their design and engineering strengths in the large motoryacht segment.
The first model to the table was the Viking 75 Motoryacht, which debuted at the 2014 Fort Lauderdale International Boat Show. But little did the public know, that was just the first in a succession of remarkably quick product development cycles the company had up its sleeve.
Full Speed Ahead
Following on the heels of the initial success of the 75MY was the Viking 82 Cockpit Motoryacht—sharing a great deal of amenities and the functional layout of the 75MY, while adding a generous 108 sq. ft. cockpit with a fixed swim platform. Both the 75' and 82' include a full-beam master stateroom and three additional luxury staterooms, each with private head access, along with a private crew quarters. The 82 CMY branches out further from the 75 MY by offering an enclosed or open flybridge option. Both provide unparalleled views for captain and guests, along with a full wet bar and plenty of seating, while the open bridge layout includes a large fiberglass hardtop seamlessly integrated into a stylish arch. As has been the typical Viking M.O., the first few hulls of the all-new 82 CMY were already sold long before the first hull ever touched water for the first time—a true testament to Viking's reputation and willingness to develop boats that fulfill their customers' desires.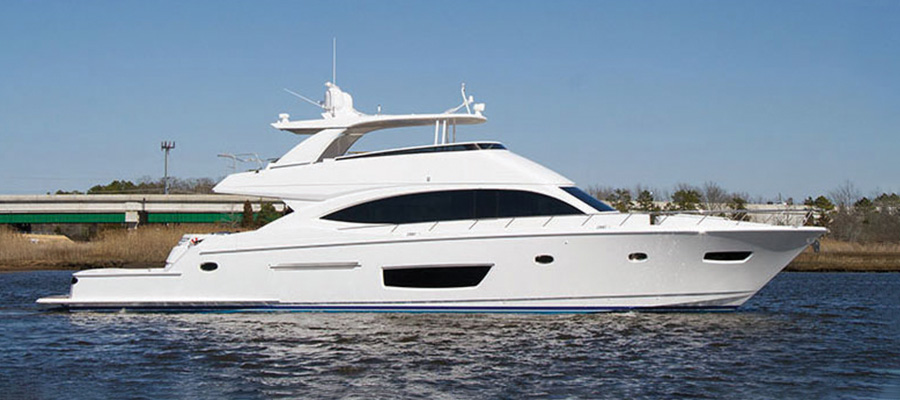 Viking 82 Cockpit Motoryacht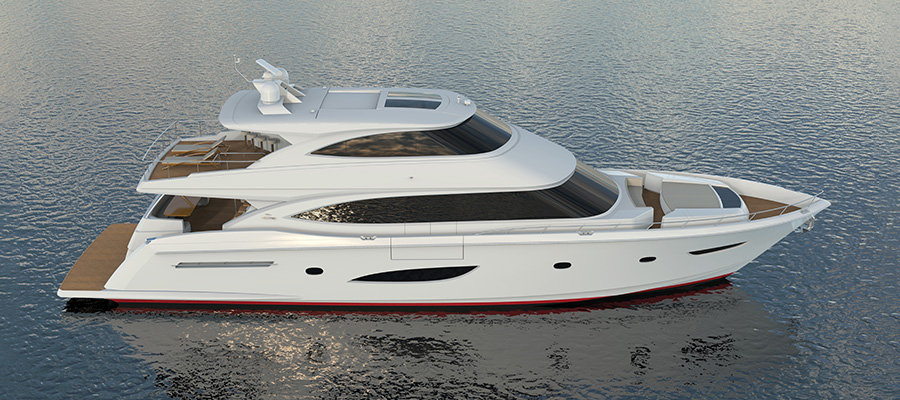 The Next Big Thing
Running down the plant's production line close behind the 82 CMY is now the largest boat the company has ever built: the Viking 93 Motoryacht. Vice President of Sales, Joe Schwab explains that while the 93 will follow many familiar design cues from the 75 and 82, this supersized motoryacht will feature many more luxurious accommodations for private use or full-fledged charter operations. Five guest staterooms are highlighted by a privately accessed full-beam master, all featuring lavishly appointed en-suite heads. An upscale crew's quarters includes two staterooms with full heads, plus a crew galley and dinette. The enclosed flybridge of the 93 MY becomes a second salon complete with an L-shaped lounge, full wet bar, flatscreen TV and sliding glass doors that open to an upper deck space with additional seating including a dinette and grilling area. Other inspiring touches on this new model include a motorized bulwark balcony, a full-sized bow lounge seating area and an expansive hydraulic swim platform at the transom.
Witnessing the production of such a massive model by the skilled professionals at Viking Yachts is nothing short of extraordinary. Overhead cranes and chain hoists carefully extract the completed deck piece from the mold in their proprietary "Viglass" department. Over 24 feet wide and 93 feet long running from the tip of the bow to the molded stern stairways, this single rigid piece is expertly fastened to the hull before welcoming a whole crew of shipwrights aboard to handle cabinet, furniture and fixture installations.
Even as this hulking 93-footer works her way down the production line for the first time, Healey and Schwab have revealed that initial design and planning have begun on an even larger, subsequent model. Right as the first 93' hull will be undergoing her grand debut at the 2017 Fort Lauderdale International Boat Show, Viking's expert tradesmen in New Gretna, will be feverishly preparing the line to start production on an enormous 100' Cockpit Motoryacht!
If the scale and pace of this program has your head spinning, let's recap: that is four brand new models introduced in approximately five years' time, establishing Viking's motoryacht prominence in the marketplace with a lineup ranging from 75 to 100 feet. Viking and their dealers such as Bluewater Yacht Sales are betting that the competition will have a heck of a time catching up with this incredible rate of development, or matching the level of quality. Bluewater President Jan Boone explains, "Viking has long been acknowledged as product leaders in the sportfish world, but these new motoryachts bring their innovation and high quality of workmanship to other luxury market segments. We're excited to bring these benefits to our customers." The ambitious manner in which Viking's new motoryacht lineup has been introduced is a testament not only to the company's remarkable vision, goals and resources, but also their rare ability to consistently follow through with such lofty objectives.