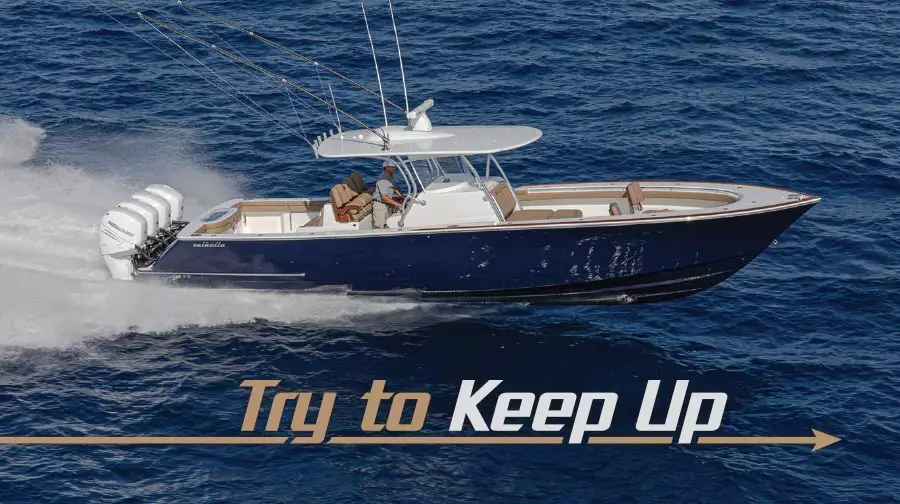 Viking's New Center Console Brand Captures the Market's Attention
Just over a year ago, Viking Yachts CEO Pat Healey made an exciting announcement to a packed press conference at the Miami Yacht Show, and Valhalla Boatworks became known to the general public. By this time, plugs for the new hulls were already being precision cut by Viking's 5-axis router, and perfected by their team of shipwrights. Production was about to kick into high gear at their Mullica, New Jersey facility for three new models. Furthermore, quite a few of the first hulls were already spoken for by owners and dealers in-the-know, such as Bluewater management and VIP customers.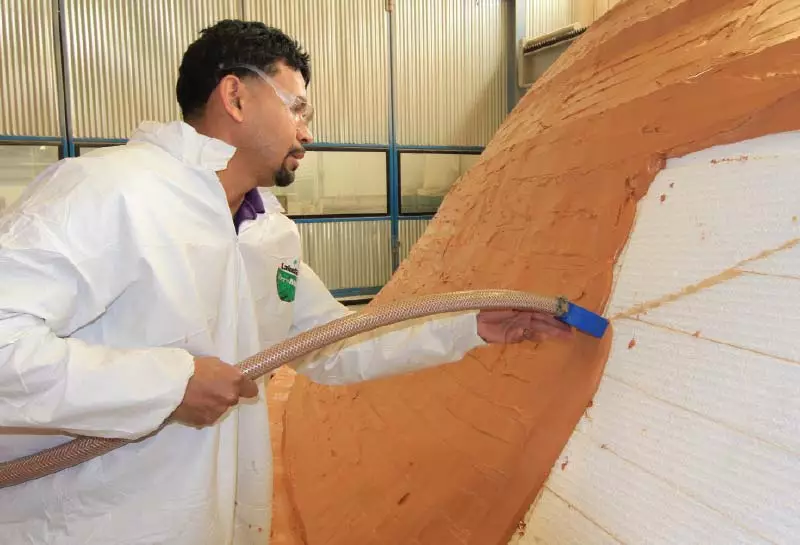 While the Viking name and heritage may have aided the upstart of this new center console brand, boarding a Valhalla for the first time and hitting the open waters is what sells them. The exclusive Michael Peters Yacht Design features a ventilated-tunnel stepped-hull on each model from 33' to 41', which marries the performance with stability and predictable handling. Even with top speeds in the 60-mph range and some configurations touching the low 70s, the ride always feels controlled. "The bottom design really shows its merit on all three Valhalla models," explains Bluewater Yacht Sales Partner, Earle Hall.
Another feature that adds control and comfort is the available Seakeeper gyro stabilizer. Part of the original R&D process the Seakeeper is "integrated into our resin infused structural grid," explains Justin Healey of Valhalla Boatworks. "Rather than losing tackle storage or a cooler, we have designed and engineered to have a gyrostabilizer below decks on all three of our models."
High Standards
The helm imparts a very clean look with factory installed, flush mounted displays and Bocatech 12V switches with a centerline steering wheel available in either stainless steel, matte black or carbon fiber. Between the helm console and hardtop is a frameless wraparound windshield from ProCurve or Costa Clear.
The hardtop and frame take a cue from the Viking side, integrating plenty of standard and optional features with no exposed hardware. "Viking's metalwork is second to none," Hall explains. "No fasteners showing, a super clean look and there won't be corrosion issues later on."
On the underside of the hardtop is a molded electronics pod for VHF, Seakeeper, stereo, autopilot and other equipment, plus a box that conceals optional teaser reels. On the topside are integrated mounts for antennas and outriggers plus a stylish radar pod.
All three models feature a unique pantograph console door hinged on two stainless steel struts that will swing out of the way and stay open. It also includes a handle to aid in entering and exiting the console, which in turn offers over six feet of headroom. The console is equipped with an electric head plus a sink with a Corian countertop and pullout shower wand. Forward inside is additional rod storage and dry storage that can be further customized by the owner.
Have it Your Way
On deck, there are multiple seating configurations and even more options for storage—both dry and insulated—along with a forward livewell. Rod holders are plentiful at every level, plus side lockers that are integrated into the coaming for additional storage. The gunwale height flows from 28 inches aft to 35 inches forward. The integrated, recessed bow rail adds security when moving forward, working a bent rod or just grabbing a line at the dock.
In-deck hatches open by stainless steel gas-assist struts to reveal storage while also gaining access to bilge areas and equipment including the bow thruster and Hooker Seachest system. Healey points out, "Maintaining excellent access for service was a top priority during the design process." The Reverso engine flushing system features a quick connect in the port side corner of the cockpit. Simply connect a freshwater hose at the dock and the system automatically cycles through a fifteen minute flushing procedure on each engine, one after the other until all engines have been freshwater flushed!
Even if you opt for forward seating, bow access is not restricted: bench seating with optional backrest to port and starboard leave the middle open for access to the anchor locker or for working a fish. These seats feature integrated dry storage and are offered in your choice of durable Sunbrella fabric color, pattern and piping color. Valhalla also offers multiple hull color options, and those colors can be added to engine cowls and the underside of the hardtop.
Put the Custom in Customer
Outfitting your new model from Valhalla Boatworks is more than just a few checkboxes on an order form, and Viking's semi-custom prowess has spilled over into this new premium center console brand. Engine options are vast with power offerings from Mercury and Yamaha up to 450 hp each, in configurations from twin to quad. Hall summarizes, "Every Valhalla can be a true custom build."
It's difficult to compete with over 56 years of sportfish pedigree that lives in every Valhalla Boatworks' semi-custom center console that leaves the Mullica factory. With a lengthy list of options, customizations, colors, engine options and deck layouts, some builders are scrambling to retool and improve their product offerings in hopes of going head-to-head with any model in the Valhalla lineup. Nothing looks, rides or performs quite like a Valhalla Boatworks center console, and we are betting that Viking and Valhalla will be working hard to keep it that way.