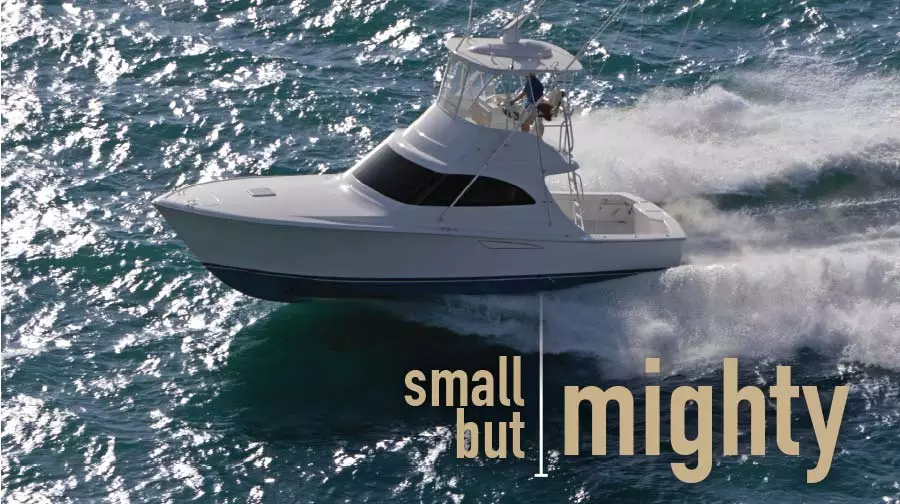 Viking's Newest Models Bring Big Boat Features to Smaller Convertibles
We all know Viking builds one of the best large sportfish boats on the market, but this year they have introduced several models under 50 feet. These new additions to the Viking family will prove once again that the company is faithfully carrying out its mission to build a better boat every day.
New members of the Viking family for 2019 include the 38 Billfish, the larger 46 Billfish and the 38 Open Billfish. These new models exude the classic Viking style. "Viking designs and engineers every new model with a fresh and refined hull form," Bluewater's Jud Black explains. "They never just warm-over an old design to launch a new boat."
Though these models do have similar designs and layouts, each boat has its own purpose. Chris Landry, Viking's Director of Communications states, "As an owner/operator vessel, the 38 Billfish offers simplicity and ease of maintenance, serving as a ready-to-go fishing machine for inshore and offshore missions as well as cruising with reliable inboard diesel power."
The 38 Open offers an identical hull and cockpit to the 38 Billfish, but offers several updates. The look of the new 38 Billfish is reminiscent of the 37, with some of the same feature lines, but this new Billfish has more rake at the bow and her deckhouse is swept back akin to the Viking convertible fleet. Those familiar with Viking's current Open and Sport Tower line including the 44, 48 and 52 will feel right at home on the new 38 Open.
The 38 Billfish
"The 37 Billfish was an instant success and has done so well we decided to make a commitment toward taking the Billfish concept to the next level," says John Leek IV, General Manager of Viking Mullica where the Billfish is being manufactured. "The 38 Billfish was a natural progression of the 37."
The 38 Billfish comes standard with a flybridge with walk-around center console and a command deck with port and starboard seating. The Billfish series of boats were set up with the fisherman in mind, but have been equipped with creature comforts below deck that one might need for extended cruising.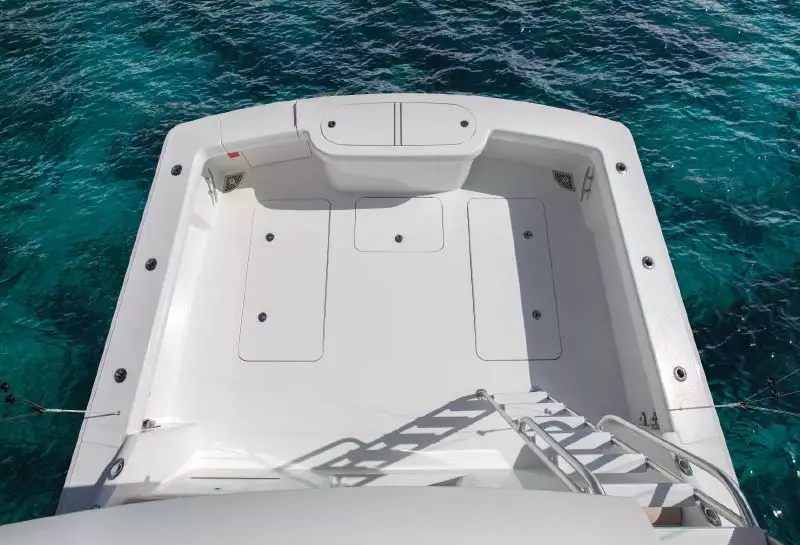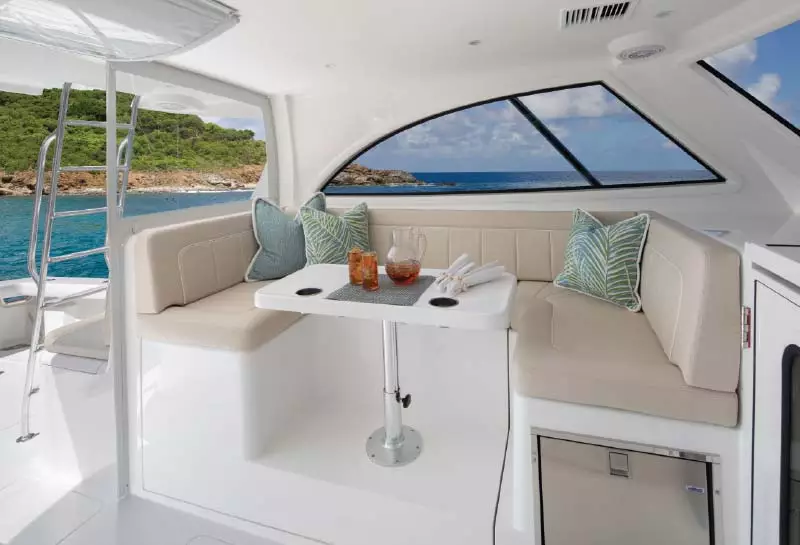 The Billfish is designed and built with many of the same mechanical systems and fishing equipment found on larger Vikings. The cockpit of the 38′ boasts 109 square feet of space with plenty of storage for tackle, rods and gear. This boat also offers mezzanine-style seating on either side of the entry to the command deck, along with refrigerated coolers for drinks.
"The 38 Billfish is obviously a good match for those leaving outboard powered center consoles and express boats for an inboard diesel convertible," Black explains. However, it's not much of a step-down for big boat owners either. The 38's twin Cummins power offers joystick docking through the electronic-controlled transmissions and a bow thruster. "It has everything that a larger Viking has, so the owner doesn't have to give anything up," he adds.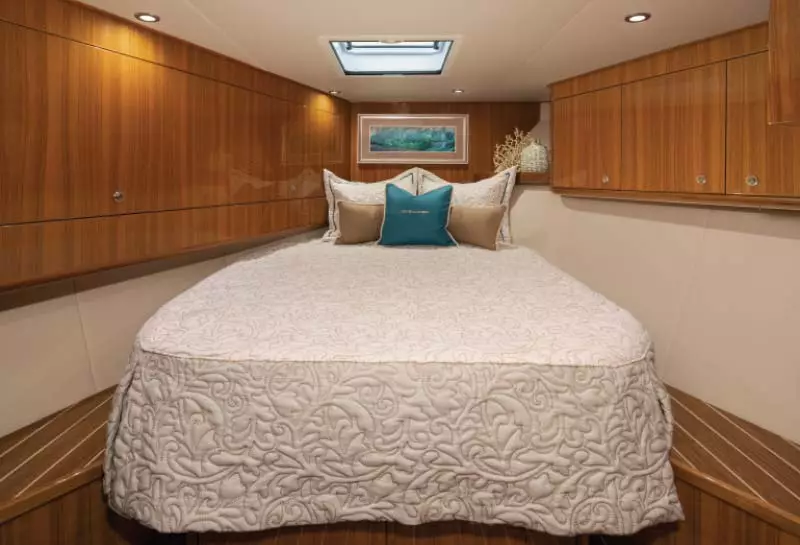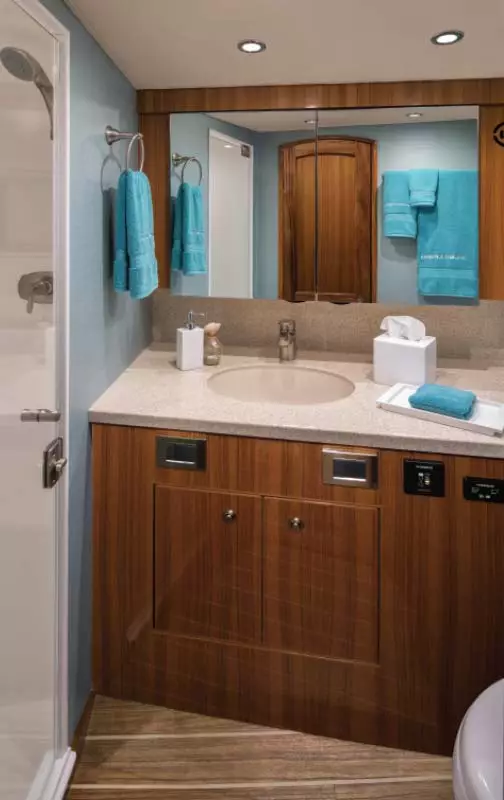 Below-decks, the Billfish's layout is spacious with an island double berth and twin hanging lockers. Viking also offers a stateroom with a crossover berth arrangement, which expands the sleeping space for more guests. The well-equipped galley to starboard offers an L-shaped Corian countertop, two-burner stove, microwave, refrigerator and sink. To port there is a full-size head complete with an enclosed stand-up shower. With most sportfish convertible and center console builders following the 'bigger is better' mantra, the Billfish series from Viking is a breath of fresh air.
Viking's Billfish series proves that bigger isn't always better.
There are no sacrifices to be made in opting for a mid-size boat that is more affordable and easier to handle. Viking loads up their Billfish models with plenty of standard features and of course the same exceptional build quality inside and out enjoyed by the owners of much larger Viking convertibles.
The 38 Open
While the hull, cockpit and mechanical components of the 38 Open and 38 Billfish are nearly identical, overall each boat is quite different. As with all Open models, the 38 Open is designed to be run from the lower command deck, which changes the interior layout considerably. For those looking for more flexibility, there is an option to add a Palm Beach Tuna Tower and a second helm so she can also be run from above the hardtop.
When entering the command deck, there are L-Shaped lounges to port and starboard, with a raised centerline helm. The entryway to the lower deck is located on the starboard side of the helm station. Going below, the Open has a sofa with storage on the starboard side and a forward double bunk with an upper single and a starboard-side hanging locker. On the port side is a galley featuring a cooktop, sink, microwave and under-counter refrigeration, in addition to a full head with a sink and stand-up shower.
The newest and smallest member of Viking's popular Open model line still offers remarkable space both above and below deck. The 38 Open is the perfect upgrade from a large center console and will offer a superior ride even in sporty seas.
Order the boat in her standard configuration and enjoy passing under bridges with low clearance and hopping port towns on the Chesapeake Bay. With a full galley and sleeping quarters below, the 38 Open also offers extended cruising for those wintering in Florida or making a run to the Bahamas.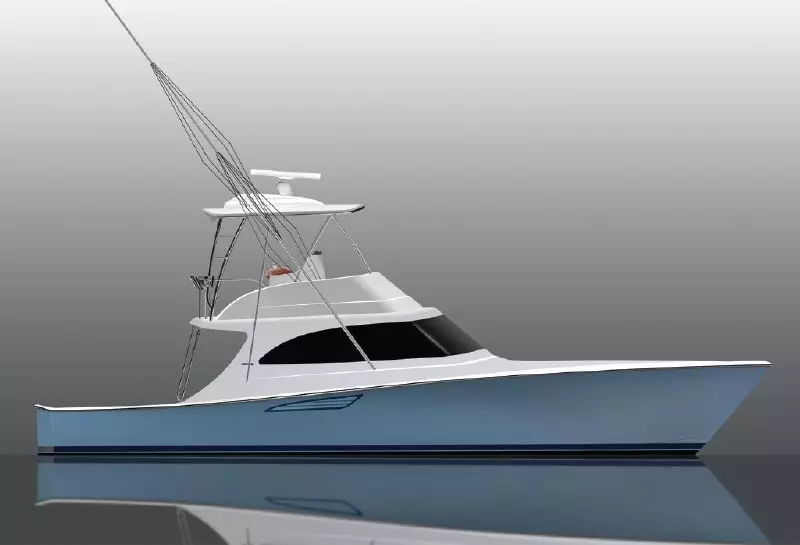 The 46 Billfish
Currently the largest of the Billfish series, the 46, is set to debut in the Fall of 2019. Overall, the layout will be comparable to the 38 Billfish model, but with larger spaces and more accommodations.
This larger Billfish model offers a generous 140 sq. ft. cockpit with more storage including the larger aft-facing mezzanine seating. The command deck will feature a U-shaped dinette to port, and a long lounge seat to starboard, providing ample space to relax and entertain. The boat's interior will serve you well for extended cruising trips and fishing excursions with an expansive galley.
The key difference between the Billfish and Open models is the flybridge. Both the 38 and 46 Billfish are designed with Viking's signature flybridge configuration, featuring a center console walk-around helm with plenty of space for electronics and navigation equipment, plus flanking benches to both port and starboard.
It is clear these new Viking models offer a gateway for those moving up from outboard powered center console and express boats, however our sales team has found the opposite to be true as well. Owners of larger Viking models are also taking interest in these smaller models as a day boat they can run themselves without the need for a full-time captain or crew.
To the Next Generation
Whether down-sizing or moving up, Viking yachts has an additional focus to attract a younger audience to boating and the Viking brand. Attracting a younger generation has always been a passion for Viking and the Healey family, especially when it comes to hiring and training talented shipwrights and craftsmen. "Bill and Pat [Healey] have always worked to bring in young team members and have them learn the trades from the 'old folks' with tenure, to be able to pass the torch on to this new generation of builders and production leaders," Black explains.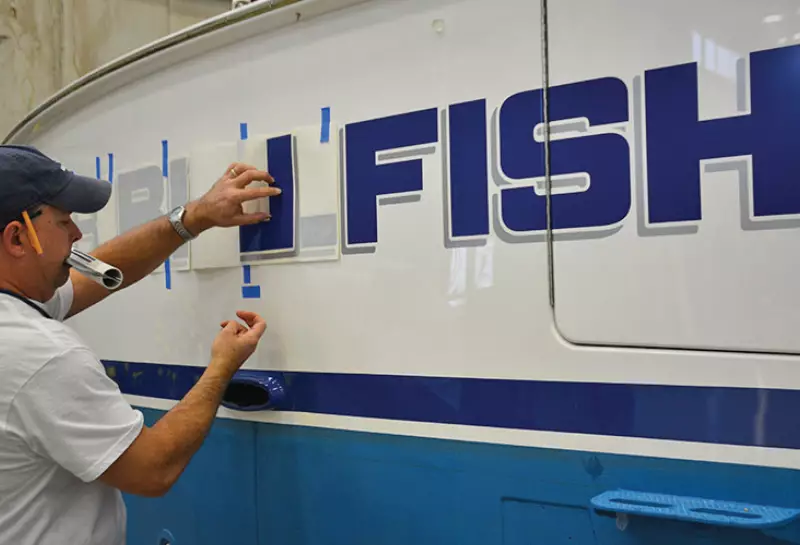 Viking President and CEO Pat Healey has embraced youth throughout the company to bring in new perspectives and get them trained in the skills needed to build, design and lead the company's future. This is also evidenced with Pat's two sons, Sean and Justin having grown up in the Viking culture. The two brothers now hold vital positions at Viking and have played important roles in the founding of Viking's Valhalla Boatworks center console line.
Affordability is another "feature" of these new models. For owners of large center consoles or even outboard-powered express boats, the opportunity to buy a brand-new Viking for a million dollars is very enticing. The proof of this can be seen in the Viking Billfish's immediate popularity. The original 37 sold over two dozen hulls, and the all-new 38 has also struck on an intense interest. For those keen on purchasing a well-equipped new Viking with the DNA of her big sisters at a compelling price point, these models are hard to pass up. With very few competitors of equal quality and value, these new Open Express and Billfish offerings from Viking Yachts will surely continue to be in great demand!