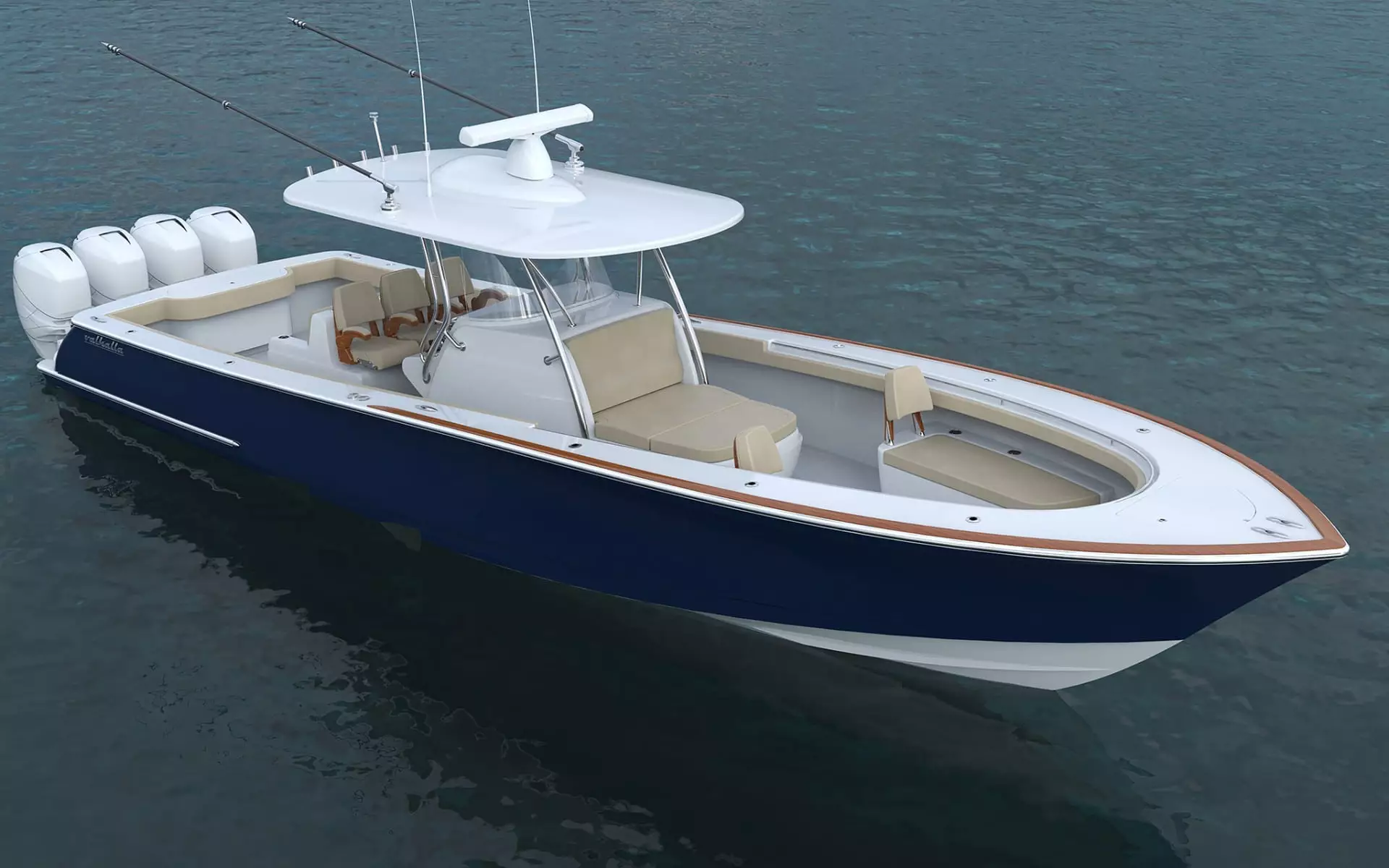 On February 1st, 2019, Viking Yachts CEO Pat Healey announced the creation of a new company called Valhalla Boatworks. The mission of this company is to take the signature Viking quality that has been seen in their sportfishing and motor yachts and integrate it into a new generation of center consoles. The initial lineup of boats is going to range from 33 to 41 feet, be outboard powered, and come with custom-engineered deep-v stepped hulls. In coordination with world-renowned Michael Peters Yacht Design, the Viking Design and Engineering team has created these boats with the fisherman in mind, and is looking to provide reliability, stability and efficiency. Here is what you need to know about this new brand:
What models will be available?
The first generation of Valhalla Boatworks models will include three models: The V-33, V-37 and V-41. All three models will have a similar look and feel, but the larger models will have more cockpit space, console space and available engine options.
What engine packages will be available?
The engine options will vary between models, but will be available as twins, triples or quads with a range between 300 and 425 horsepower. The initial specifications show the 33 with a max hp rating of 800 HP, the 37 with 1,200 Max HP and the 41 with 1,600 Max HP. Exact engine configurations will be available soon.
What standard features will these boats have?
Every model will be equipped with transom livewells, in-deck fishboxes and plenty of storage. The helms will feature Costa Clear wraparound windshields, hydraulic steering pods and Llebroc helm seating. Along with the helm seating, these models will also offer forward-facing lounge chairs, twin seats with backrests on the bows, and a rear-facing seats on the sterns. The consoles of each of these boats will include a head, rod storage and electrical access compartments. More information on other standard and available options will be available in the coming weeks.
How will the hull design impact performance?
Valhalla Boatworks center consoles will be built with what is called a Stepped-V Ventilated Tunnel in the hulls, a concept which comes from Michael Peters Yacht Design. This design is meant to increase efficiency in key operating ranges, which will give these boats advantages in speed, performance and stability. This unique hull will be used in all three new models and is a key differentiator from other competitive brands.
Where will these boats be built?
Valhalla Boatworks is part of the Viking Yachts family of boats and will be built at the Mullica Facility in Egg Harbor, New Jersey. This facility is just a few miles from the New Gretna main office and is used for the creation of several other Viking models including the 38 and 44.
When is the release?
The Valhalla Boatworks 33, 37 and 41 are set to debut in the Fall of 2019 at the Viking Dealer Meeting and Sea Trial Event in Atlantic City, New Jersey. Please contact your Bluewater Yacht Sales representative for more information about this event.