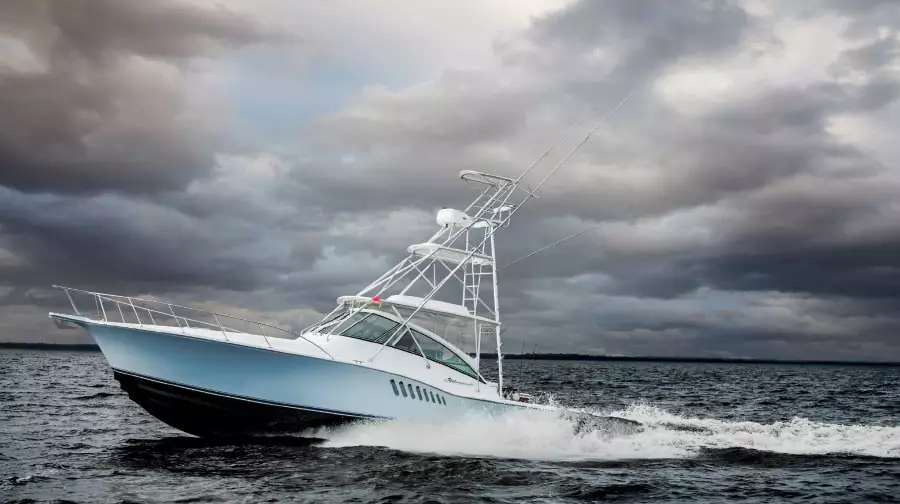 Why Albemarle Stands Alone Building Small Inboard Express Boats
It used to be that you could easily find a simple, inboard-powered fishing boat starting at 24 feet on up. Those days are long gone. Unless you've been boating under a rock, you know everyone and their uncle have been hanging more and more outboards on larger boats than ever before. So much so, Yamaha is having trouble keeping up with the demand. Meanwhile, a lot of builders have been focusing on the more luxury-minded consumer over the angling family.
But what if you don't want a mega center console or an express fisherman with 2,400 lbs of outboards in the way while you're trying to land your fish? Fewer and fewer boat builders offer such a solution. If you're trying to decide between a center console and something beefier, you need to ask yourself a question: Is your fishing style to "run and gun" at high speed or are you more interested in keeping your bones from rattling during a long day of fishing? If you're leaning towards sea-keeping ability over top speed, then the rest of this article is for you.
Many serious anglers eventually decide to graduate from a center console to a heavier, more protected express or flybridge convertible, especially as they get older or involve their families on their offshore trips. Albemarle—a company celebrating 40 years of boat building—has several express models that effectively bridge the gap between center consoles and convertibles. Plus, they offer a far superior ride over comparable outboard-powered express fishermen. For those looking for an all-weather fishing boat and have a little more wiggle room in their budget, a diesel-powered express from Albemarle could be a wise choice.
Expressed History
The great recession seems to have hit this niche of boat builders exceptionally hard from 2008-12. Cabo Yachts was bought by Brunswick and merged with Hatteras Yachts, eventually sunsetting the well-regarded brand. Luhrs halted production and their parent company filed for bankruptcy protection. Rampage Yachts has essentially disappeared. Albemarle changed hands a couple times and went through a couple work furloughs. Carolina Classic hobbled through in a similar fashion, before both companies were acquired by Murphy Family Ventures and successfully relaunched as Albemarle, the Carolina Classic.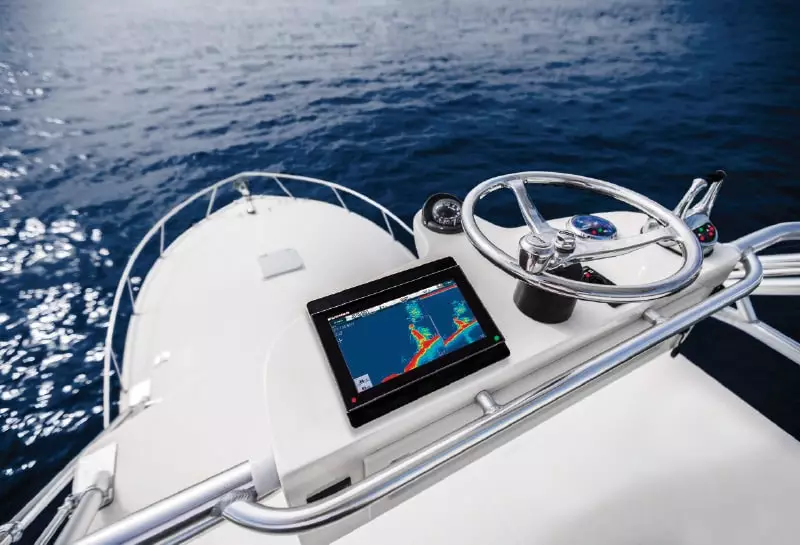 Meanwhile, advances in outboard engine technology and reliability coerced other production manufacturers such as Grady White and Pursuit to abandon inboard power altogether. Tiara and other companies who stuck with inboard systems shifted towards the luxury cruising market. Many other brands, like Sea Vee and Jupiter have dabbled with express models of their own but have always utilized outboard propulsion. Evinrude, Mercury, and especially Yamaha took huge bites of, and eventually consumed, most of the entire gas-powered market.
Sensible Decisions
Albemarle has also followed outboard power trends by offering twin Yamahas aboard their new 25, 27 and 29 Express models. Doing so for their 30-foot and under models was an easy decision; it provided expanded storage options in the cockpit sole and additional cabin space. "Albemarle's history has been inboard power since the beginning. Outboard power is a new game for them, but they did a great job integrating the engines to their classic styles," explains Bluewater Sales Professional Joe Green. However, they have no intentions of wavering from their proven formula of inboard diesel power in their larger express boats; the 32, 36 and 41.
While outboards were busy killing off gas inboards, diesel engines made great strides in efficiency and power output too. Albemarle's larger express models are all inboard diesel configurations. "It's great that they are sticking to their roots and believe in what they are building and what got them here," observes Green. With diesel engine options from Volvo, Cummins and Cat, plus highly-refined interiors loaded with amenities, Albemarle appears to be in a league of their own. Although Albemarle has become more family focused, they have not neglected the angler nor forgotten their heritage. Every Albemarle model is loaded with standard fishing amenities and provides that unmistakably secure and dry, Carolina ride.
No Competition
If you're a fisherman looking to move up from a center console into an express, your short list may include a Pursuit Offshore or Grady White Express model. Both are good options offering many features focused on fishing and cruising. These outboard powered boats are considerably lighter and faster than comparable models from Albemarle. But what happens when the weather turns? What if you get caught out in a storm with half your fuel burned (a much lighter load) and a long run in? You want that heavier, stronger boat beneath you, as well as the dependability of the diesels. You don't want to beat yourself up on top of the waves, you want to be plying them out of the way, in a boat like an Albemarle. Not only do rough seas stir up the fish, they also force a lot of outboard-powered boats inshore, or worse—sitting out a good bite back at the dock. "No sea state or weather holds back a ride in an Albemarle," Green says. "These boats will take way more than any of our bodies can handle."
In rough conditions you want a
heavier, stronger boat
beneath you…
Pursuit OS 325
LOA: 34' 6"
Beam: 10' 10"
Draft: 32"
Dry Weight: 12,500 lbs.
Fuel Capacity: 300 gal.
Height from waterline: 9' 2"
Power: Twin Yamaha F300
Grady-White 330 Express
LOA: 33' 6"
Beam: 11' 7"
Draft: 35"
Dry Weight: 12,500 lbs.
Fuel Capacity: 330 gal.
Height from waterline: 9' 10"
Power: Twin F300 or F350
Albemarle 32 Express
LOA: 34' 2"
Beam:
13' 0"
Draft: 42"
Dry Weight:
23,000 lbs.
Fuel Capacity: 380 gal.
Height from waterline: 9'
Power: Twin Inboard Diesel
An Albemarle express with twin inboard diesels can run with the big convertible sportfishers on a snotty day and has the speed and range for an unforgettable day trip. Their exceptional beam compared to the best express boats from Grady White and Pursuit (a 15" – 26" advantage) provides more space above and below deck, in addition to drastically improving sea handling. The pronounced bow flare and deep tumblehome help to keep things dry while running though rough seas. Although a transom tuna door is not unique to the Albemarle in this segment, her lack of a bracket and outboard engines means yanking in a big catch is an easier, obstacle-free experience for the angler.
In summary, there are two major reasons that Albemarle has few, if any, peers in the small production express market. First, much of their traditional competition has floundered, while the others have adopted outboard power and abandoned heavier designs in the quest for all-out speed. Albemarle fills the niche by design. "Albemarle and Bluewater are in a great position to upgrade owners from small outboard powered boats to more capable inboard powered express models," Green explains. For those considering a mid-sized express fisherman, let one of our Sales Professionals provide you a tour of the Albemarle factory and a meeting with the management and family of this classic boat brand. Allow our brand experts to explain the differences and advantages of inboard diesel power, and most importantly: schedule a sea trial aboard your favorite Albemarle—at most times we have one of every model in stock!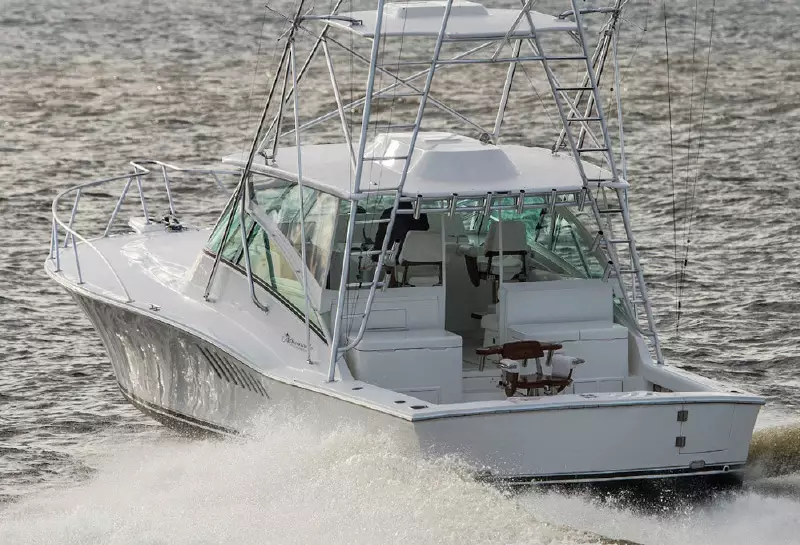 Albemarle 41
LOA: 43' 6"
Beam: 15' 9"
Draft: 4'
Dry Weight: 32,000 lbs.
Fuel Capacity: 600 gal.
Water Capacity: 100 gal.
Cockpit Size: 82 sq. ft.
Berths: 5
Power: Twin Cat C8.7 @ 650 hp ea.