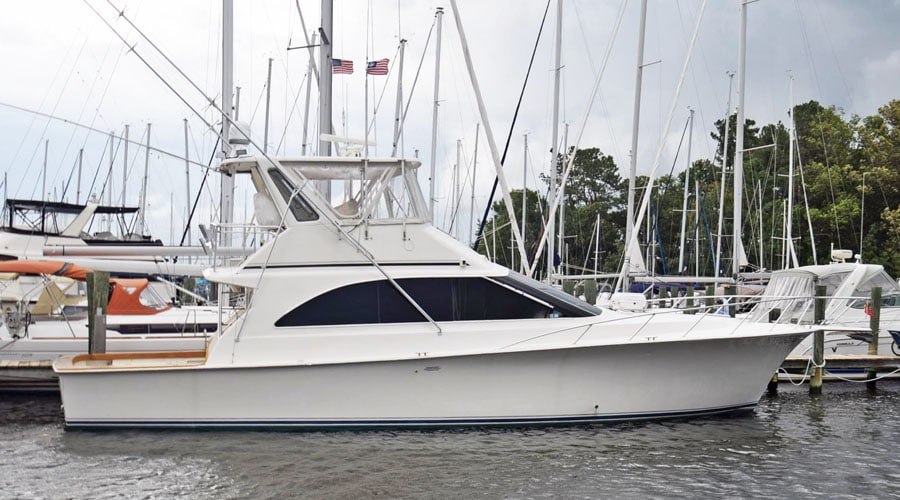 1995 Ocean 48SS Convertible
I recently purchased a used boat from one of your listing agents, Mr. Scott MacDonald. First and foremost, please know I had a downright awesome experience dealing with Scott. As a new client to Bluewater, please know I would 100% refer every boating friend I have towards Scott and Bluewater as he represented your company so well and he truly went above and beyond.

Buying a used older boat, from a different state no less, is not the easiest nor smoothest adventure.
Factoring in the age and the cost, well simply put, it can be downright nerve-wracking. I wanted you all to know, that Scott was more than a professional, he felt like a family friend guiding me along the way. I doubt that most brokers take recent clients on a feeling out cruise. I doubt that most brokers help clients multiple times docking nor assist their clients at the fuel dock. I am sure a lot of brokers may refer marine specialist to their new clients for various jobs and tasks. But how many brokers weeks after the sale take time out of their weekend to jump on the boat and travel for a few hours to an electronics business with their clients? Scott did all that and more.

The simplest of traits like honesty, common courtesy, and just general kindness often goes unnoticed or unrewarded these days. Scott answered every question (even the "dumb" ones too) with straightforwardness, straight up honestly and expert knowledge. He was even confident enough to answer with "I don't know" when he did not know. That alone is impressive in today's day and age. The "I don't know" was followed up by, "But let me find out for you" – and get this, he actually got back to me with the correct (honest) answer every time-even when the answer was something I may not like.

I have a small landscape construction company on Long Island and I always feel, as an owner, we may hear more negative comments about employees (justified or not) rather than well deserving positive ones. You all should feel proud to have employees like Scott MacDonald!

John J Kirby
Kirby Design Enterprises of LI., Inc.