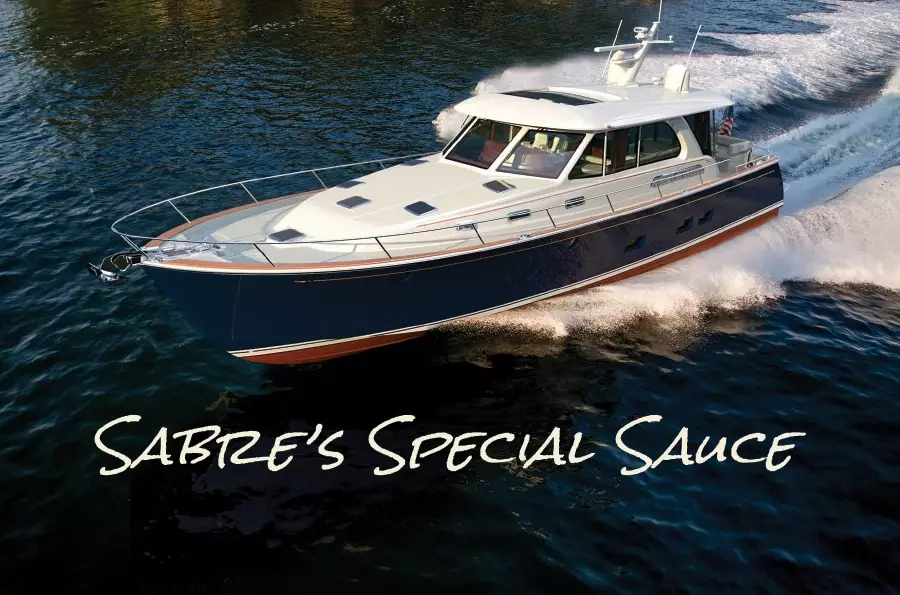 5 Reasons for Sabre Yachts' Excellent Resale Value
Some fortunate yacht owners enjoy frequently trading for a new boat, while others buy and hold. Despite what camp you're in, the biggest questions marking either journey come when it is time to list your boat for sale. "Will I get near my asking price? How big of a bath am I about to take?" Even amidst a seller's market, one brand has become a resale value standout: Sabre Yachts. Chris Hall Jr., one of Bluewater Yacht Sales' Sabre experts and self-dubbed "Blue Boat Guy" helps shed some light on what helps this iconic brand of boats hold their value so well.
It turns out a unique set of circumstances has pushed the delivery window of all new Sabre Yachts models beyond the one year mark. Ordering one of the newest models, like the 45- or 66-footer, is a process that likely eclipses two years. For those unwilling to wait, the pre-owned market is where their search lands. Hall explains, "We are finding used Sabre yachts selling for almost the same amount as what people paid for them a year or two prior."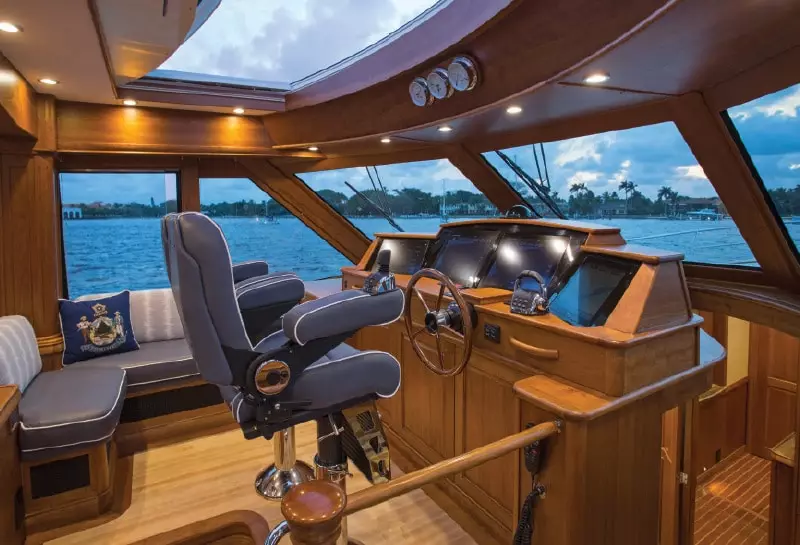 When it comes to competition, there simply aren't many brands that can match Sabre's one-of-a-kind style. "The incredible quality of their boats and attention to detail in the joinery (which is all handcrafted in-house) definitely helps strengthen their resale value," Chris explains. "Also, you would be surprised at how many buyers prefer a boat that is built in the U.S." Not just Made in the U.S.A., but Crafted in the Maine Tradition, as the company's motto states. Sabre's roots and salt-of-the-Earth workforce hail from a heritage of ship building that can be traced back over four centuries.
2. Manufacturing Capacity
Sabre's obsession with quality and craftsmanship may also be an influence on the supply and demand curve for their yachts. The company can no longer develop beyond their current manufacturing facilities, and the pool of experienced tradespeople in the Raymond, Maine region is finite. The Sabre facility features 4 production lines and over 150 employees tasked with building 7 different models. Sabre has invested a great deal of capital into equipment and automation to further increase production efficiency, but they will never jeopardize the human element that makes each of their yachts special.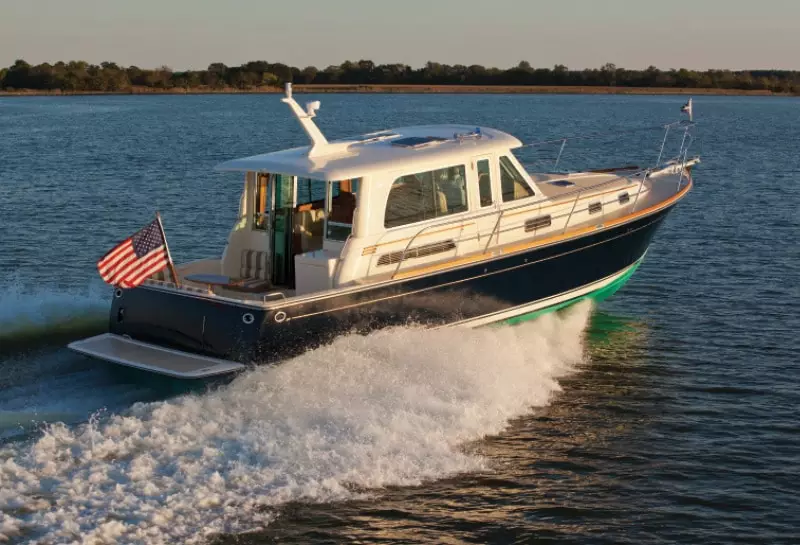 VP of Design & Product Development, Kevin Burns puts it best, "we manage the size of the company and the scale of the production to keep our work more personalized."
Sabre's new model line-up is competitively priced, often times over 20% below comparable models from other builders. Burns offers some insight, "a great deal of calculation goes into pricing. The value must be there for an owner to make a new design or feature worth implementing. Everything is considered along the way to find efficiencies in the production of our boats and in the overall operating costs for our boat owners," he continues. This may explain Sabre's move to exclusively offer pod drives on every model they have introduced since 2008.
When pod drive technology was in its infancy, Sabre modified the hull mold of their 42 to eliminate the shaft drive elements and provide mounting basins for both Cummins Zeus and Volvo IPS systems. Extensive testing was performed on these new propulsion sets before confirming the benefits and ease-of-use of the technology. Their first IPS-specific hull was launched in 2008 as the new Sabre 38. From that time on, Sabre never looked back. Every model introduced since has featured a hull designed exclusively for pod drives—no more shaft powered boats would be offered.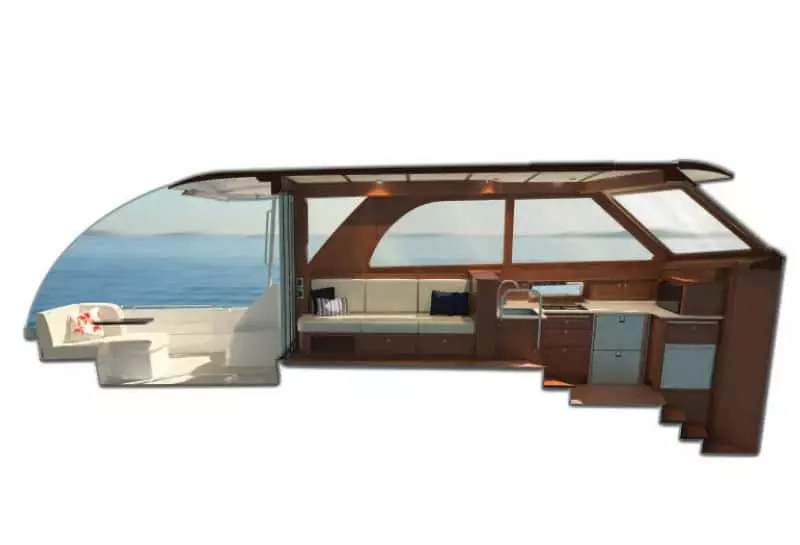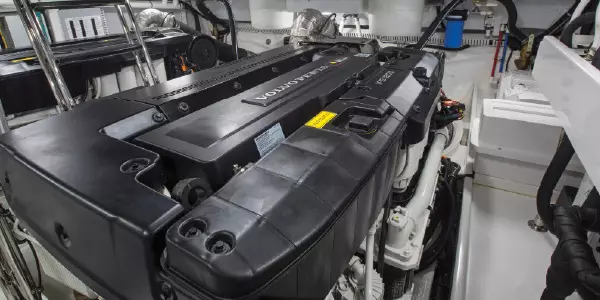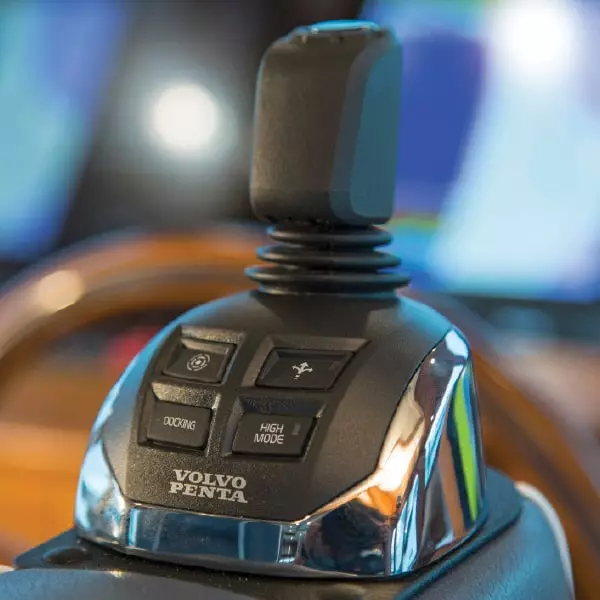 PODS VS. CONVENTIONAL PROPULSION
The move from straight shafts to exclusively using pod drives was an all-in venture for Sabre and has paid off in dividends as the technology has matured. Sabre offers propulsion packages from both Cummins Zeus and Volvo Penta IPS with standard joystick controls. Digital interfaces include intuitive menus and great features such as position-hold and low-speed idle control. Both pod systems boast 15-20% higher cruise and top speeds while consuming 30% less fuel than conventional propulsion. The remarkable maneuverability of pod drives negate the need for a bow or stern thruster, which also improves fuel economy thanks to more uninterrupted surface towards the bow of the hull.
The benefits of pod drives are so strong that if you're looking for a Downeast style boat with twin engines, the decision has already been made for you­—Grand Banks, MJM, Sabre—they're all pod-driven boats. You really have to reach to find a conventional shaft boat in this class nowadays, but for the sake of comparison, you'll see it really isn't a competition between pod and conventional: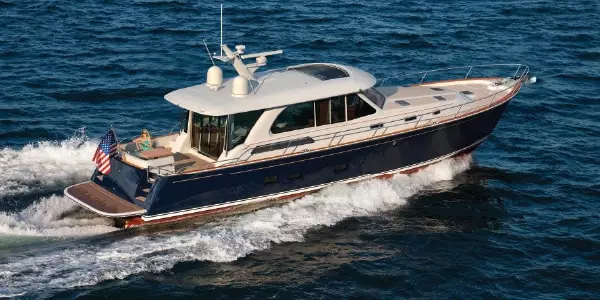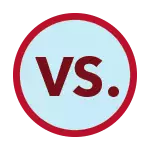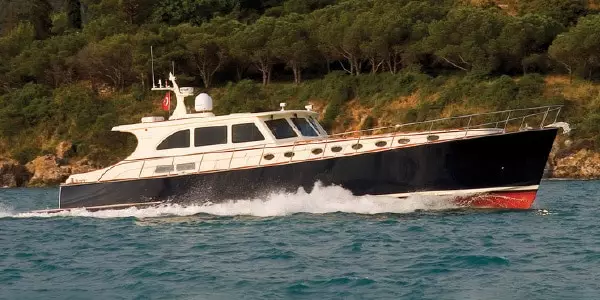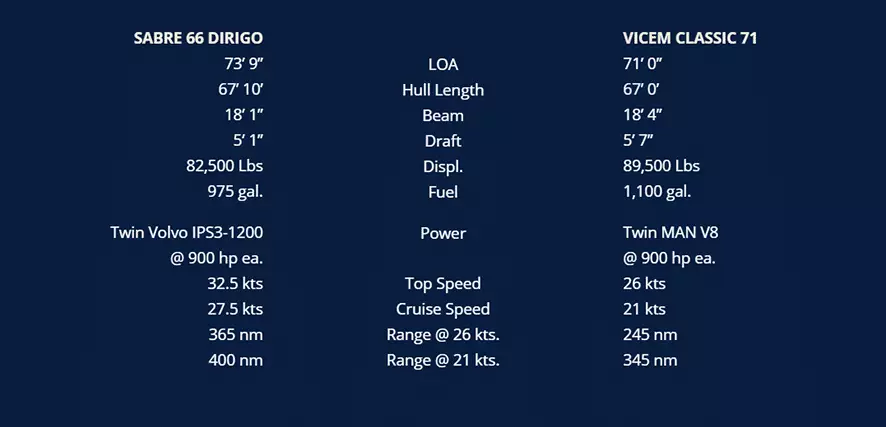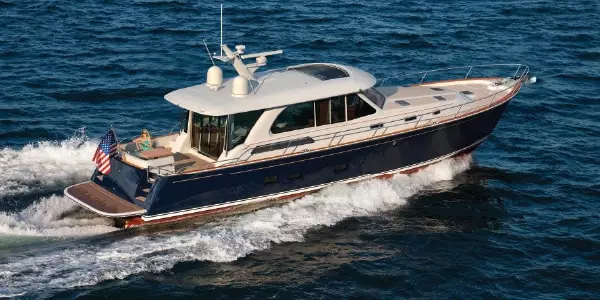 LOA
Hull Length
Beam
Draft
Displ.
Fuel
Water
Holding
Power
73' 9"
67' 10"
18' 1"
82,500 lbs.
975 gal.
100 gal.
40 gal.
Twin Volvo
IPS3-1200 @ 900 hp ea.

Top speed
Cruise Speed
Range @ 26 kts.
Range @ 21 kts.

32.5 kts
27.5 kts
365 nm
400 nm
LOA: 73' 9"
Hull Length: 67′ 10″
Beam: 18' 1"
Draft: 5' 1"
Displ.: 82,500 lbs.
Fuel: 975 gal.
Power: Twin Volvo
IPS3-1200 @ 900 hp ea.
Top Speed: 32.5 kts
Cruise Speed: 27.5 kts
Range @ 26 kts: 365 nm
Range @ 21 kts: 400 nm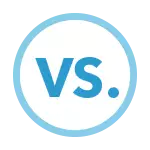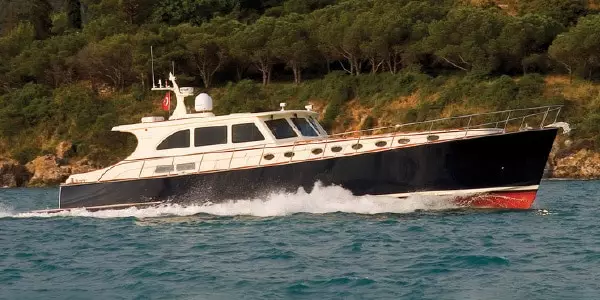 LOA
Hull Length
Beam
Draft
Displ.
Fuel
Power
71' 0"
67' 0'
18' 4"
5' 7"
89,500 Lbs
1,100 gal.
Twin MAN V8
@ 900 hp ea.

Top speed
Cruise Speed
Range @ 26 kts.
Range @ 21 kts.

26 kts
21 kts
245 nm
345 nm
LOA: 73' 9"
Hull Length: 67′ 10″
Beam: 18' 1"
Draft: 5' 1"
Displ.: 82,500 lbs.
Fuel: 975 gal.
Power: Twin Volvo
IPS3-1200 @ 900 hp ea.
Top Speed: 32.5 kts
Cruise Speed: 27.5 kts
Range @ 26 kts: 365 nm
Range @ 21 kts: 400 nm
There are many benefits to pod propulsion, but paramount among them are maneuverability. The combination of pod drives and joystick control can make close-quarter handling a breeze, even for relatively novice boaters. A senior couple, or even a single-hander, can operate a Sabre Yacht more easily and efficiently than ever before, with a boat specifically designed for the propulsion package.
5. Layout and Functionality
Hall and his Bluewater colleagues have pinpointed specific types of buyers in the market for a Sabre Yacht. There are those who may have aged out of sailing, are scaling down from a larger motoryacht, or looking to retire and fulfill their cruising ambitions. These are the types of customers that are gravitating towards the stylish, efficient and practical boats that Sabre produces. "There isn't a lot of up and down, meaning you don't have to climb a bridge ladder or a full flight of stairs to access the cabins," Hall tells us. "This is especially important for many buyers in this segment."
Ultimately, there is a mix of qualities that boost a Sabre yacht's impressive resale value. But one thing is for certain: Sabre has a proven formula for building high-quality boats built by a customer-centric team of engineers, designers and craftsmen. As Kevin Burns quips, "it's the Sabre special sauce."