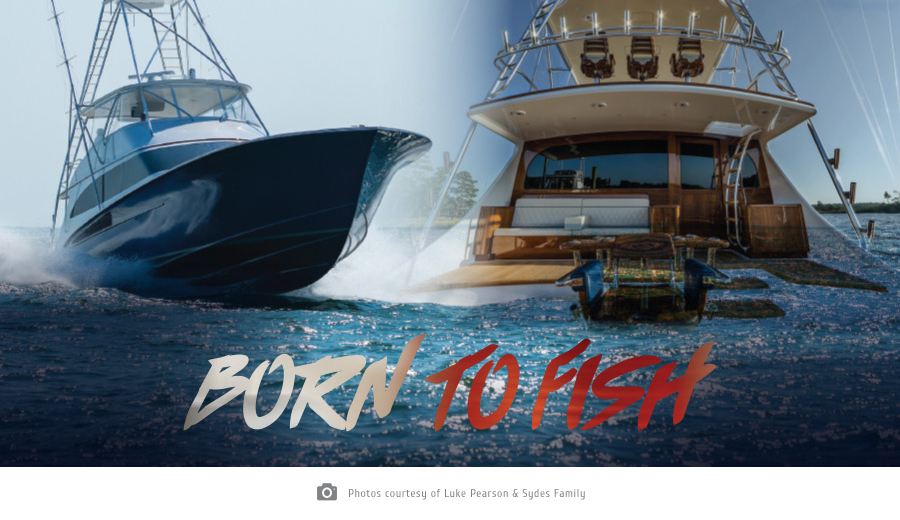 84-foot Jarrett Bay Custom-Built for an Other-Worldly Level of Travel and Sportfishing
The stunning 84' convertible sportfisherman, Reel Development is the latest, and 2nd largest custom boat to ever be delivered by Jarrett Bay Boatworks. Originally commissioned by another owner, this build came available during the construction process and was snatched up by Tony Sydes and family, with Bluewater Sales Professional Clark Sneed overseeing the search and sale.
This custom masterpiece blends classic methods with high-tech materials, as her traditional cold-molded hull is met with resin-infused composite deck components. The breathtaking satin cherry finishes throughout the interior hide a bevy of components, equipment and storage spaces that culminate in one of the most well-appointed, high-performance sportfish boats currently roaming the planet.
According to Clark, Tony Sydes worked his way up through a Tiara express and a Viking 66C before getting serious about owning a custom-built sportfish. Although he had long been an admirer of a Jarrett Bay 53, he had quickly worked his way past a boat of that size! Clark explains that after buying the 66 and taking it to the Dominican Republic and Los Sueños in Costa Rica, the Sydes were already actively shopping around for their next rig. They were considering their options with who they considered to be the top echelon of custom builders. "We had contracts in hand. Tony left to fish in Costa Rica for a week and when he got back, he was going to decide on a builder. But then he called me while still down there and wanted to make an offer on the Jarrett Bay—a decision that worked out," recalls Sneed.
He explains Jarrett Bay was ultimately an easy choice for Sydes because it was the right place—the factory was close by, and he was able to engage deeply in the remainder of the construction process. Tony was able to visit his in-progress boat weekly—almost daily if he pleased. Plus, because the 84 already had the major power equipment installed, he would have the boat in-hand in less than half the wait than if he had commissioned a new build from scratch.
Room to Roam
By all accounts, the most striking aspect of the Reel Development are the copious amounts of space. At 84' in length and boasting a 21' 8" beam, there is an incredible amount of volume to meet all of the owners' needs—with luxurious flair to boot. "Tony has been on many other builds since taking delivery of his Jarrett Bay, and realizes it will be difficult to match what he has with his 84," says Clark. He references the expansive food pantry and tackle space, as well as the incredible amount of Sub-Zero freezer storage throughout the cockpit, bridge and galley. It seems everywhere you look, you're likely to uncover a super-cooled compartment to stow bait trays, ice or beverages. Jarrett Bay Project Manager Nile Mitchell agrees, "The interior volume is just huge. Even compared to larger boats, the 84' feels more spacious than most."
For example, each stateroom features an en-suite head, the master and VIP bunks are extra-long, and the Captain's quarters features a double-sized berth. Vast amounts of storage are found throughout every level of the yacht. A well-organized pantry includes full upright Sub-Zero units and doubles as storage for assorted tackle, large reels, spools of line and other components. Continuing the theme, the salon dinette was built elevated enough to create a large pull-out drawer with exquisitely organized rod and reel storage.
Back in the salon, the unique walnut and cherry inlay flooring is equally as eye-catching as the beautifully crafted overhead air troughs. These beautiful raw materials were milled into wider pieces than traditional teak and holly flooring, creating four-inch boards instead of the typical 2 ¼" slats. The result is subtle but effective; the larger patterns reduce some of the visual clutter subconsciously interpreted by the eye.
Despite stepping into the build after the general layout and mechanical specs had been set by the commissioning owner, Sydes contributed mightily to making it his own, and often drew from his business as a real estate developer. Nile explains that Tony drove the decision to create cherry-veneered inset troughs in the salon headliner, which work to distribute the air conditioning more equally (and inconspicuously) than a few concentrated vents blasting air into the space. Initially designed by now-retired Gary Davis, mechanical and design engineers Brandon Davis and Chad Vorhees saw to most of the final stages of systems design work for Mr. Sydes.
The stonework countertops throughout the boat were fabricated by his own real estate construction team for installation at Jarrett Bay. The Sydes also chose satin over a high gloss finish on the interior woodwork, which imparts a rich, but more understated feel throughout the vessel's interior. Another addition they implemented were electrically controlled rams (instead of gas-assisted) to operate all the bunk movements, such as folding out the pullman berths, or accessing the storage underneath all the beds.
With no detail too small for the folks at Jarrett Bay, Nile recounts the custom walnut and cherry holders they were asked to create for the crew's Yeti cups and mugs, built to a more suitable size than the average cup holder and guaranteeing their morning drinks would never be rocked by a stray boat wake. Custom cutouts for all the flatware and dishes and a beautiful two-level liquor cabinet are additional examples of customizing the boat to every detail desired by the customer.
Above on the bridge, Sydes asked the Jarrett Bay team to fashion a huge chaise lounge connected to the main console in lieu of a more traditional table and seating. Upholstered by the Captain's Shop, and allowing for a huge amount of storage underneath, this lounge is a focal point of the bridge and the relaxation of guests. With air conditioning also available on the bridge, not only is this the highly functioning control center of the boat, but it is perfectly comfortable in all conditions.
This rig also boasts one of the more elaborate sound systems ever to be installed on a Jarrett Bay. Wet Sounds speakers adorn the tower facing both forward and aft. There are at least two 12" sub-woofers, and six 770 JL audio speakers, plus another four down in the cockpit. The system is integrated with the Lumishore lights package, which can synchronize with the music, putting on a light show that dances up and down the full tower and transom. Release Marine's impeccable handiwork is featured throughout Reel Development on the bar stools, dinette, wooden backrests and helm chairs. Nile also points out the opulent pearl-inlay marlin embedded in the cocktail table crafted by Marine Tables.
Down in the engine room, crew and visitors are met with a spacious and clean layout finished out to yacht quality and even climate-controlled for ease of maintenance. The enormous pump room includes a stainless-steel toolbox custom-built for the captain and crew. Twin Seakeeper 16 gyros ensure the most stable of platforms for guests and anglers, while two 38 kW gensets and 3,600 gallons of fuel capacity gives Reel Development an incredible amount of range and comfort while on the troll.
The Finest Fishing
Champing at the bit to take delivery of his new battlewagon, Sydes and crew wasted no time in getting the cockpit wet. They released four late-summer sailfish out of Morehead City on their departure from Jarrett Bay, and then Captain Thomas Bennett and crew pointed her south to Florida to rendezvous with transportation through the Panama Canal and into the Pacific Ocean. Los Sueños Resort in Costa Rica became the new home-base for several weeks, before pushing further northwest to Cabo San Lucas and one of Sydes' favorite and prolific fisheries offshore of Magdalena Bay, Baja Califiornia Sur. Clark explains they alternate between Cabo and Los Sueños as their two hubs in the Pacific, with family and friends flying in and out weekly for an out-of-this-world fishing experience. "The boat is plenty fast and has a bunch of space for lots of people, which is what he likes," Clark says.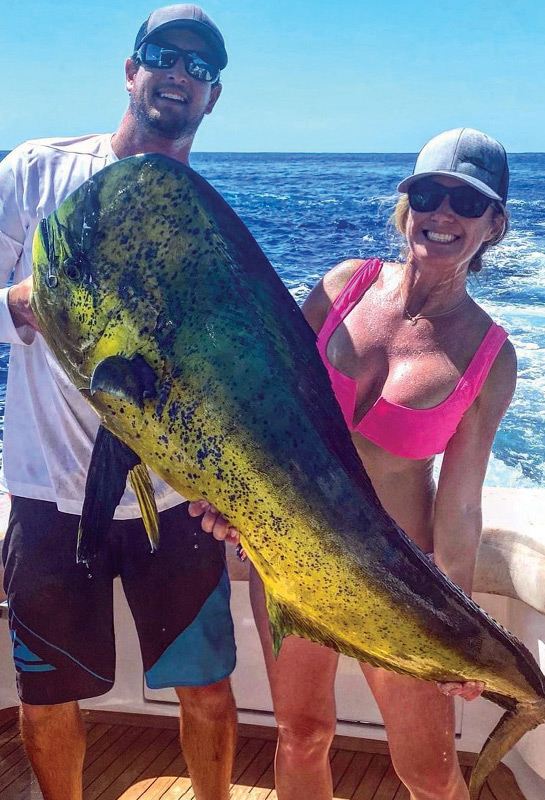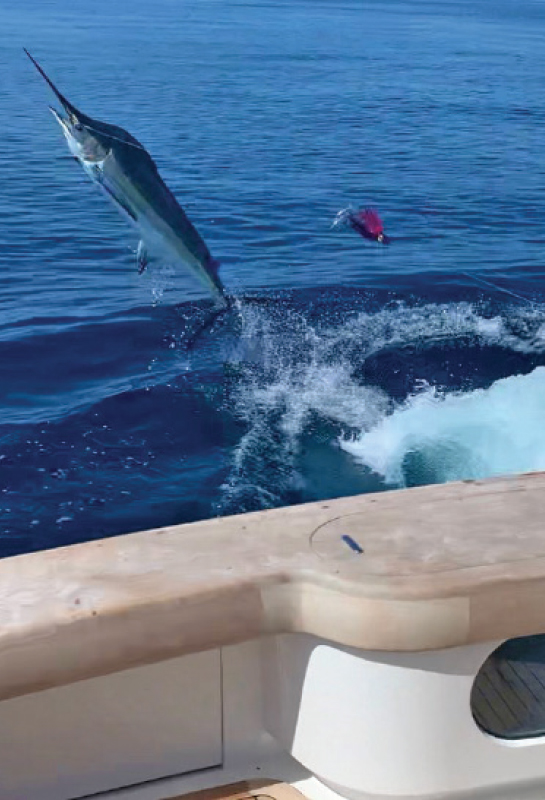 They are enjoying taking overnight trips, and naturally maximize their bite opportunities when fishing from sun up to sun down. Within the first 6 months of owning the boat, the team quickly amassed over 1,000 billfish caught! That's quite the accomplishment, especially for an owner who had been new to big game fishing when Clark first met him. Primarily targeting sailfish or blue marlin depending on the season and location, they've also enjoyed tangling with some monster Pacific dorado. Nile acknowledges the boat is certainly raising fish and the Sydes are thoroughly enjoying their time aboard while treating friends to an exotic expedition lifestyle. For the team members back at Jarrett Bay who toiled for years on every little detail, it's incredibly fulfilling to see this massive marlin machine put to such good use.
In-Progress
at
Jarrett Bay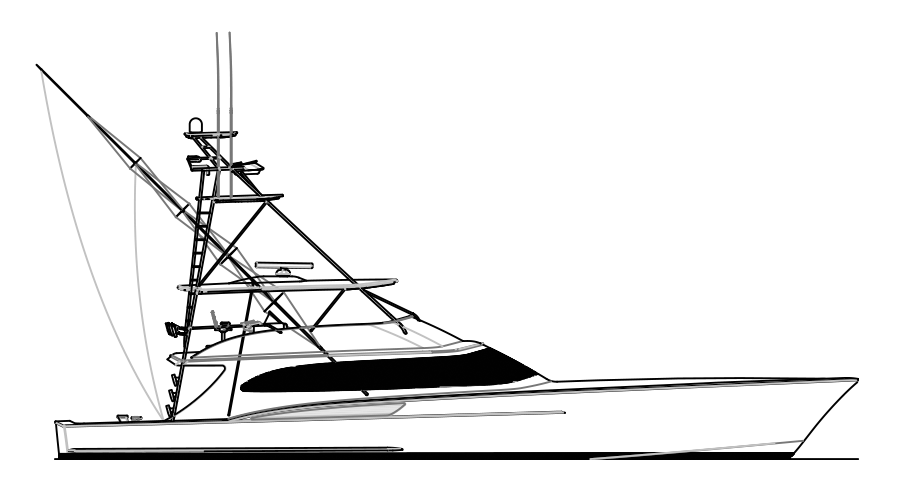 68' Convertible
Hull 64: Project Caribbean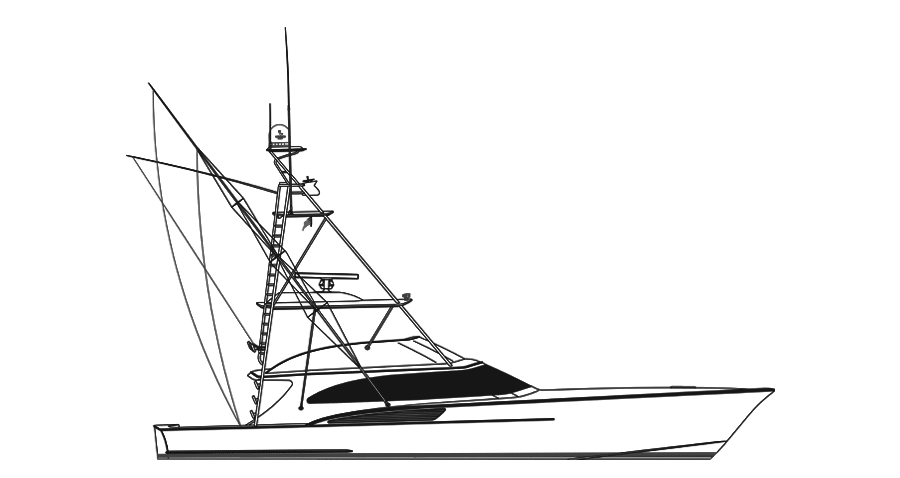 67' Convertible
Hull #66: Sea Wish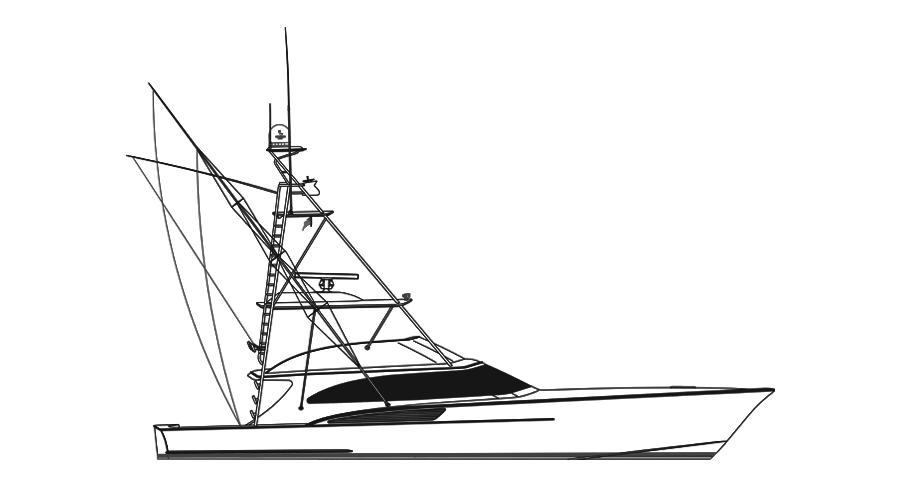 64' Convertible
Hull #65: Unnamed

56' Convertible
Hull #67: Renagade