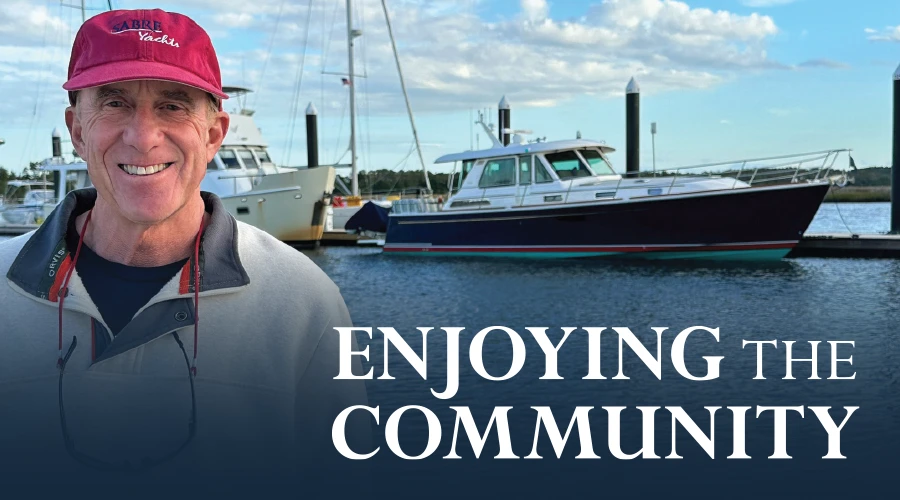 Avid Cruisers Go Island Hopping in their New Sabre 48
A lifetime of cruising will build a wealth of knowledge and experience; however, there is always more to learn. Thankfully, the boating community is as tight as they come for sharing information and looking out for one another. Most adventures and travel aspirations begin as a dream and are fulfilled through a combination of careful planning and the thoughtful input of others with firsthand experience.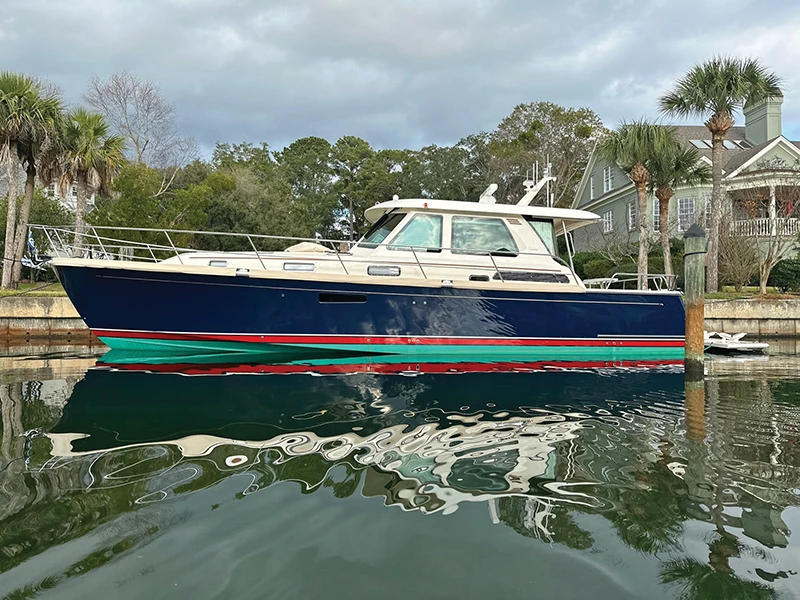 After years of cruising sailboats throughout the Chesapeake Bay and Mid-Atlantic, Jack and Caroline Helmly decided it was time for a powerboat. At the time, they were able to secure hull 1 of the Grand Banks Eastbay 49—a sporty downeast style cruiser from the iconic pleasure trawler builder. "We spent over seven years cruising up and down the East Coast in our Grand Banks," Helmly says. Through the years they modernized and updated the boat, installing a bow thruster and new electronics. "We cruised from Nantucket to Key West and popular destinations in between." Helmly continues, "We would stay two to three weeks on the boat at a time and we were able to work while on the boat as well, running a business together."
Becoming Well-Equipped
Aside from upgrades to their Grand Banks, the Helmly couple acquired equipment to make their cruising lifestyle easier and more enjoyable. One notable piece of equipment was a pair of folding bicycles that would stow easily on board and make for great exercise and touring of new places while traveling. Another equipment upgrade is comically referred to as the 'marriage savers' by Jack. He explains: "One day, while tied up at a marina, we watched an 80-year-old couple come in with a trawler and they slid into a dock slip so perfectly and calmly. We were astonished at their skills and poise, but then we realized they had headsets on and were communicating with one another from different parts of the boat. We got ourselves a set of marriage savers [headsets] and we can talk in a low voice without any running around or panic. One of us can be at the helm and the other is watching our approach into the slip and setting lines."
The 'marriage savers' and folding bikes will be put to good use on their newest boat, making their cruising lives more enjoyable. Another great asset they found in the boating community was a strong friendship with Bluewater's Chuck Meyers. "We first met Chuck back in 2013. In December of 2019, we listed our Grand Banks with him," Hemly says. "Our original intention was to sit out of the market for less than a year and then come back to buy another used boat, but of course 2020 changed all that."
Built on Trust
With unprecedented pricing and supply issues in the used boat market, Jack and Caroline decided to go the new route and Meyers was there to help them every step of the way.
"Chuck is a fantastic advocate all the way around," Helmly proclaims.
"He always has our best interests in mind, goes above and beyond and knows the boating industry in and out. Our trust in him has been a key part of this whole adventure!"
The discussion between Meyers and the Helmly couple began in the Spring of 2021 and by June they had secured a contract for hull #169 of the Sabre 48 Salon Express. Meyers helped throughout the process with recommendations on equipment and options based on the couple's extensive cruising experience. They also visited the Sabre Yachts facility in Raymond, Maine, twice during the build process. "We really enjoyed working with Lynn [Beaudoin] and the team at Sabre throughout the build," Helmly says.
Their new Sabre 48 initially arrived at Safe Harbor Bluewater in Hampton, Virginia in August of 2022 for outfitting, ahead of the final delivery in October. The couple's decades of cruising experience would serve them well aboard this new boat with one caveat: the pod drives Sabre has installed exclusively on every model built since 2008.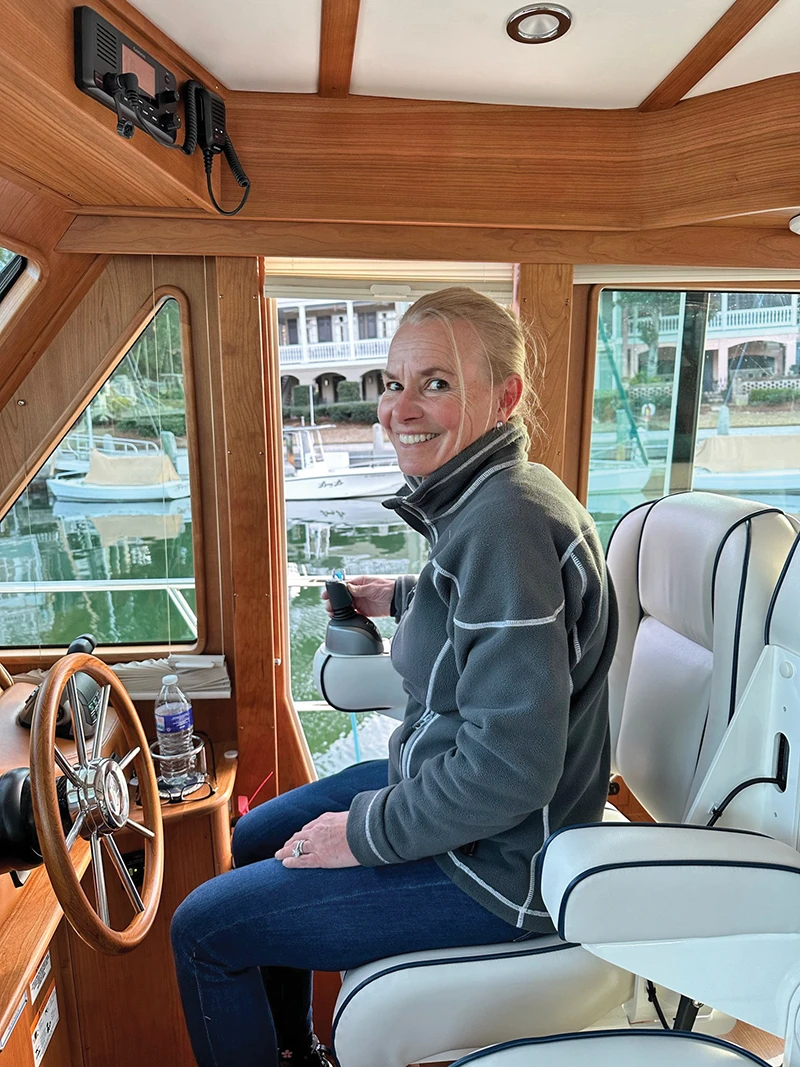 Caroline takes her turn on the pod joystick
Learning to Drive Again
"This is a first for us," Helmly admits. "But a huge shout out to Chuck for teaching me how to drive the boat with pods," Helmly exclaims. "Coming from years of piloting a boat with conventional shafts you have to unlearn some aspects of driving and docking, like no more bumping the engines in and out of gear." Helmly continues, "Thanks to Chuck's knowledge of the pods, I have put this Sabre into some tight spots in hairy situations and the pods do the trick!"
Another game changer, as Jack puts it, is the Dynamic Positioning System, or DPS. "This system is great if I want to leave the helm and go up on deck to scope a space to anchor with Caroline." Helmly explains the system: "You bring the boat to a complete stop, orient the boat and hit the DPS button, and the boat is effectively parked, using GPS to automatically stay in position. I use it all the time for anchoring and helping set lines when we're right outside the marina ahead of docking in our slip."
More upgrades they love about their new Sabre include the cockpit Sureshade, additional lighting in the engine room, a washdown for the anchor, the hydraulic swim platform for launching their center console dinghy and the Northern Lights generator with auto-start. "The purpose of the auto-start system is to have the generator start up and charge the house batteries before they get too low and then shut down again once the batteries are topped off," Helmly explains. "It is a very impressive system to have, and it allows us to walk off the boat and know the generator will shut down once it is no longer needed." Helmly continues, "We also spec'd a very good Garmin configuration with a dedicated screen for engine conditions along with a chain counter which is key when anchoring."
So much impressive outfitting of their new boat was all in preparation for a dream adventure: touring The Bahamas. The Helmlys had adventured up and down the East Coast from the Florida Keys to Nantucket and back, but never had they made the crossing. Their new 48 Sabre, Right Royal changes that. Helmly explains the meaning behind their boat name which also adorned the transom of their previous boat: "In short, it's an old English term that means 'a great night on the town.' The long of it is that it's also a poem by John Masefield."
After taking delivery, the Helmlys enjoyed a shakedown cruise on the Cheseapeake followed by a brief return to Bluewater in Hampton for a couple service items. They departed Virginia in mid-November and ran to Hilton Head Island to winter the boat there. They took their time preparing and planning for their big trip south to Palm Beach ahead of making the crossing to The Bahamas. Helmly reminds us, "You do not want to be on a hard schedule, or you'll be forced to make a decision that could put yourself at risk if a safe weather window is not available."
They departed Hilton Head on Sunday, March 26th and ran down to Palm Beach to stage for their crossing. "The purpose of our trip was to spend it in the Bahamas, so we made that southbound leg as quick as we could, running outside in the Atlantic when possible," Helmly says. A week later, they made the crossing and settled into a protected cove in Great Sale Cay. From here, they ventured through the Abacos for two weeks exploring both popular spots like Green Turtle Cay, Marsh Harbour and Hopetown along with many of the protected coves and anchorages along the way.
The Community
Throughout the journey, the Helmlys have taken great joy in meeting new friends and fellow boaters who can share their experiences and help one another. "We have loved meeting new people and learning their experiences," Helmly exclaims. "This is our first time doing a big trip like this and you can build a community really fast with docktails and talking to folks about their adventures."
Jack and Caroline receive many compliments on their 48 Sabre and have welcomed couples for tours aboard the boat, some with older Sabre models and some with other styles of trawler and Downeast boats. As they're gaining knowledge from the boating community, they're also settling into a routine to make the best of their travels. "The groove we're getting into for the Bahamas cruising…" Helmly explains, "…you wake up and check the weather. You need to know what's out there and what's coming in from what direction and where you should anchor to be protected. Check your tides and winds and plan your next few days."
Caroline will build their route for the day with waypoints utilizing the Navionics app on her iPad. This route can also be joined with data from Active Captain to provide alerts and bulletins as reported by other boaters in the vast community. This detailed chart can then be easily uploaded into their Garmin multi-function display at the helm.
When it comes to the boating community at large, the Helmlys also like to utilize online forums, as Jack says, "There's a forum for every topic." However, they learned of an issue they had not planned for: poor or non-existent Wi-Fi at marinas and other points of interest. "I had researched Starlink ahead of time but neglected to get it installed on our boat before this trip," Helmly says. Thankfully, the Helmlys met a slip mate in Marsh Harbour who graciously shared his Starlink connectivity with them.
"Starlink is amazing," Helmly boasts. "When you're off the grid, you cannot get up-to-the-minute weather reports and are only guessing, which could put you in harm's way. Starlink can connect you in remote locations at amazing speeds." They also met a woman who has nearly completed a solo circumnavigation of the globe while using the network. Helmly jokes, "Honestly, there's even an online forum for boaters about Starlink."
A Perfect Cruising Companion
This Bahamas excursion included grilling on the boat under the Sureshade and plenty of meals from the galley that the Helmlys rave about. It is clear they love their boat! The performance, the ease of maneuverability, the layout and that Downeast charm. Meeting countless people at marinas and in remote areas was another big highlight of their trip. "We anchored near Nunjack Cay with a bunch of sailboats and went to shore by dinghy and met people on a remote beach. They told us about areas we would have never found on our own," Helmly says. They also biked nearly 20 miles in a single day—the full length of Elbow Cay—and stopped at three different eateries along the way.
Upon returning home to Herrington Harbor North along the western banks of Chesapeake Bay, the Helmlys are now planning several 2- and 3-day cruises around the Bay with friends. They also do an annual trip north to Nantucket and hope to go beyond that for the first time in 2024 to visit Cape Cod, Boston and into Maine—the birthplace of their 48 Sabre.
The Helmlys enjoyed incredible adventure and relaxation while tapping a new element of the boating community during their Abacos trip. The experiences and knowledge they gathered along the way will aid them in future journeys and they certainly have some new friendships as well. Plus, by the time you're reading this, Jack has already installed Starlink on Right Royal and is enjoying impressive and reliable internet speeds wherever their travels take them.