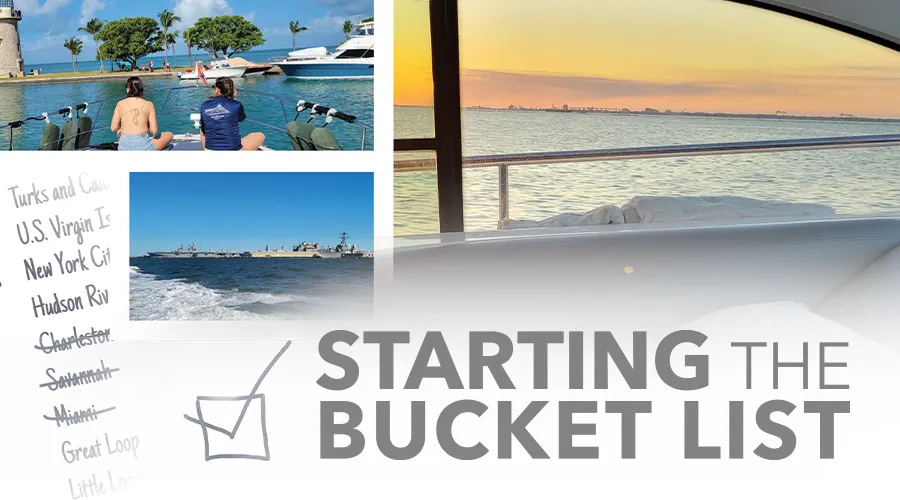 Bluewater Customer Kicks off An Ambitious Retirement
"It started getting serious three years ago," Mike Steele recalls. "A buddy of mine and our wives all flew to Miami for the boat show and then visited the Florida Keys. As we looked over the turquoise water enjoying drinks, I thought, 'some day!'"
Steele is no stranger to boating adventures. Growing up along the Mississippi River in Rock Island, Illinois, he learned how to ski from a jon boat at ten years old. Boating through his teenage years and through college, Steele eventually bought his first boat: a 17' Bayliner.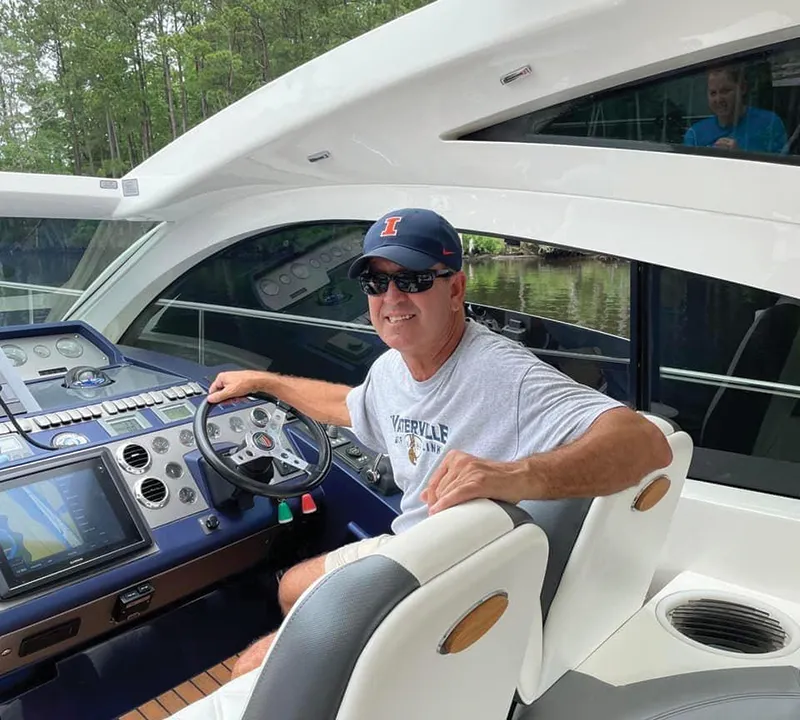 He and his girlfriend, Angie, (now his wife) made a big trip traveling 250 miles north on the Mississippi in 1992. "We were boating by day and rough camping with our dog at night." Steele explains, "We would cruise the Mississippi and then find an island before nightfall and pitch a tent, have dinner, a few drinks and get some rest to get back after it the next morning." The adventure consumed four days heading north against the current and three days on their return.
Over time, Steele moved up through several Chaparral boats and eventually to a 26-footer. His job transfers also took him from Rock Island to Iowa City, Iowa, and eventually to Richmond, Virginia, where he still keeps the boat on a lake.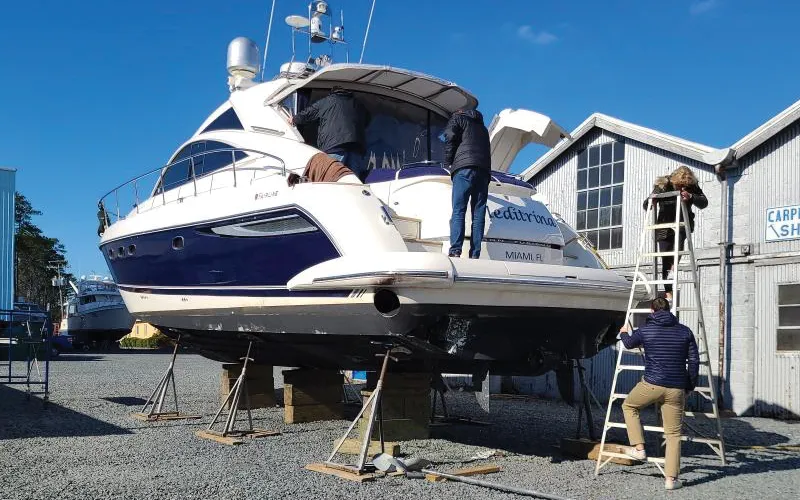 Getting a first look at Meditrina
It's Time
"I have been planning a big boating trip to Florida for nearly twenty years," Steele recalls. When their friends who accompanied the Steeles on that Miami trip asked when they would be going back —they made it clear they meant by boat— not flying.
Steele got to work researching and learning about the ICW, when it is best to run offshore, where to anchor, and the marinas to stop at based on the boat's range. "This is when I finally decided to get a much bigger boat," Steele recalls. "I own and operate an epoxy flooring construction business," Steele explains. "I met Hank Sibley back in 2005 in the construction business—before he sold boats." So, when it came time to research a bigger boat, Steele knew just who to call.
"Hank and I looked at several boats and then this boat came along through the AMI Kids program," Steele says. AMI (American Marine Institute) Kids is a foundation introducing at-risk youth to the subjects of boating, diving, fishing, marine construction and mechanics. Part of their program involves AMI taking boats on donation for tax deductions to the giftor, but the boats must be leased by the non-profit for three years. "We found this boat by chance," Steele explains. "The boat was donated in Annapolis but then wound up stranded with running gear damage in Norfolk, and that is when we found the boat listed." Sibley helped Steele strike a deal for his 1/3rd share, and the 47' Fairline Targa, Meditrina, was hauled and repaired by AMI. After everything checked out, Steele took possession of her on Memorial Day Weekend 2022.
Prep Work
Steele and his wife enjoyed that summer with weekend trips around Chesapeake Bay. "It was a big upgrade from 26-feet to 47-feet," Steele exclaims. While working to get used to their new 47' Fairline, Steele was also working to promote management from within his business so he could retire from working on December 31, 2022.
In planning the big trip to Florida, Angie was uncertain about being on the boat for the entire trip to South Florida from Hampton, Virginia where they keep the boat at Safe Harbor Bluewater. Instead, Steele made plans with several friends to fly in and split up specific legs of the trip. "We had a schedule to keep at specific ports and marinas in order to coordinate with the flights my buddies were on," Steele explains.
For the journey south, he planned to stay in as many Safe Harbor marinas as possible. "We are very happy with Safe Harbor Marinas," Steele says. "The staff at the marinas are awesome and it is a very full-service experience." They started their Safe Harbor membership with the acquisition of Bluewater Yachting Center in 2022. The membership affords them free stays while his Safe Harbor Black Card offers them fuel discounts throughout the Safe Harbor network as well.
Adventure Awaits
The long journey for Steele and Meditrina included stops at Safe Harbor Jarrett Bay in Beaufort, North Carolina, Safe Harbor South Harbour Village in Southport, North Carolina and onward to Charleston, South Carolina. Unfortunately, Safe Harbor's marina in Savannah, Georgia was full at their passing, but they still enjoyed a fuel discount. "Part of our trip through Florida, we were checking out different areas and marinas where we could keep the boat during the winter." Steele continues, "Keeping the boat in Florida would eliminate the need to winterize and we can enjoy six months in Florida and six months on the Chesapeake."
Mike & Angie Steele are all smiles throughout the Low Country: Jekyll Island, Brunswick, Savannah and Beaufort
Once Steele was settled in Miami, Angie and their daughters joined him. Steele says, "The ultimate goal was a reservation in Bimini, Bahamas, but the wind was so bad we could not make the crossing. So instead, we stayed on the inside and headed south to Key Largo and enjoyed some time down there." No matter the weather, Steele and his family made the best of their vacation and are now looking forward to more adventures south and that trip to the Bahamas.
Other travel in the books? "We have a Chesapeake Bay cruise planned for the week surrounding Independence Day," Steele says. "If it lines up, we'd like to fit in Bluewater's Summer Cruise in St. Michaels as well." Another destination includes Manhattan to visit their daughter. Bigger cruising dreams would include The Great Loop or The Little Loop. "We spent several weeks in the Fort Lauderdale and Miami area talking to people who have completed it, or were in the process of the 'Loop," Steele says.
When Steele is not boating or planning his next boating adventure, he enjoys golfing and several big trips with his golf buddies per year. Steele is definitely enjoying his retirement, having sailed off on a dream cruise to Florida essentially right away. As they plan more big adventures, Safe Harbor Marinas and Bluewater will be by their side for every leg of the journey!