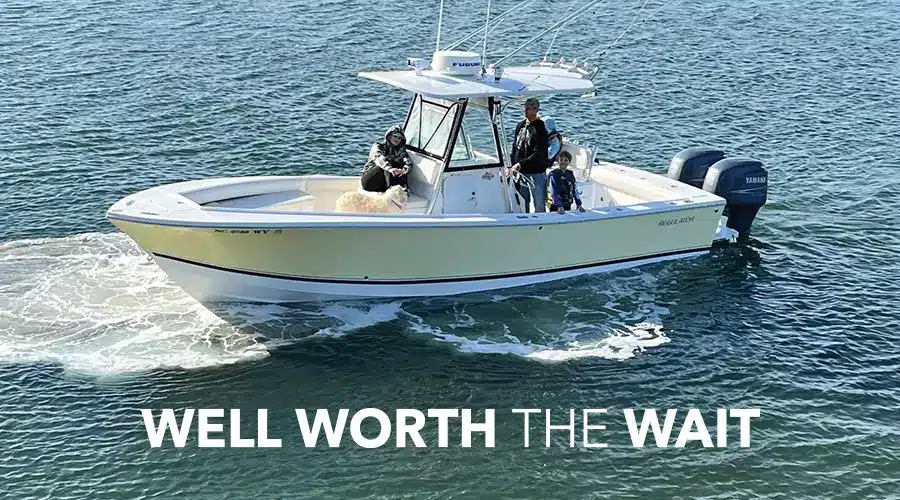 Bluewater Helps Nab the Perfect Center Console
That moment when something catches your eye… Something of great value that perhaps at that moment you cannot grasp and attain… You admire it, store the images in your mind, and tell yourself: "One day, that will be mine."
For Corey Lewis, as a lad in high school, the object of desire was a 26-foot Regulator. Out of reach for a teen staring down adulthood, but a dream that would endure and eventually be fulfilled.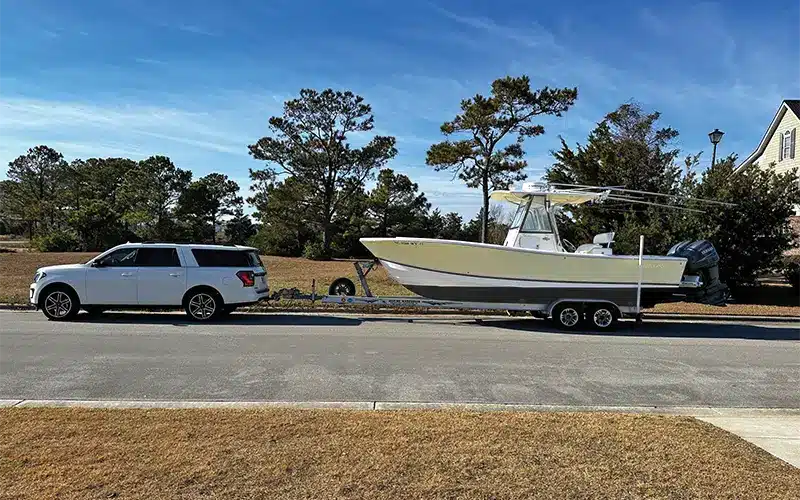 Growing up in Morehead City, North Carolina, Lewis has always enjoyed access to boating and fishing. "My dad owns a 27-foot Boston Whaler," Lewis says. "It is the family boat, and I would borrow that one to go out fishing and cruising." Corey's father-in-law also owns a boat and would allow Lewis to borrow it to take his children out fishing or island hopping.
A Dream Fulfilled
"Honestly, I got tired of borrowing boats," Lewis jokes. The time had come to begin looking for a boat of his own. However, not just any boat would do. The fond memories of admiring the lines and build quality of that 26 Regulator came rushing back. Not just any boat would do, and he was not going to take on this search alone.
Luckily for Corey, he had a long-time friendship with Bluewater Yacht Sales Professional Joe Green, who was the perfect person to lead this search party. "I have known Joe for years," Lewis explains. "We go to the same church and enjoy conversations revolved around boating. It was a natural relationship, so when I got serious about looking for a boat, he was the right one for the job."
The search became a 'diamond in the rough' scenario: seeking a specific boat model at a time when the marine industry was overwhelmed with buyers and a scant inventory. Lewis says, "Joe and I talked about the 26 Regulators for close to two years before we finally found one that fit the bill; And once we found it, we jumped on it!"
To make it happen, Green received a phone call from another client requesting to list their boat. On a Thursday, after visiting to look at their boat, Green spoke with Lewis immediately. "I remember Joe calling me and saying, 'I have a potential boat, you gotta come see it.'" Lewis continues, "I went the following day (Friday) to look at it and we made an offer that afternoon and had it under contract by Saturday."
Strong Relationships
This 26 Regulator FS (Front Seating) never had an opportunity to hit the open market —Green had the perfect buyer waiting in the wings. But that wasn't the only part of the process that moved swiftly. The Bluewater Yacht Sales team of admins, closers and even in-house financing lead, Vera Sohovich, quickly helped manage the deal for Lewis. "This is the first time I had bought a boat," Lewis recalls.
""The whole process was great, from Joe down to the admins working the closing."
Even through the winter, Lewis and his family (including three children) get out on the water when they can. Their summer is chock full of plans for family cruising, nearshore and offshore fishing, and a trip from Morehead City down Wrightsville Beach. "We're looking forward to hanging out with friends, island hopping, a family cruise to Cape Lookout, Shackleford Banks and more," Lewis explains.
For those with patience and perseverance, that coveted object can certainly become a reality. For Lewis, it took time, but he will tell you it was well worth the wait. "After a couple years in the making, we finally closed on my Regulator 26, and I joked with Joe and thanked him for hanging in there," Lewis muses. "He is patient, and I am picky, but the right boat did come along, and Bluewater made the whole process seamless; I could not have asked for it to be any better."