Grander Demonstrates "Truly Custom" Boat Building
Resembling a personal assault vehicle which Hollywood might conjure up for the next 007 or Dark Knight release, Grander looks like a boat designed only to move under the cover of darkness… She's lean, dark, metallic, cool and calculating—quite a contrast to the bright white decks and cabin soles that have been the norm over sixty or seventy years of recreational sportfish construction. As it would turn out, that's exactly what her owner was going for: a boat with militaristic aesthetics, the likes of which no one had set eyes on before in the professional billfishing circuit.
Never the ones to back down from a challenge, Randy Ramsey and his talented team at Jarrett Bay Boatworks delivered exactly what was wanted on this build—no compromising. Jarrett Bay's 61st custom hull, this head-turning 46′ walk-around express was the result of a two and half year cold-molding process commissioned by the principals of Grander Custom Tackle. Intended as an ideal platform to test and develop their many lure products, the company also wanted the boat to stand out in a crowd. They explain, "The color scheme was chosen to be eye catching and powerful… with a shock factor. Jarrett Bay was able to achieve a physical appearance that's never been seen before and the overall design and build experience with their team was great.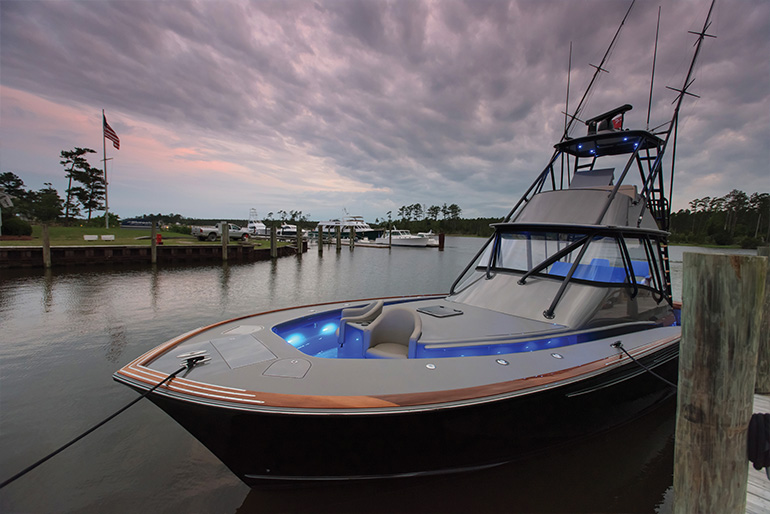 The overall quality and finishes of their work is a step above the rest of the industry and they have exceeded our expectations." Foreman RV Hodge and designer Gary Davis echo how fun it was for the build crew to participate in some of the decision making processes, making this a remarkable collaboration in both design and functionality.
"The response from everyone who has seen her as been overwhelming."
Carried out with metallic paints from Alexseal Yacht Coatings, including Steel Gray on the hull and Stardust Silver on the superstructure and decks, and with pitch-black piping, the dark metals are contrasted beautifully by the organic suppleness of the custom teak decks, coaming boards and high gloss toe rail. The rounded transom design was fabricated in faux-teak, offering an extreme gloss and exceptional durability that will hold up to many sparring bouts with feisty billfish. Featuring chairs from Release Marine and high gloss helm pods, the 46 is well equipped with Jarrett Bay's familiar luxury yacht touches.
Another innovative Jarrett Bay calling card normally found on the company's large convertible bridges are the signature bucket chairs integrated into the Grander's forward cabin house. Nearby on the bow is a wealth of molded-in conveniences and functionality, including drink and phone holders, twin livewells and tuna tubes, an anchor locker, pop-up cleats and rod holders perfectly positioned for tropical "run and gun" billfishing. "I can't think of another project where we packed in so many hardcore fishing features into a boat of this size," Hodge explains.
The cockpit is arranged with a central mezzanine bench seat that doubles as a large ice maker and cooler, with two freezers accessible in the steps below. Two huge in-deck fish boxes straddle the Release fighting chair and transom livewell with tuna tubes. No space is wasted throughout, with the mezzanine steps and seating hosting multiple flush-face tackle drawers and dry storage. The primary helm features pilot and co-pilot chairs with an artfully designed electronics suite stuffed with the latest units from Cat, Garmin, FLIR, iCom and Fusion. To starboard is convertible bench seating concealing rod storage, while additional seating, dry storage and an in-deck engine room hatch occupy the space forward of the helm. Topped off with a custom satellite and radar dome and her all-black fittings and rigging, Grander's dark demeanor is lit in an impressive spectrum of color at night thanks to an extensive Lumishore LED lighting installation throughout the hardtop, gunwales and transom.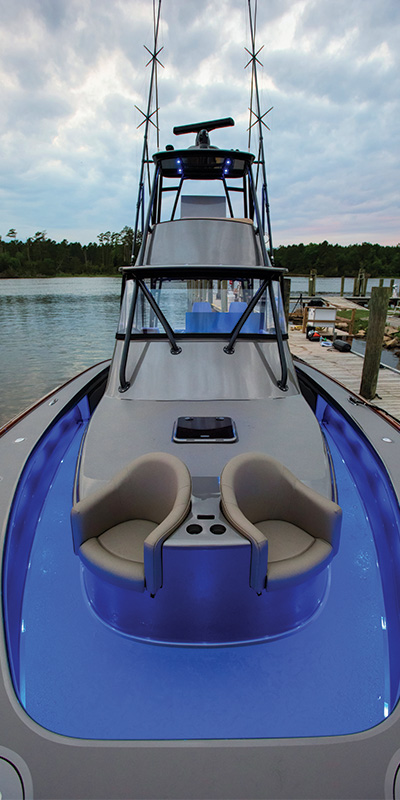 Beautiful on the Inside
The clean and modern design flows below as the sliding companionway door reveals another striking mix of metallic and wood veneered surfaces. A compact, but capable galley occupies the starboard side which includes a wash basin, microwave convection oven, over/under refrigerator/freezer and recessed storage. A two person v-berth wraps around the forward cabin underneath a central overhead hatch. To port is an extensive tackle storage station, a combination rod and wet hanging locker, and a well-appointed head finished in Stardust Silver throughout.
Upon completion, Grander stealthily made her way from North Carolina's Crystal Coast to Savannah, Georgia and loaded onto a transport ship bound for the British Virgin Islands, where her aggressive styling and performance undoubtedly make her both a sight to behold, and a top predator in her home waters. As Jarrett Bay President Randy Ramsey concludes, "Just like all our custom boats that have come before her, the Grander is her owner's interpretation of the perfect fishing boat. We couldn't be happier with how she turned out and the response from everyone who has seen her has been overwhelming." The Grander team adds, "It isn't even fair to simply call this a fishing boat. The Grander, combined with our tackle onboard, is the ideal Marlin Machine."
With the 46′ successfully delivered, the Jarrett Bay new construction team is now heavily focused on the impending completion of the company's largest hulls ever, the 84′ Blank Check and 90′ Project Ireland—both open style convertibles. They've also started construction on a unique 67′ sport yacht and two 64' convertibles, so appropriately rounding out the company's astounding custom capabilities and fearlessness.