How Viking Yachts Continually Improves to Dominate the Sportfish Market
With 54 years of boat building in their wake, there is no argument that Viking Yachts is a major industry player, if not the single most influential sportfish builder in the world. In addition to a strong dealership network (in which Bluewater can claim over 30 years of partnership), climbing to the top of the production sportfish market has required a great deal of innovation and re-investment.
With President and CEO Patrick Healey at the helm, the Viking Yacht Company has a remarkable history of investments. The Healeys have always believed in ongoing improvements.
It's never over, and they're never satisfied with just carrying on. Now with three facilities in two states, Viking has an immense amount of square footage and equipment to keep up with. Simply learning more about the long string of well-planned improvements that got them to this point can be a journey in itself.
Viking got their start in 1964 with a small 26,000 sq. ft. building on a 100-acre plot of land. For their first 15 years of business, they made the best use of their space and the adjacent boat basin. From 1980-83, two new buildings were constructed that were both considerably larger and taller than the original facility. Production steamed ahead in these new digs through the 80s and 90s, as many other upgrades and additions were made to increase efficiencies, improve production processes and streamline team workflows.
After taking a leading role in surviving and repealing the nineties luxury tax, by the turn of the millennium, Viking was reaping the benefits of a recovered marine industry. Their immense success with new models like the venerable 55 and 65 set them up for several expansions, including two new production buildings and a fully-enclosed make-ready facility.
Smart Money
Boat building in New Gretna, New Jersey is a year-round affair, regardless of what Mother Nature has in mind. In the early days, the production buildings were heated with wood pellets formed from the scraps and sawdust swept from the floors of the wood shop. Ingenious, cost effective and environmentally conscious. Alas, the wood shavings couldn't keep up with the ever-increasing square footage of the facility.
In 2012, Viking invested a considerable amount of money into an advanced tri-generation power system that would provide more than half of the electricity needs for the entire facility, along with heat or air conditioning in all the enclosed buildings. This system utilizes six enormous natural gas-fueled turbines that produce 65kW of electricity each, and cleverly recycle heat from their own exhaust via heat exchangers and absorption chillers.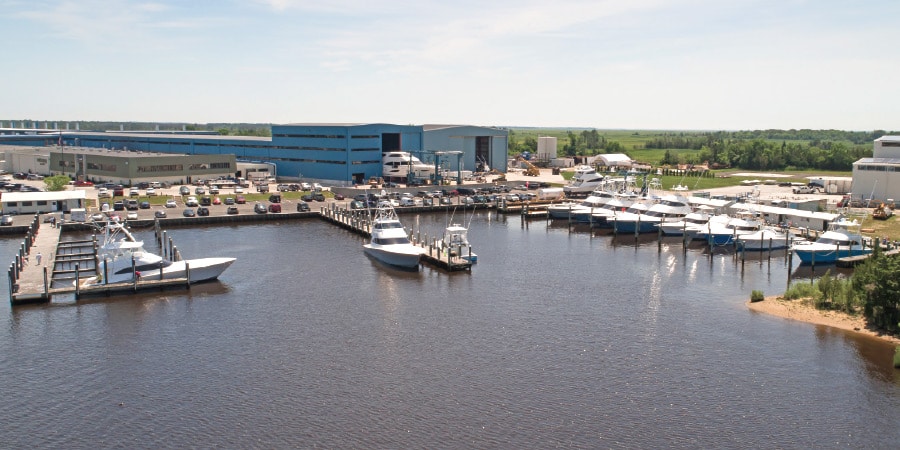 Viking's sprawling New Gretna headquarters is constantly growing & improving
For over 30 years now, Viking has maintained a fully-staffed medical facility on-site at their New Gretna production facility. Bill and Bob Healey, founders of Viking Yachts, believe strongly in wellness and preventative care for every employee and their families. They realized a healthy staff means greater productivity, and Viking's incredible workforce of over 1,400 people allows the company to produce 90% of every yacht entirely in-house.
"The Healeys are always looking at overhead costs and how to keep them controlled at every turn," says Viking Chief Financial Officer John Kasinski. As the New Gretna plant continued to grow via additions, the demand on their waste treatment system was strained and costing the company over $300,000 in annual maintenance and pump-outs. In 2009, they made the bold move of constructing a $1 million on-site waste treatment plant to manage their average daily consumption of 7,000 gallons. "At 25,000 gallons, this system will always meet our needs even if DEP regulations change," explains Plant Engineering Manager Chris Babek.
Big Boats, Big Changes
As Viking's newest models swell in every dimension, their investments in facilities must grow with them. The latest upgrades in New Gretna include an impressive 55' tall, fully-enclosed building intended for tower and sky bridge installations, and a 35' structure that filled in the final gaps remaining between several older buildings. This 2014 undertaking included the addition of six 10-ton overhead cranes which are responsible for transporting and flipping massive parts, such as the full-length deckhouse of a 93MY.
Currently the basin at New Gretna is being dredged to accommodate the greater drafts of Viking's largest models including the forth-coming 100′ Cockpit Motor Yacht slated to launch in the Fall of 2019.
The docks are also being upgraded, added on to, and reconfigured to better accommodate the increasing beams and lengths of the boats. The Viking team is always looking forward and never tires of investing in choices that poise them at the forefront of both the sportfish and motoryacht markets.
Unstoppable Growth
When their Mullica, New Jersey production facility was acquired from neighboring Ocean Yachts in 2016, Viking carefully blazed their next trail. John Leek IV, part of Ocean's original founding family, was brought on to manage the Mullica plant and was encouraged to retain a fair portion of his existing team. Mullica is currently responsible for building Viking's product line from 37' to 52', but only major fiberglass pieces are produced in the factory. For the rest of the boat, they are assembling "modules" of staterooms, galleys, and more that are manufactured and delivered by the New Gretna workforce.
Bluewater Partner and Sales Professional Jud Black helps explain the new operations at the Viking Mullica plant. "With only 15 miles separating the two facilities, supply trucks run daily from the New Gretna plant to provide parts and equipment for the boats in production." Black continues, "Wiring harnesses, cabinetry, manufactured parts and hardware are all produced in New Gretna and shipped to Mullica by truck."
Not including the initial sale price of the facility, "our initial investment for improvements at Mullica exceeded $7 million," Kasinski explains. "The Healeys believe in having the 'proper tools for the job,' and that a quality work environment is incredibly important."
"The Healeys believe in having the proper tools for the job…"
This early investment included retrofitting the buildings with overhead cranes, as well as proper insulation and HVAC additions. Having heat in the winter not only boosts employee productivity, it aids in the curing process of each resin-infused part. Mullica also received their own medical clinic, modeled after New Gretna's, aiming to give employees a better option for healthcare. Further improvements on Mullica's horizon include connecting the three separate manufacturing buildings to achieve greater production efficiency.
Listening to Customers
In the early 2000s, a four-time Viking owner approached the Healeys about his next boat and stated flat-out that he would not build another boat. He greatly enjoyed the build process and the quality of all his Viking yachts, but loathed the rigging and finishing process after the sale. He had such a horrific experience rigging his last Viking at a third-party facility, that he could not imagine enduring it again. As expected, the Healeys sprang into action.
Atlantic Marine Electronics and Palm Beach Towers, wholly owned subsidiaries of Viking Yachts, were created in 2003 so Viking could offer a truly turn-key experience to their customers. "We believe one challenge is to win the customer over to Viking, but the greater challenge is to keep the customer for life and have multiple sales," says Sales Manager Mark Waldron.
Performing rigging and final outfitting on-site in New Gretna allowed Viking to control every process of the build right up to the final delivery. "Our plant supervisors and management team examine the progress of every build on a weekly basis and work to keep that boat on schedule. We are able to provide a finite delivery date to every customer and they can actually book their plane ticket for that date!" Waldron exclaims.
Viking's recent re-emergence into the motoryacht market was also driven by customer demand. Customers who had flowed through the bulk of Viking's product offerings and were ready for the cruising life ended up leaving Viking after multi-decade relationships to pursue the ideal motoryacht. Answering the challenge of keeping a customer for life, the Viking team responded by developing their new American-style motoryacht line. The result? Viking announced the 75MY and an aggressive plan to roll out four large motoryacht models within a few short years.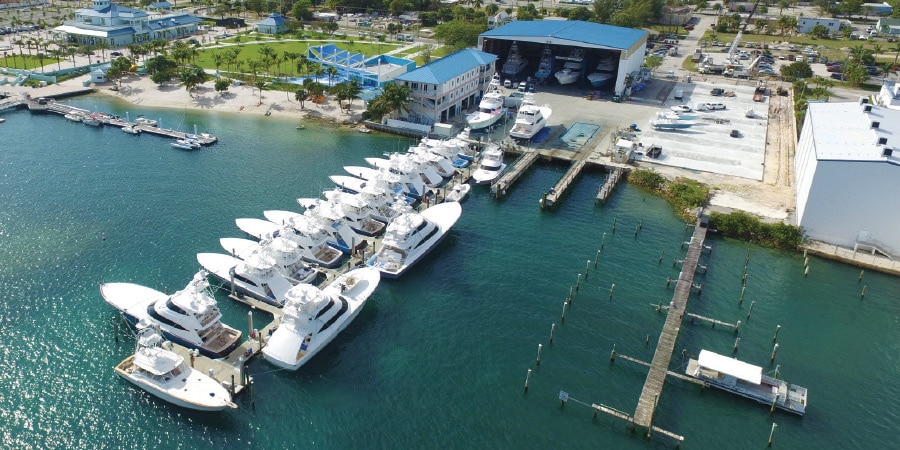 Service in the South
While Viking was working to incorporate AME and Palm Beach Towers, they also opened the Viking Yacht Service Center in Riviera Beach, Florida. This facility provides OEM service and upgrades for owners who reside or winter their boats in the Sunshine State. Due to surging demand, the Viking Yacht Service Center opened satellite operations here for both Atlantic Marine Electronics and Palm Beach Towers in 2007. In addition to hosting Bluewater's south Florida sales office since 2012, the location has become an ideal venue for the annual Viking VIP event showcasing their entire lineup of yachts prior to the Miami boat shows each February.
The South Florida location is currently being expanded to the tune of $9 million and includes acquisition of an adjacent property that will provide additional haul-out space. "It's pretty remarkable," Bluewater's Jud Black explains. "They are installing a state of the art service pier where boats are hauled and blocked with shore power, 110-volt electric, and compressed air readily available for any service needs. The boats are fully-powered and air conditioned while being serviced and upgraded!" Additional improvements include dredging the basin and installing more floating docks which will help better accommodate larger yachts.
Staying Power
Bluewater Partner Earle Hall concludes, "It should be clear the Viking team and the Healeys have a winning formula. Their continued investments and innovation through the years have secured their dominant position atop the production sportfish market." It's obvious that several decades of well-timed expansions and early-adoption of technology have helped catapult Viking to the number one spot—but their success runs much deeper than that. Despite all the investments, expansions and forethought, none of it would have been possible without the incredible, spirited workforce they have built.
Viking by the Numbers
54 years

of boat building on the Bass River
Original building was

26,000 sq. ft.

At

55 ft. high

, the make-ready building is the tallest in New Gretna

90 years

and still going strong for Viking co-founder Bill Healey

Over 1,400 employees

work in the two New Jersey factories

Over 30 years

of in-house medical services provided to employees and their families

390,000 watts

of electricity are produced by the tri-generation natural gas turbine generators in New Gretna
A

$1,000,000

on-site sewage treatment plant saves the company $300,000 a year

$7,000,000 invested

on renovations and upgrades to the new Mullica location

$9,000,000 budgeted

to improve the South Florida Viking Service Center

100 feet

is the length of Viking's next motoryacht to debut

90%

of all Viking yachts and their parts are fabricated in-house
VP of Human Resources Drew Davala emphasizes, "All the employees here are career-oriented people and the average tenure easily approaches 20 years." Co-founder Bill Healey can be found at the plant each day checking on progress and visiting with employees. Bill clearly doesn't believe in retirement, because at age 90, he still enjoys being a part of the vast Viking family, and helping to build a better boat every day. Bill and Pat Healey's tenacious drive and customer-first thinking inspires everyone they meet. Without a doubt, Viking has worked tremendously hard and persevered to get where they are today, and they deserve every bit of recognition for it.