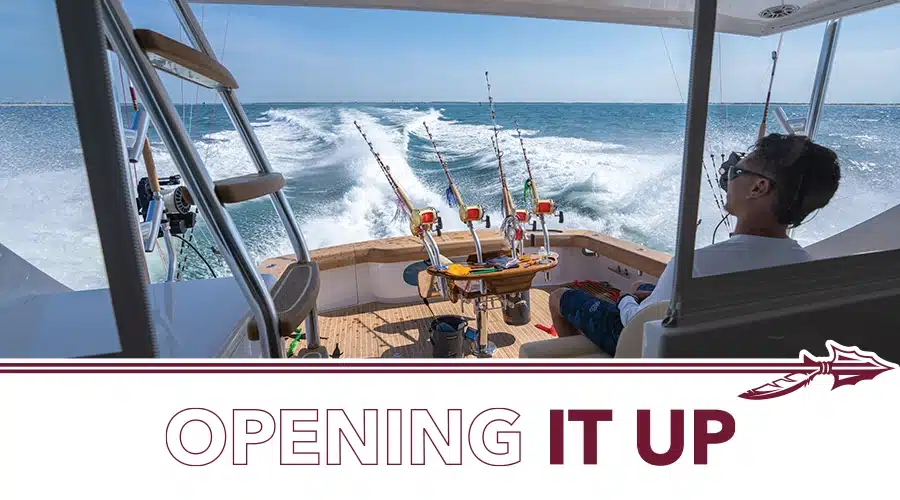 Jarrett Bay Delivers Another Truly Custom Masterpiece
Unlike some of the massive custom convertibles being commissioned by other Jarrett Bay customers, the
Renegade
was always different from the start.
At first glance, this 56-footer looks like a standard sportfish convertible design with a flybridge and tower. But upon closer inspection, you'll find an additional lower helm station and open bulkhead that allows the main level to be treated more like an open express "day boat" layout, and less like a convertible's divided cockpit|salon arrangement. This unique design allows for a terrific ease of movement and proximity between the lower helm and seating areas to the fishing activities, as well as a synchronicity between the crewmates manning the two helm stations.
This is not the first time Jarrett Bay has accommodated an owner's request for a lower helm station—the 46' Persistence and 43' Gregarious came before—but this is the first that takes that lower station into express-style territory, instead of a poshly upholstered interior salon space. The Renegade is also quite a bit larger than those custom predecessors. Overall, she is large enough and well-equipped to accommodate long range marlin trips, but also nimble and versatile enough to thread a bunch of baits around a tight ball of schooling sailfish and through other fishing traffic.
A Lifetime of Boating & Fishing
Renegade's owner, Ron Glazer grew up boating and fishing in South Florida and has long enjoyed working the winter sailfish bite in his large center consoles from homebase in Fort Lauderdale. But now with this bigger boat and a dedicated Captain, he can stretch his outriggers into new territory, including the Bahamas and a planned trip to the Pacific side of Costa Rica in 2023-24.
In case it's not obvious, the Renegade name pays homage to Florida State University, and his family's long-standing tradition of supporting Seminoles football. Ron, his brother, and his son are all graduates from FSU and are die-hard 'Noles fans. The boat's design and outfitting echoes the theme well—coming across as capable, proud and fiercely independent.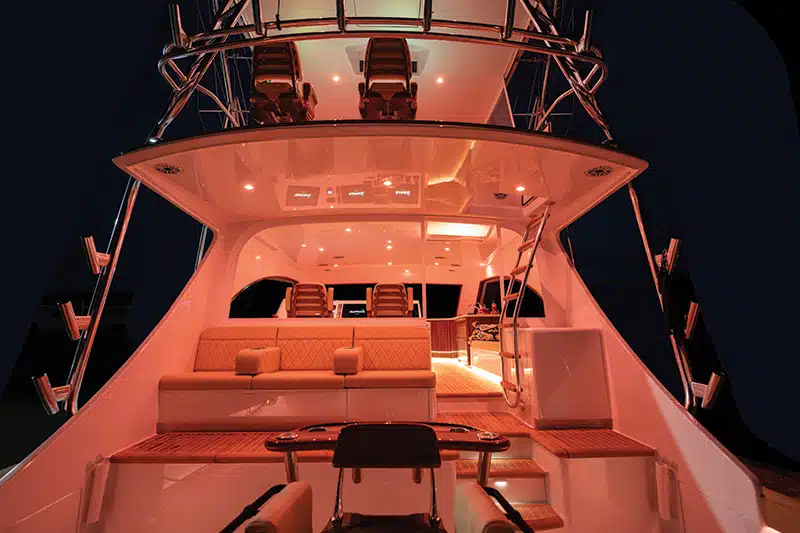 Pumped Up
Any experienced boater can tell you it's the little things that make a big difference in outfitting a boat for self-sufficiency and convenience while on a big trip. Glazer, who is head of a successful engineering firm, glows about all the custom bits and forethought that went into the build. "The overall layout, performance and features that were built into the boat have provided an unparalleled platform for fishing in the Bahamas and soon on the Pacific side of Costa Rica," he summarizes.
The appointments and custom details are luxurious, but this boat is unquestionably built to fish, and everything found throughout is intended for that expressed purpose. Glazer and his Captain, Brian Tambone, explain that targeting sailfish in South Florida often utilizes kites to keep their live baits dancing on the surface. "That style of fishing requires kites and also the potential to store large amounts of live bait in the cockpit," Glazer says. However, when the wind isn't cooperating in keeping the presentation just right, Tambone likes to add helium-filled balloons to the kite rigs. "That's really one of my specialties. So, we have a tank mounted in the engine room and a whole plumbing system with a hose that comes out in the cockpit. You can fill up right in the cockpit without having helium tanks rolling around," he explains.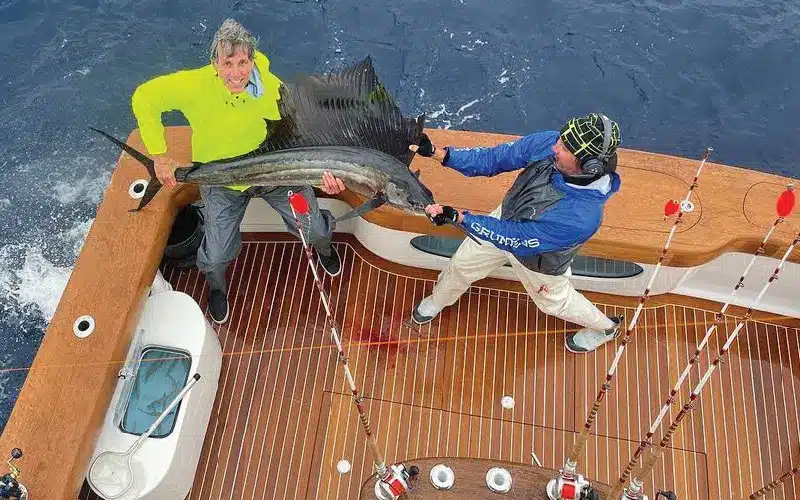 "…this boat is unquestionably built to fish, and everything found throughout is intended for that expressed purpose"
In addition to the integrated helium tank below, three tuna tubes are neatly concealed in the beautiful teak covering boards on the transom. Alongside the glass-windowed 100-gallon live well, they also worked in auxiliary water pumps and drains for circulating additional portable bait pens when extra capacity is required. Similarly, the cockpit and engine room are configured with the necessary air pumps to easily inflate and deflate fenders in between uses and storage, and without the need for portable pumps cluttering up the work area. The more "normal" accommodations of the cockpit and mezzanine include massive fish and ice lockers, 40-gallon freezer and drink boxes, gaff and brush storage, grill and tackle drawers.
Unique Lower Helm
Moving forward past the mezzanine you'll find a centered teak helm pod with massive electronics displays, two folding helm chairs, a wet bar and seating stretching along the real teak flooring, along with storage spaces throughout. Like most captains, Tambone prefers his perch on the flybridge (or up in the buggy top) for spotting birds and fish and overseeing the action. "We have two completely identical helms in both the lower salon and on the bridge, allowing the mate and anglers in the lower cabin and cockpit the same view of the electronics as the captain has on the bridge," explains Glazer.
Forward of the lower helm peninsula is a U-shaped dinette, with a table that can be lowered into an additional berth. As you pass down into the companionway, you are enveloped by the vibrant, walnut and quartz appointed galley, which transitions to the two staterooms and head, along with an impressive custom tackle center. The master stateroom is situated in the bow, and the crew's quarters features over/under bunks to starboard.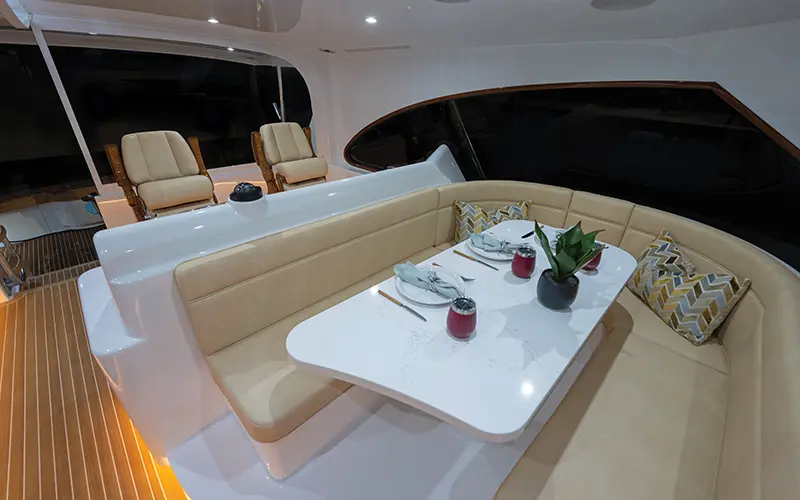 Jarrett Bay 56
LOA: 55′ 6″
Beam: 17′ 6″
Draft: 4′ 6″
Fuel Capacity: 1,200 gal.
Water Capacity: 250 gal.
Dry Weight: 61,000 lbs.
Power: Twin MTU 10V 2000 M96s
@ 1,600 hp ea.
Genset: Northern Lights @ 25kW
Stabilization: Seakeeper 18
Cruise Speed: 34 kts.
Top Speed: 40 kts.
The engine room remarkably has standing room for 6-foot persons while housing a massive amount of equipment, including the MTU 10V2000s power, the Northern Lights generator and over-sized stabilizer, watermaker, and the aforementioned additional tankage and pump systems—all made easily accessible for maintenance.
Above on the command bridge is a familiar scene. You'll immediately recognize the near-identical layout Glazer mentioned, mirroring the lower peninsula helm and electronics console with three 22" multifunction displays installed by Atlantic Marine Electronics, and the dual Release Marine Captain's chairs.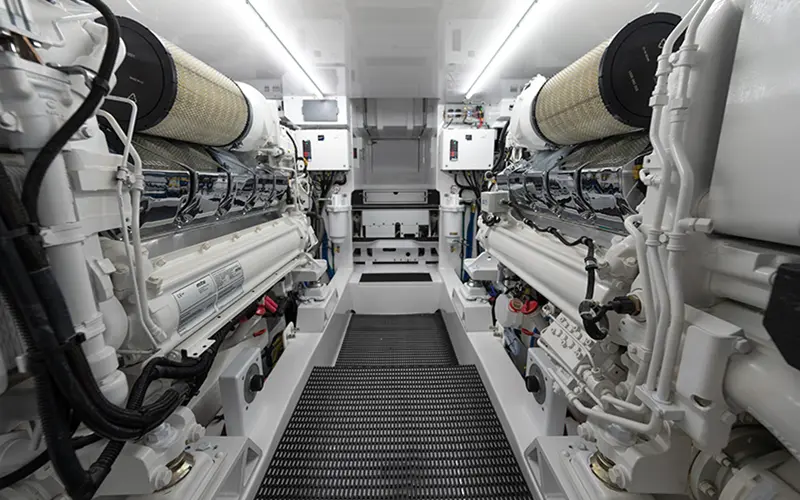 Relishing the Process
Renegade is a design so unique, so one-off, it turns out there aren't many builders who would be interested in attempting it. In fact, Glazer was in talks with three top custom Carolina builders before ultimately choosing Jarrett Bay, "based on their willingness to build an open express configuration, as well as their reputation in the industry."
Prior to sitting down in the initial design consultation, Mr. Glazer was taken on a tour of the Jarrett Bay facility in Beaufort, North Carolina. He received an in-depth explanation of the cold-molding build process from the design team and was able to board other boats at different stages of construction.
"My first visit to the factory was to consult with Gary Davis, Brandon Davis and Chad Voorhees on the design concept for hull #67. During that particular visit I was introduced to the entire custom boat building process, initial design drafts of the profile of the hull, as well as extensive discussions about the intended use and travel plans for the boat," he says.
"The design and construction team at Jarrett Bay have been fantastic to work with,"
including RV Hodge, Peyton Lanier, Chad Voorhees and Brian Gray," recounts Glazer. It's no secret these custom builds take longer than a production boat to build out, but that also affords the owner more opportunities to visit the facility, interact with the team members and perfect their boat just the way they want it.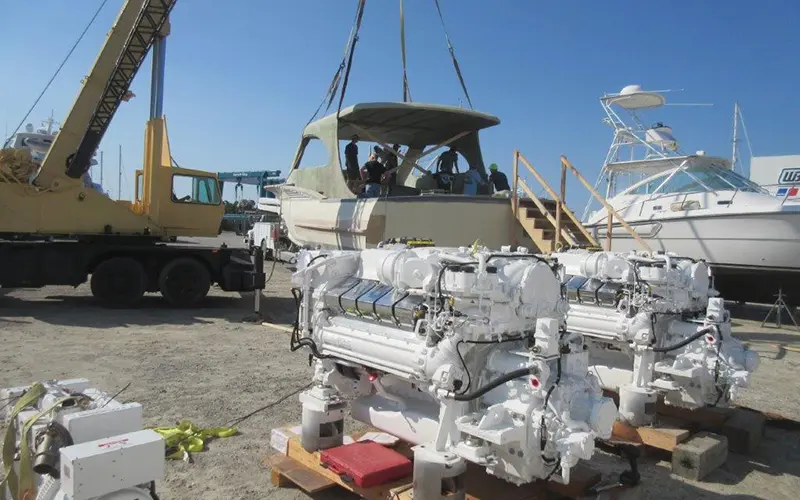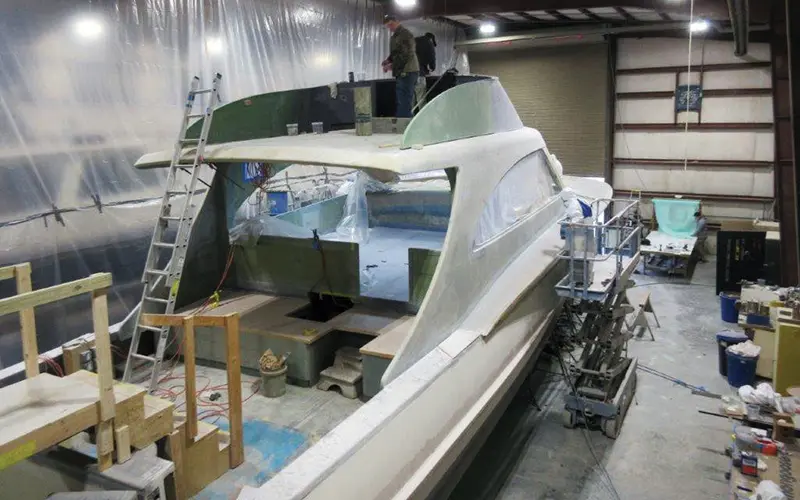 Processes Explained
Construction Foreman RV Hodge describes one of the more unique phases of Jarrett Bay's design workflow, "One of the parts about fully custom construction is that early on in the design phase, the customer can come to the boat and we build in these foam mockups, and he can say, 'yes, I like this,' or, 'I want it higher or lower.' Each aspect of the build can be done that way." There's also constant feedback being made when not at the facility… As foreman, Hodge is responsible for providing frequent construction updates and photos via email. If the owner or captain sees anything they have a question or concern about, the Jarrett Bay team member responsible is just a message or phone call away.
"One of the most important milestones of the build was to visit on the day the engines, generator, and stabilizer were installed in the engine room and cockpit mezzanine. That was immediately followed by the installation of the cabin structure," Glazer says. This is indeed a spectacle of a day when the hull and cabin are pulled outside and a series of crane lifts maneuver the heavy equipment into the hull before lifting and fastening the "house" atop. With the cabin top in place, the owner and crew can then get their first true experience of how the final interior spaces will feel around them and can make final decisions on how exactly they'd like everything to be buttoned up.
Getting Going
After final coatings, appointments, sea trials and performance tuning, Renegade was officially delivered in the Summer of 2022, and the team wasted little time before heading south. "Our initial trip was to San Salvador in the Bahamas Out Islands. We were a little late for the marlin run, but we did go 1 for 3 during that trip and it served as a good shakedown trip for the boat," Glazer says. Since then, they have been fishing the boat in the near-island Bahamas and have had no trouble enjoying the billfish and wahoo bite between there and South Florida. "The boat is scheduled to be shipped to Quepos, Costa Rica in December where it will live at the Marina Pez Vela until June of 2024 for the sailfish and marlin season," he reveals.
Ultimately, the breathtaking finishes and custom features of Jarrett Bay's latest masterpiece are the icing on the cake; perfectly complementing this unique "open convertible" concept for a special owner and their specific fishing and travel interests.
And while Renegade may have been quickly whisked away to sub-tropical fishing grounds upon delivery, all of the careful design and engineering performed in-house and brought to life by Jarrett Bay's experienced craftspeople, shall always be a source of immense pride back in Beaufort.
In-PROGRESS CUSTOM BUILDS AT JARRETT BAY