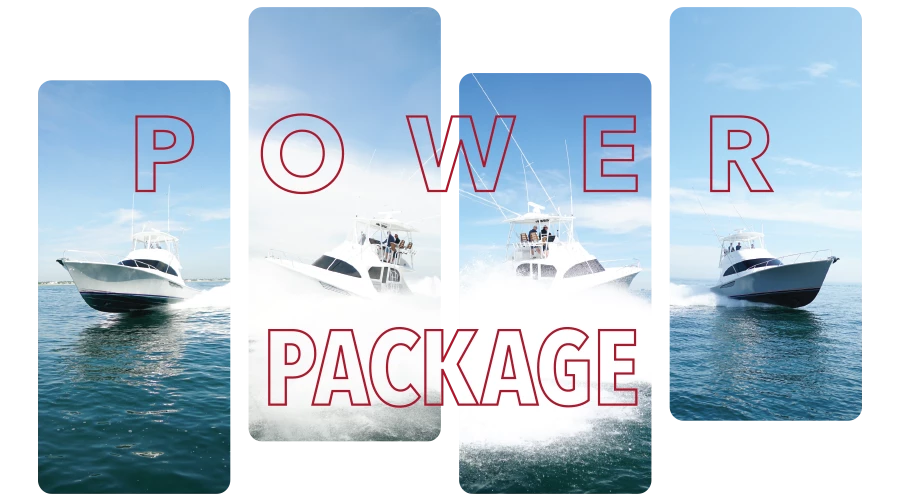 Mack Boring helps introduce Scania to the U.S. Sportfishing Market
Scania, a well-known name in diesel engine, heavy truck and off-road equipment in Europe, South America and Asia, has reentered the United States sportfishing market in a partnership with
Mack Boring and Parts Company
and Viking Yachts. Their newest DI 13 pleasure craft engine series is US EPA Tier III-compliant and boasts an industry leading power-to-weight ratio.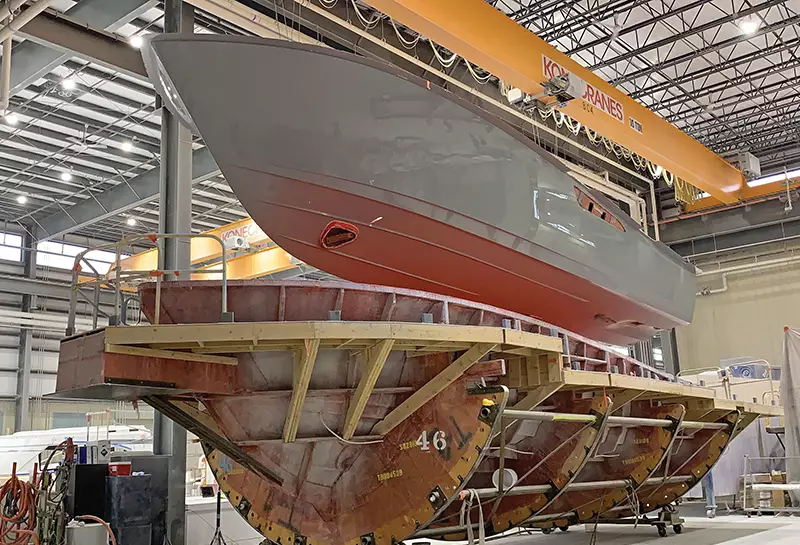 Long Heritage
Mack Boring, a family owned and operated distributor in New Jersey is North America's largest Scania dealer and is celebrating 100 years of operation in 2022. Fourth-generation Mack Boring President, Patrick McGovern approached the Viking Yachts' team with a proposal to install a pair of Scania's latest recreational engines into a Viking 46 Billfish to serve as a demonstration platform for this new high-output power system. "We have always seen demo platforms as a great opportunity to show off the products," McGovern explains. "This is an engine series Scania has produced for many years, marked by strong sales and superb reliability, and we've been selling the smaller variant for years."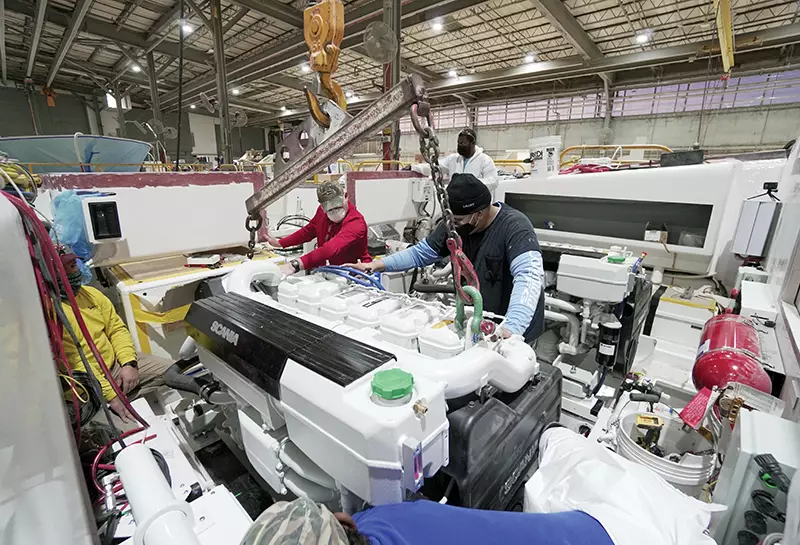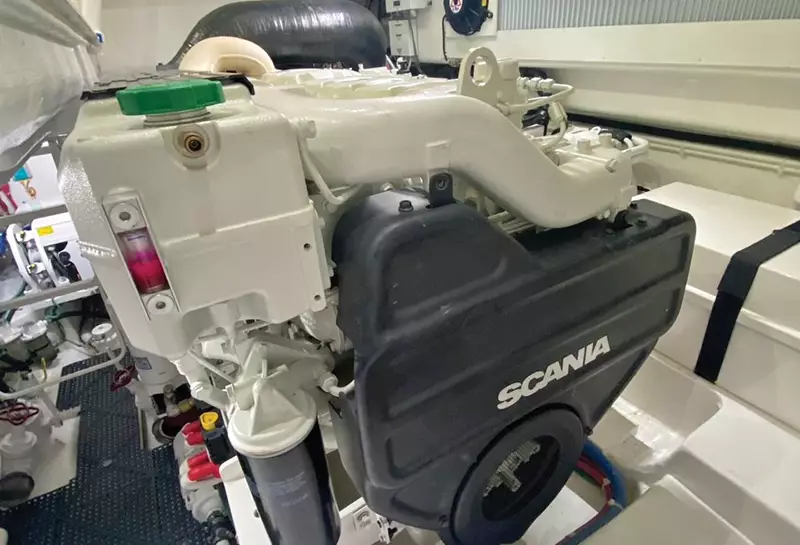 Rated at 900 hp and producing over 2,300 pound feet of torque, the new 13-liter inline-6 engines are built on a Compacted Graphite Iron (CGI) block to ensure strength and long service life while saving weight. Tier III emissions standards and impressive acceleration are accomplished via a single wastegate turbocharger along with Scania's proprietary Engine Management System (EMS) and common rail extra high-pressure injection system (XPI). This eliminates the need for additional turbos or superchargers, which helps save weight.
McGovern targeted Viking as a demo platform due to their strong sportfishing market share in North America and, "they have the most experience in building a great boat with good volume, offering several models for us to choose from as a test platform." McGovern and Mack Boring team members visited the 2020 Viking VIP in South Florida and ultimately decided the 46 Billfish would make an ideal demo boat for the Scania power. "The 46 Billfish handles like a sports car—nimble and fast," McGovern exclaims. "Plus, the open command deck design with engine room access shows off the power package much better, without the need to enter the engine room."
Hitting the Trail
The Scania-equipped Viking 46 Billfish, MACK 900 launched in summer of 2021 and immediately hit the tournament trail to show off her power, raise fish and rack up some hours. She also made the trip to South Florida in the fall and winter to participate in boat shows in Viking's renowned displays.
Performance tests included full fuel, water, gear and several crew onboard. The Scania-powered Viking 46 Billfish hit a top speed of 41.5 knots, consuming 86 gallons per hour. She settles into a quiet cruise at 31 knots, burning 52 gallons per hour. Increasing the revs to 2,000 rpm produces 35 knots at 64 gallons per hour with still another 300 rpm remaining on the tach. McGovern is impressed with the power package which is mated to ZF gears and a 4-blade Veem prop.
Mack Boring manages over 300 authorized dealers across 26 states. Their partnership with Scania began in the Great Lakes region and quickly grew the distributorship from Maine to the Florida Keys and the Caribbean. "Early on, we realized a commonality with corporate values and the way they [Scania] do business," McGovern explains. "It's been a joy to continue investing and growing together through our different markets."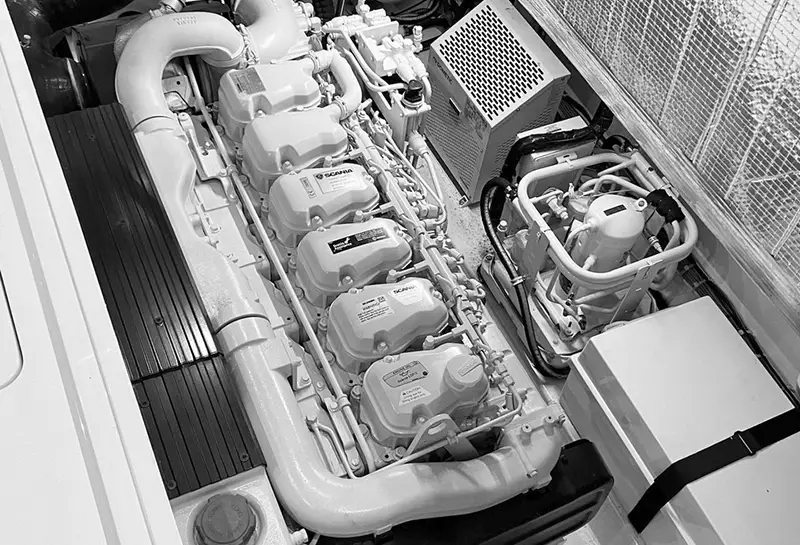 "For those who just read or hear about the engine specs and output, they are blown away when they see the compact footprint."
Patrick McGovern
Mack Boring & Parts Co.
Unsurpassed Reliability & Support
Mack Boring's strong focus on customer service and support combined with Scania's 98-percent parts availability means minimized downtime when repairs are needed and a tremendous service network to meet you where you boat. MACK 900 is the first Viking to be introduced with Scania's reliable 900 hp inline-6. And, this newfound partnership could mean more Viking models with Scania power in the future, including the similar 16-litre V8 engine.
Bluewater's sales and management team has enjoyed partnering with Mack Boring and Viking at several events to showcase and demo the MACK 900 including the Annapolis Boat Show and Big Rock Tournament.
The inline-6 Scania 900 provides more room for maintenance thanks to her tidy dimensions. However, the real experience is on a demo ride, "Our acceleration and torque curves are much broader, and that power comes in lower in the rev range, offering higher top end and cruise speeds," McGovern explains. MACK 900 is scheduled for another busy demo season at tournaments and shows up and down the Atlantic Coast, and we encourage you to experience this impressive new boat in person.