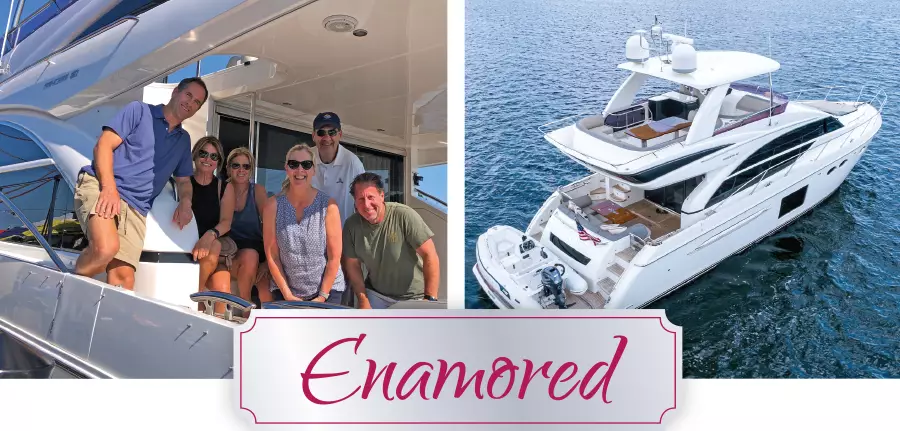 Princess Yachts Make for a Pleasurable Cruising & Ownership Experience
"I've never bought a new Princess," begins Craig Kushner. Although he prefaced the discussion with these six words, we soon learned that his experiences with Princess Yachts—like the experiences of new Princess owners—is unsurpassed in every expectation. For Craig and his wife Hilary, it all started in 2003 with a photograph of a new Princess V50. "I fell in love with that boat at first glance," Craig recalls. "The look was so sexy, and I loved it!"
The Kushner's previous Princess, a V50
The following year, the Kushners fulfilled their dream and purchased a one year old Princess V50 (at the time, a Viking Sport Cruisers model). After a decade of enjoyment aboard their V50 and flawless support through the years, they sold it in 2014 and purchased a different motoryacht. All the while, Hilary missed owning a Princess and eventually it became clear they needed to find another to call their own. Tapping the expertise of Bluewater's Chuck Meyers, the Kushners spent a portion of 2020 looking for their next Princess yacht.
"When searching for our next Princess, I thought sixty feet would be the largest boat I could handle as a captain," Craig explains. Although one deal fell through, Meyers helped lead the Kushners to a late model 60' flybridge owned by his clients who were building a new, larger Princess. "We closed on our Princess at the end of 2020 and Chuck Meyers was great throughout the whole process," Craig explains. "He's not a salesman, he's an honest person who is extremely knowledgeable about the boats. He never sold to us, he let us buy."
After taking delivery of their Princess, they had the name applied to the transom: Kush. Craig laughs, "I get a lot of funny looks and questions about the name of our boat because these days it's slang for marijuana." As it turns out, Kush is simply a long-running nickname that began with Craig's father when he was a young man. "It all started with my dad, and for many years my nickname was Kush as well. Then it was passed on to the kids and I stopped answering to Kush because it became too confusing."
As for the boat, "It was in phenomenal condition—better than advertised," Craig recounts.
"Princess is the 'gold standard' and when you own one, new or used, what you get from Princess America is fantastic!"
Princess keeps schematics of every hull delivered so that when there is a problem, they know exactly how the boat was built and what parts are needed where. Princess Yachts America also keeps plenty of parts in inventory to ensure a quick repair and minimal downtime for the customer. "My free time is so valuable that when I'm here on the boat, I want it to work," says Craig.
Craig and Hilary use their Princess as a floating condo, splitting their year in half between Annapolis and Palm Beach. When in Florida, they enjoy cruising to the Keys and marina hopping, while their time in Annapolis is spent traveling the Chesapeake. Craig jokes, "Our boat has autopilot from Annapolis to St. Michaels every single week." Their favorite restaurant is The Crab Claw, situated near the Chesapeake Bay Maritime Museum on the Miles River, which they visit more than once per week. "There's only two slips I can fit our Princess 60 in at the dock and one is reserved for me, and one is reserved for my friend who also pilots a larger motoryacht," Craig explains. "If they know we're coming, they keep those slips open just for us."
The Kushners also enjoy their biannual cruise along the coast from Maryland to Florida, stopping in at all the great ports along the way, including Charleston, Hilton Head, Fernandina Beach, St. Augustine and more. "I thought my limit as an owner-operator would be 60-feet, but after a few months, I realize we can go bigger," Craig explains. The Princess is very easy to maneuver and a joy to pilot for short and long distances. "In a year or two, we'll be looking between 68 and 72-feet for our next Princess," Craig says.
"When you buy a Princess, they are so desirable, they maintain their value and are very easy to sell," Craig explains. "Everyone knows the Princess brand and they know it's high quality."
Craig and Hilary are looking forward to their next Princess as they continue enjoying their current, knowing that no matter what may come, Bluewater Yacht Sales, Chuck Meyers, and Princess Yachts America are all there and ready to ensure the best ownership experience possible, now and into the future.