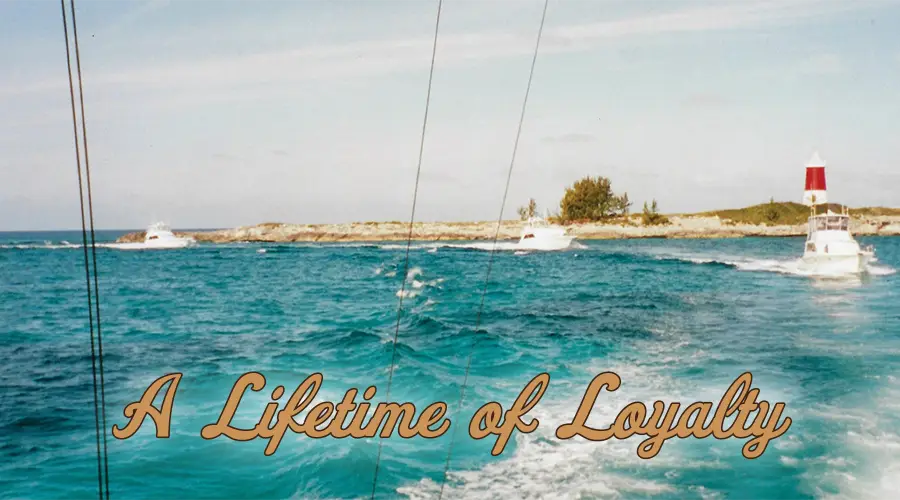 Reciprocal Sales, Service & Friendships for over 25 Years
Doug Gardiner first engaged with Bluewater and its founding partners back in 1996 during a hosted event: an owners' rendezvous in Abacos, Bahamas. He accompanied his parents aboard their Hatteras, who were invited by Bluewater's Chris and Judy Hall and Jud Black. Since then, Doug's dealings and respect for Bluewater have only grown.
Rewind
In 1969, after leaving behind a fishing charter business and their home in Fort Lauderdale, Gardiner's parents started building Dennis Point Marina and Campground along the St. Marys River in Drayden, Maryland. By 1989, Gardiner was running the boatyard and service facility for the family business. Dennis Point is now a successful service yard, marina and campground offering service work and haulouts up to 75 tons.
A relationship developed between Bluewater's Hampton yacht yard and Dennis Point. "A lot of our boatyard customers were buying bigger boats and wanted Vikings," Gardiner explains. "So, we were sending them to Bluewater Yacht Sales to deal with Chris, Jud, and later, Carl Beale." The relationships continued far beyond the sale as those new Viking owners would return to Dennis Point for routine maintenance and warranty work. "I would call Bluewater when we needed parts assistance because they had the authority to get stuff from Viking quickly and easier," Gardiner says. "The relationship with Bluewater made it so much easier to do work with newer boats under warranty and continue taking care of our customers."
Work & Play
During boating season, the Gardiner family was busy serving customers and running the marina and campground, but in the off season from November through March, their schedules afforded more flexibility. "My parents traveled to South Florida with a whole group of Viking and Bluewater customers in January and met at the Miami boat show in February." Gardiner continues, "Chris would take a demo boat from Miami to The Bahamas and stay into March hopping the islands." Gardiner's parents would tag along in a fleet of 5 to 8 boats for these trips, year after year.
In 2003, a great customer, John Kaufmann, purchased a new 56' Viking Convertible from Bluewater Yacht Sales and Gardiner became the captain. "I ran John's boat for him back and forth to the Bahamas and played captain for a couple other Viking customers traveling back and forth to The Bahamas and South Florida," Gardiner explains. Bluewater Yacht Sales made the sale and Dennis Point would perform most or all the work on the boats at their yard in Drayden.
Unwind
Gardiner's parents decided it was time for retirement in 2007. He and his brother had enjoyed helping run the family business for nearly two decades, however, they were ready to slow down a bit too and spend time with their families. Gardiner continued captaining a couple longtime customer's boats even after the sale of Dennis Point. But their own family boating trips to this point were achieved by borrowing boats from his in-laws.
So the time had come for Gardiner to purchase his first boat, and in 2014, he snapped up a good deal on a 43' Viking Express. "I like to work on boats, so I always look for one that I can afford but needs a little work," Gardiner says. "I pay less than market value for my boats but know that I will put money into them." His next boat was a 50' Hatteras Convertible purchased with the help of Bluewater's Jud Black and Carl Beale. "I first met Carl years ago when he was detailing boats and doing yard work at Bluewater," Gardiner says. "He was also running and moving boats and I would see him in Ocean City for the White Marlin Open. Once he started as a salesman, I would see him at the Miami Boat Show."
After moving up to a 58' Viking Convertible, Black and Beale helped Gardiner purchase a 61' Viking from South Florida. Beale went to Key Largo and brought that boat home to Maryland for Gardiner. Each of his boats have carried the same name: Timeless. "My wife and I thought that boating is a timeless family activity," Gardiner reminisces. Unfortunately, his wife, Chrissy, passed away in 2014, but he now boats with his fiancé, Janelle, and his adult children, Sarah and Ally. "Your time on a boat—you can go out and lose yourself and lose track of pressing things," Gardiner explains. "I let go of everything; there really is no concept of time."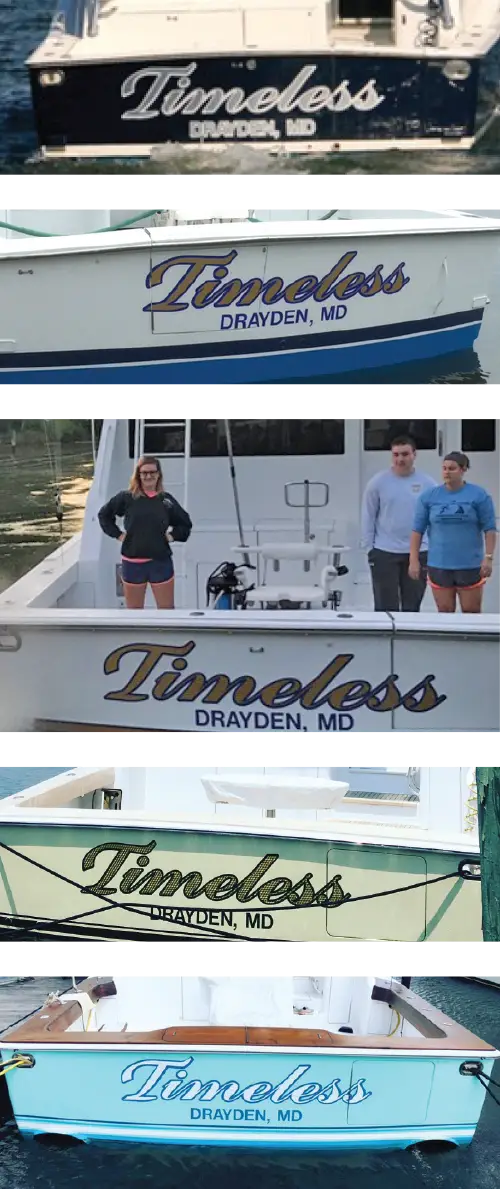 The Gardiner family have enjoyed a succession of Viking Yachts bought through Bluewater
Up Next
The latest Timeless is another 61' Viking Convertible, however, this 2003-built boat is special because it is one of only a few that were powered with the optional 2,050 hp MTU engines (compared to the base 1,400 hp). Gardiner still enjoys working on his boat but there are some projects beyond his scope or desire to tackle. "The first year I owned the boat, I dropped it off at Bluewater to have air conditioning installed on the flybridge along with some teak work, engine updates and general maintenance," Gardiner says.
After a long boating season, Timeless returned to Safe Harbor Bluewater for a full mezzanine retrofit along with interior upgrades including headliner, wall panels and other soft goods. "We have a couple trips planned this year," Gardiner explains. "Our summer begins with three weeks going around the Bay to visit a bunch of sights and landmarks." The speed of the Viking also plays a role in their travel plans and makes day trips much easier. "With a 35-knot cruise, we can go to Crisfield for lunch and get home before dark," says Gardiner.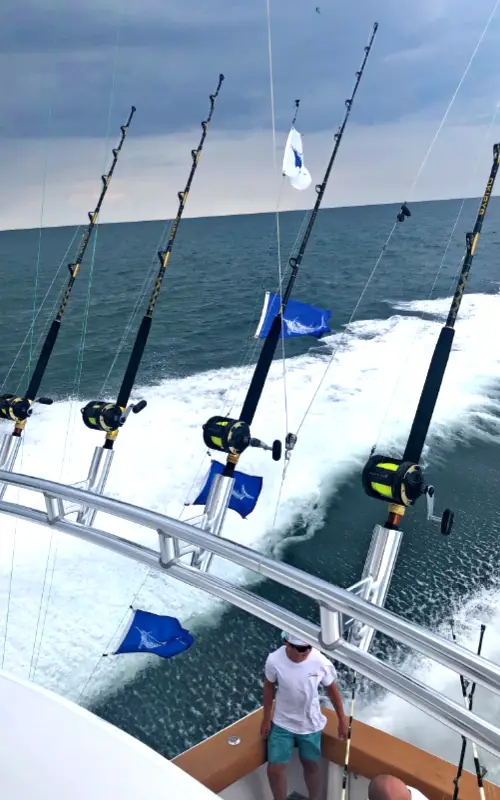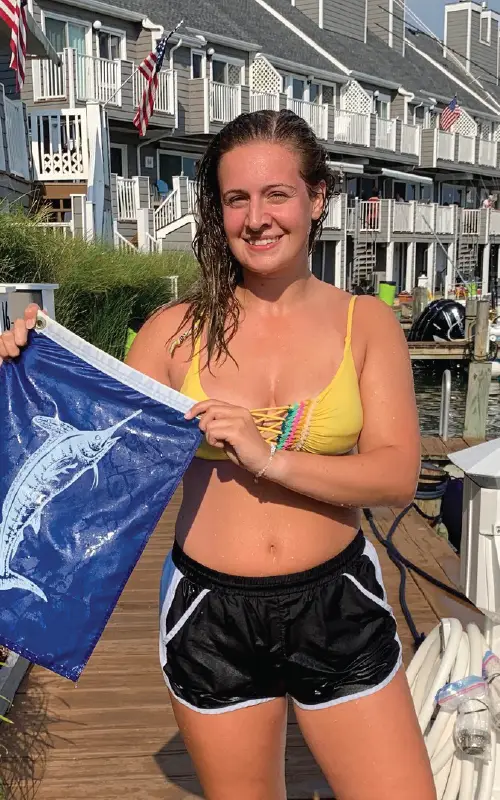 Ally Gardiner celebrates her first white marlin
When asked about fishing plans Gardiner explains, "We do not fish this 61' Viking like we did the last one because of higher fuel prices and burn rate with the bigger engines." His earlier boats were fished out of Ocean City nearly every weekend from Memorial Day through September. "It was mostly fun family fishing though; I've never fished a tournament on my boats." Gardiner jokes, "Both children love to catch fish, but are not enthralled with all the waiting inherent to fishing. They do love to go cruising!"
"Over the years, we've had recreational and business dealings with Bluewater and it has always been a great experience. They never steer me wrong and are always upfront with me," Gardiner explains. "The business Bluewater and its founders built—I have never experienced anything like it." Gardiner concludes,
"I will never deal with another business for buying or selling a boat. "
"The people make the company. It is the people committed to the mission that help it thrive and Bluewater has the right formula." Gardiner is grateful that Safe Harbor recognized this winning formula when they acquired Bluewater in 2022. "What they've done is kind of amazing to me. To buy a business that is over fifty years old and maintain the people to keep the business running—everything runs just as smoothly as before." Gardiner's relationship with Black, Beale and Craig Messick in the Hampton yard spans decades and he expects those relationships to endure for years. Boating is a timeless activity, and the team at Safe Harbor and Bluewater understands that!