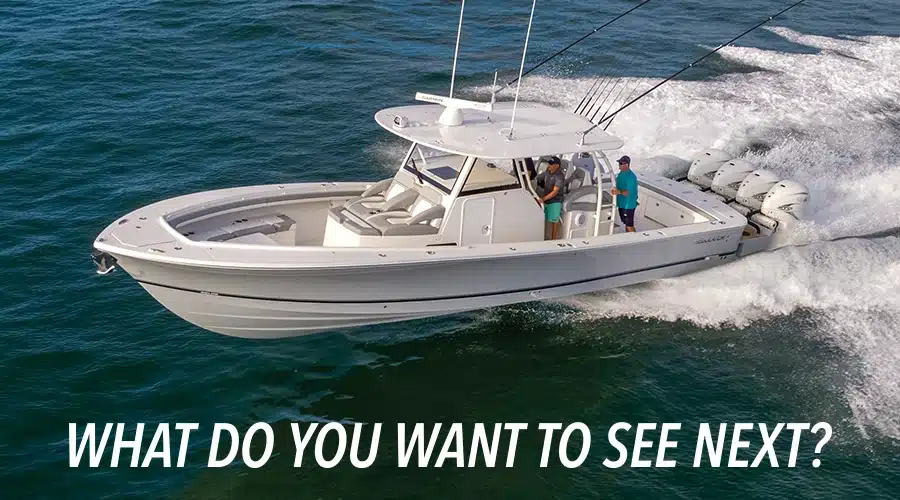 Regulator Marine Continually Improves Workplace And Products
In taking a deeper dive into the inner workings of Regulator Marine and what makes them tick, we decided to seek out a long-tenured team member rather than upper management. Although it is always a delight to discuss boats, business success and faith with owners Joan and Owen Maxwell, there's something about capturing the perspective right from the shop floor we thought might be interesting this time around. Luckily, twenty-year employee Al Partin has served in several capacities at
Regulator Marine
since 2002, allowing him to provide a variety of insights into the boat brand.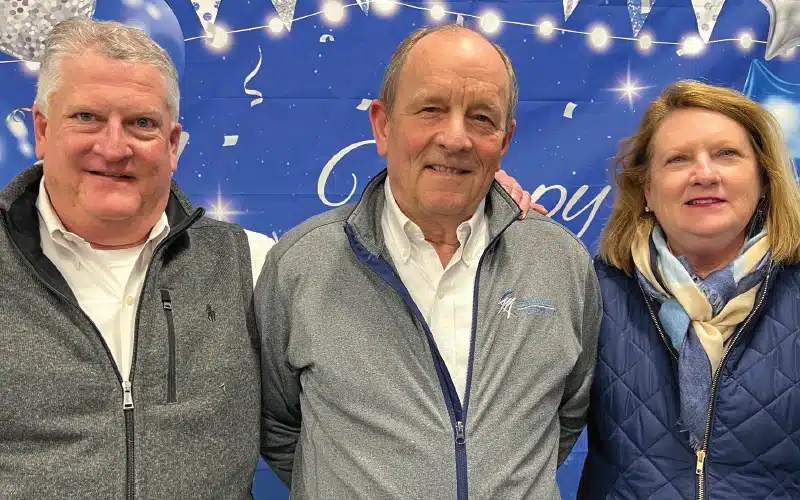 Regulator Marine owners Owen & Joan Maxwell with Al Partin (center)
Recently retired, Partin allows us to capture a view from the production facility of Regulator Marine, based in the small town of Edenton, North Carolina, at the edge of Albemarle Sound. "When I was hired, Regulator was in a growth span, so I was brought on to manage the assembly shop," Partin says. "My boating experience was with marinas and growing up in Edenton, and if you're in Edenton you've been around the water your whole life."
Partin spent several months with on-the-job training to learn all the processes, working from lamination all the way through assembly, helping him to learn the flow of how the boats are built. As Partin entered his position, they were building an average of 5 boats per week which grew to a clip of 8 boats per week before the great recession of 2008.
Although production slowed, a new position presented itself when the Customer Service Manager signaled she was retiring. "Joan and Owen approached me with the opportunity," Partin recalls. "If the customer or a dealer calls Regulator, my knowledge of the systems and assembly process would allow me to answer the questions on the spot without the need to visit the shop floor and get answers." Partin held this position and excelled at it for the remainder of his time with the company.
His stay in customer service afforded him the chance to meet and make friends with so many customers, salespeople, and dealership representatives. Partin reminisces, "Bluewater is an outstanding company. I have known them for years and really enjoy working with all of them including Scott James, Jud Black and so many others through the years."
Bluewater Yacht Sales Managing Director, Jud Black says, "Al worked for Regulator in what would seem to be a no-win job to some: customer service. In that capacity, sometimes he was forced to say 'no' to unreasonable requests. But fortunately, Regulator Marine and Al both were inclined to accommodate our mutual customer, the Regulator owner. So together, Regulator and Bluewater have always been able to keep happy customers. I wish him the best in his well deserved retirement, but we already miss him dearly. He managed to handle a difficult job with a great attitude and a smile on his face! The good news is that he had time to train replacements who have continued to represent Regulator Marine in the same manner."
"Al" About Team
As much as Partin enjoyed his role in customer service at Regulator, his favorite part of going to work each day was the people around him. "We've always had a really good employee base," Partin explains. "The team in the assembly shop are fun to work with and I enjoyed talking with them—we were all friends." Partin's role in customer service brought him closer to the management team and it was apparent the good values and mission of Regulator were instilled from the top down.
Nurturing employee growth and relationships while building a premier product comes with its share of challenges. Partin recalls times when it was difficult to find skilled talent from their small town in coastal North Carolina. Arguably, the challenge still exists today. "I cannot speak highly enough about the owners and their management style," Partin exclaims. "They are, and always have been, super nice people who treated us like family.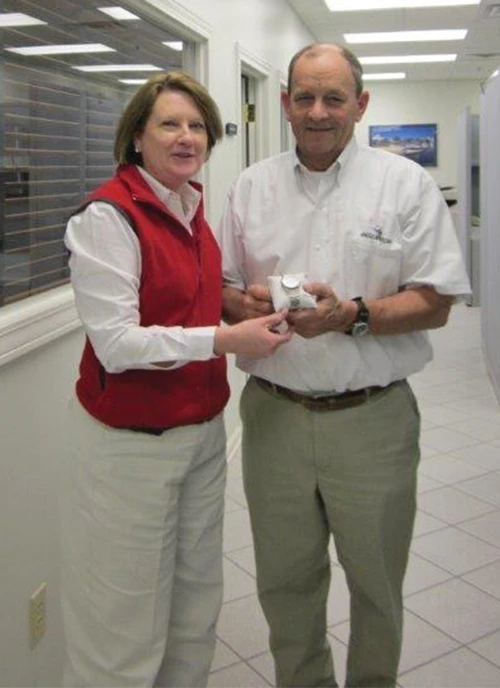 Recognizing 10-years with the company
"I am glad I spent twenty years at Regulator—my only wish is that I had started there earlier."
Partin emphasizes the company is always trying new ideas to improve the workplace. "They developed different bulletin boards throughout the plant and each team would meet at their designated board each morning and start the day with prayer plus some stretching exercises and a quick discussion for the day including covering safety topics."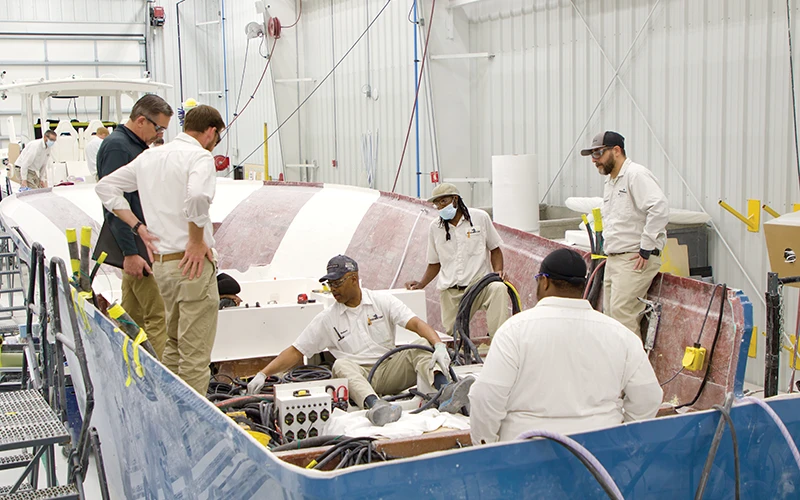 Regulator's management continuously works to make the facility safer and provide opportunities to employees such as programs that teach financial management and other topics. "They look at their team and employees and ask, 'What can we do for them?', and 'What can we offer them?', and they develop training, programs, outreach and more just for the employees," Partin says. Simply put, Regulator has been applying their passion for caring for others—albeit team members, dealers, customers or giving back to the local community—since their inception.
Listening & Evaluating
In regard to innovation and new models, nothing is rushed, and every detail is considered in the process. "A new model is not built spur of the moment," Partin says. "Everything Regulator introduces is based on lots of conversations with dealers and customers, as Joan asks, 'What do you want to see next?'"
When dealers asked for a larger center console with overnight accommodations and serious range, the 41 Regulator was born. When customers were asking for a boat that could manage the shallows and had a lower freeboard than their traditional hulls, Regulator engineered the XO Series. The 37 was born to help bridge the gap between the 34 and the 41 while also introducing new innovations that would inevitably trickle down to other models in the Regulator lineup.
Regulator's newest model: the 30XO made her splash at the 2023 Miami International Boat Show in response to finding a sweet spot in size that the market was looking for. "A constant question I would hear at boat shows and from dealers: "Do you build a boat with a tower?'" Partin continues, "The only option was a 41, but now the new 30XO offers an innovative mid-tower with a standing console. Regulator is always listening and working hard to please their customers and dealers as well as employees."
Building relationships with dealers, reps and customers over the phone came natural to Partin and Maxwell took notice. "Joan thought it would be neat if I got into the boat show circuit to meet the customers face-to-face," Partin says. He spent several years attending boat shows from Cleveland to Miami and enjoyed meeting customers and fans in person.
Partin laughs, "When a customer would walk into the booth and see me in Regulator apparel, they would come directly to me and say 'Hi, do you know Al?', and I would introduce myself." Showgoers enjoyed the opportunity to meet a factory-direct representative and establish a relationship with someone so closely involved in the construction of each boat.
Al and his wife Lynn own a 2003 Regulator 21, which Partin had worked on in the assembly shop during its original construction. He's not the first owner, but Partin brags how a good cleaning inside and out will make her shine like new again. Since his retirement, he and Lynn have enjoyed more pleasure cruising around Albemarle Sound and the surrounding creeks and rivers with their family.
While Partin undoubtedly had an impact on Regulator Marine, he is just one part of many team members from the factory floor to their dealer network that admires and adheres to Regulator's mission and vision. This is the driving force behind their success, innovation and overwhelmingly positive team morale. One of the nation's premier center console boats is constructed by a dedicated team of like-minded individuals with a passion for their craft that they proudly practice each day they go to work. Then again, working at Regulator is not just a job, it is time with family and friends.