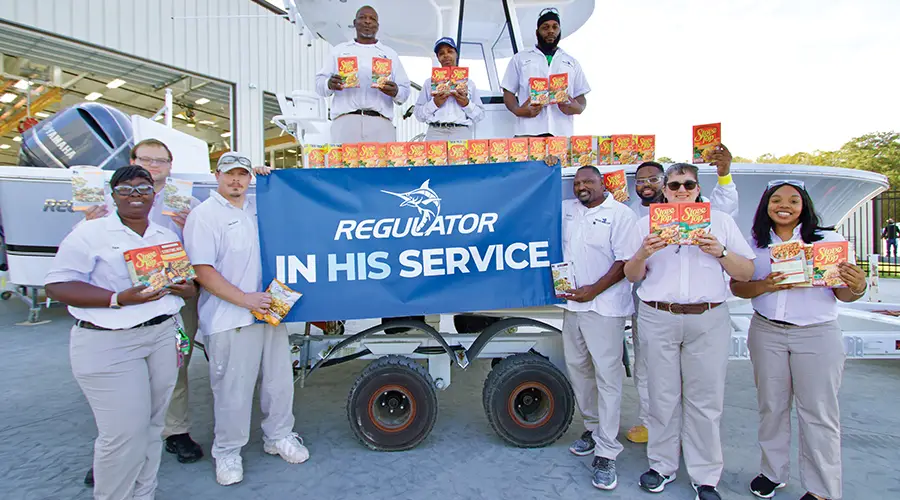 Regulator Marine Puts God & Community First
Regulator owners Joan and Owen Maxwell have been on a mission to improve the lives of those around them since the beginning, and their passion shows through the positive demeanor of their employees and the exceptional workmanship of their products. Regulator Marine is known for building some of the finest center consoles in the business, but they do it for much more than pride or the bottom line; Regulator builds boats to enrich the lives of their employees, to better their community, and to honor God.
"Our faith was important to us when we started Regulator, but it did not become as impactful until we walked through the great recession." Joan explains how the economic downturn of 2008 was when Regulator as a company began the journey of intentionally living out their faith.
Regulator has always been about serving their employees and community, but the all-in mentality came with the launch of In His Service and the implementation of an In His Service Coordinator and Community Outreach Coordinator. Through the In His Service program, Regulator can meet the needs of their employees and the community, often in emergency situations. Toni Gibbs chairs a panel of committee members who have the privilege of reviewing requests from employees and their families along with organizations throughout the community, and then allocationg funds to each cause.
Ramsey Skinner leads a school field trip
Alvin Person (left) and Krystal Watson (right)
with local community partners
"What's it really about? I think it's the love. When you know what the company's doing for the community and what we're striving to be, the love pours out," Erik Wiborg says. Wiborg has been with Regulator for over 23 years and has moved up to his current position as the Design and Application Engineer. He concludes, "Everyone is proud of what they're doing."
Through the In His Service program and their community outreach, Regulator physically and financially supports several local charities, including the Boys and Girls Club, the Edenton Chowan Food Pantry, Habitat for Humanity, Rise Against Hunger, and many others. Full-time Community Outreach Coordinator, Alvin Person is tasked with finding and supporting those with needs in the area, whether he is visiting the local food pantry, or helping mentor young men and women.
"When you buy a Regulator, you are part of a smile. You are part of everything we do in the community. If it wasn't for y'all, we wouldn't be here,"
Person beams. Aside from visiting the local food pantry and other organizations, Person and the Regulator name have become well-known at the schools and aftercare programs in Edenton, North Carolina—Regulator's hometown.
Drew Halford, the Mid-Atlantic Sales Manager, serves as Bluewater's direct connection with Regulator and helps nurture customer relationships through the build process and after delivery. When he started his career with Regulator, part of his training involved working with each department and becoming fully immersed in the culture. "One of the major core values that plays into each team member's role is the integrity aspect and doing what is right before God, no matter the consequences. Having a degree of integrity from the top down to the very bottom throughout the company is something to be very proud of." Halford continues, "The sense of brotherhood among employees is incredibly inspiring and their values show in the commitment not only to building quality products but to serving one another."
In a time when many marine businesses are experiencing unprecedented demand and are busier than ever, it is refreshing to see a company that still takes time to give back to people in need. Regulator is certainly living up to their mission to "build the best center console sportfishing boats with people, processes, and resources to honor God."