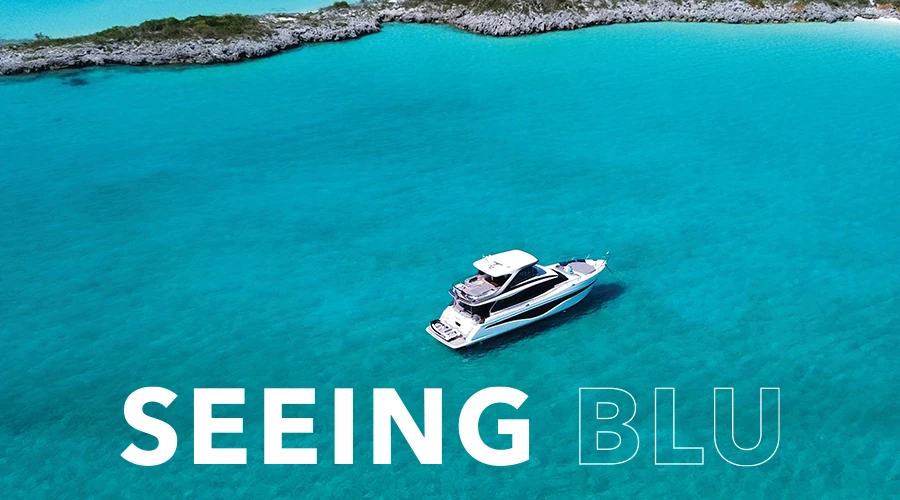 Repeat Princess Owners Relish the Experience and Friendships
It was over a decade ago when Kathy and Erich Hahn first fell for Princess Yachts at the Fort Lauderdale International Boat Show. At the time, Bluewater Sales Professional John McDevitt (now retired) introduced the Hahns to the Princess Flybridge line. Coming from a 40-foot cabin cruiser, they thought the Flybridge models were a bit big, so they landed in the middle on a 52' Princess from the popular V-Series.
Named BuckyHawk, their Princess V52 allowed them the opportunity to take a dream trip to the Bahamas. "John spent a lot of time getting us comfortable with our new Princess," Hahn recalls. McDevitt also introduced them to one of his other Princess customers who had traveled throughout the Bahamas more than once
Boat Buddies
The Hahns joined friends in their 67' Princess Flybridge for BuckyHawk's first trip to the Bahamas. This was only the beginning of forging many new friendships, cruises, and adventures with fellow Princess owners. Princess Yachts America makes it easy for owners to gather and develop relationships as they host multiple rendezvous events each year in different locales.
The Princess Experience is not limited to the boat and rendezvous events—it encompasses a company-wide mantra from the top down. "Everyone we met at Princess Yachts is a joy to work with," exclaims Hahn. "From Tom Carroll Sr., Tom Carroll Jr., James Nobel, Ryan Fitchett, to the people on the service side who help commission our boats."
When it came time to move up from the V52, there was no question what brand their next yacht would be—it was just a matter of deciding on a size and model. "We are comfortable with Princess boats," Hahn says. "Once you own one, you know how they're engineered and how they function." Hahn admits their friendship with both Princess Yachts America and Bluewater Yacht Sales also played a role in their decision making. "We go back quite a way with Bluewater, starting with John McDevitt who left us in Chuck's [Meyers] capable hands once he retired." Hahn reminisces, "We were also good friends with [Bluewater Yacht Sales President] Jan Boone before she passed away."
Lovely Upgrades
In 2015, the Hahns took delivery of their second Princess: a 60 Flybridge. However, this boat would not carry on the BuckyHawk name but instead was named ISeaBlu. Hahn tells the story behind their boat name: "We were crossing the Gulfstream headed to the Bahamas and our friends said 'you'll love it once you get to the bank—all you'll see is blue [water]', and that really stuck with us."
Through the years, the Hahns have attended at least ten Princess Rendezvous events, most in Florida and the Caribbean, but also a couple events in the Mid-Atlantic. "We meet a bunch of people at the rendezvous events and often stay connected afterwards," Hahn says. "These events allow us to establish new friendships and rekindle old ones." Many friendships have thrived through the years of Princess ownership by Erich and Kathy.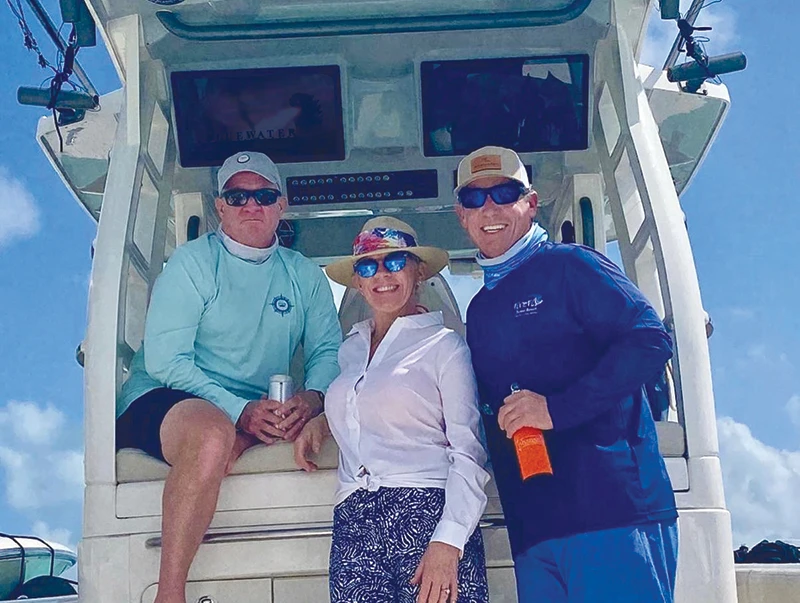 Bluewater's Chuck Meyers recently joined
the Hahns at the Princess Rendezvous
Another upgrade came into focus for the Hahns and Bluewater's Chuck Meyers was at the ready to support them through the process of ordering, customizing and taking delivery of their next ISeaBlu—a Y72. "Chuck is a great guy, he has a lot of humility and never comes off as pushy," Hahn explains. "He is there to help us make the right decisions and he always follows up when we have questions or need help."
The Full Experience
During the build process, the Hahns, accompanied by Meyers and other Princess owners, crossed the Atlantic to visit Plymouth, England, the birthplace of Princess Yachts. "We all became really good friends on the trip," Hahn exclaims. "A number of folks were with us, and we had a great time for a few days in Plymouth." Each day featured different activities including sea trials, touring the multiple facilities throughout Plymouth that Princess operates, along with a tour of specific models in production and nearly complete.
Their Princess Y72 was optioned from the factory with many extras including stabilizing fins, refrigeration in the crew quarters, and Ultra Anchor in lieu of the standard unit. To help extend their cruising range and ensure multiple days away from the dock, the new ISeaBlu was also upgraded with additional fuel supply, a second generator, an enclosure on the flybridge and Spot Zero added to the watermaker for a near-spotless washdown. "We think of our new Princess as a condominium on the water—tons of amenities in a beautiful and modern package," Hahn says.
All the customizations aside, Hahn explains the bigger boat provides more stability and confidence in adverse weather. "We're comforted by having the additional weight and length when the weather turns." Hahn continues, "We wouldn't deliberately run the boat in rough seas, but conditions change rapidly.
"Our Y72 is very confidence- inspiring, and beautiful."
The new boat's strengths were first put to the test when returning from the Florida Keys up the East Coast. Hahn tells of 5-6 foot seas and being a little apprehensive, but, "I did not feel like the boat could not take it." Hahn praises the optional stabilizing fins that help a lot while underway. "Once you move up in your boat size, stabilization options become more available," he says.
The Hahn's Captain, Scott Dixon, echoes the sentiments and more: "I absolutely love the Y72! I like to call it a SportYacht. It is a dream to handle with powerful hydraulic bow and stern thrusters. I really like the new roll fin [stabilizer] technology they have implemented, which makes it feel very stable and comfortable in all seas. Also, it is a very easy yacht to maintain with the reverse osmosis water system and the ElectroSea system for the air conditioning. Not to mention it is a stunning boat to look at!"
The Hahns just returned from an enjoyable cruise through the Bahamas that included the 2023 Princess Spring Owners Holiday. They made the crossing a week early to spend a few days in the Abacos with long-time friends and fellow Princess owners who joined them on ISeaBlu, while awaiting their new Princess X80 to be built and delivered.
Once the rendezvous had ended, ISeaBlu continued south from Harbour Island to the Exumas chain, where stops in Compass Cay and Staniel Cay highlighted their itinerary before returning home. More trips planned for the year include a journey north to be on the Chesapeake Bay (their former home) with several stops in between including Savannah, Charleston, and more! They are also considering a trip through the Florida Keys again, but nothing is written in stone.
PRINCESS Y72
LOA: 74' 9"
Beam: 17' 11"
Draft: 5' 8"
Fuel Capacity: 1,189 gal.
Water Capacity: 240 gal.
Displacement: 114,200 lbs.
Power: Twin MAN V12 CRM
@1,650 hp ea.
Princess Yachts is well-known for offering a customer experience that far surpasses that of almost any other yacht builder. Exceptional support during and after the sale, exclusive gatherings and events, and of course, a yacht that is as close to perfection as you can get. Bluewater Yacht Sales has enjoyed over 25 years of working with Princess Yachts America and shares their drive for superior service and support and providing for an unparalleled boating experience. The Hahns conclude, "We really trust Chuck and would definitely buy from him again." Although they have no plans to move up from their brand-new build, they did tease the purchase of a center console. Meyers and Bluewater Yacht Sales are at the ready to serve all your boating needs, and always with your best interest at heart—because we love seeing blue too!