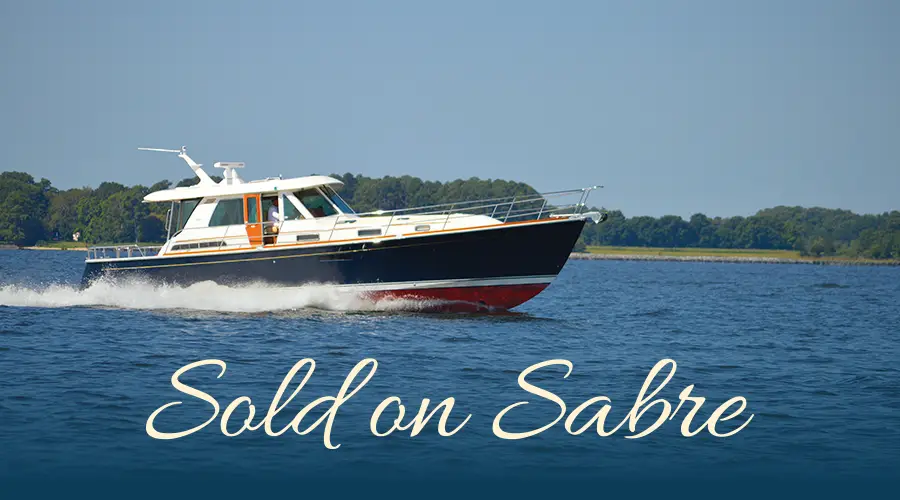 Soaking Up A Lifetime of Sailing & Cruising
Everyone has a backstory on how their passion for the water got started, and how it grew from an experience to a hobby and in some cases their lifelong identity. For Christine Worth (who prefers to go by Tina), it began at the young age of nine, racing sailboats on the Chesapeake Bay. Her love for being on the water blossomed and she even won her class that first summer of sailing.
Nick Worth's first exposure to boating was in 1960 as a Sea Scout in Puget Sound along the Western boundary of Seattle, Washington. These experiences were promptly followed by his service in the United States Navy, in the Pacific Ocean from 1962 to 1966. Once out of the Navy and attending college for engineering and business, Nick met Tina and they were married. Nick admits that their schooling, plus a career in cable television interrupted boating for a while.
Tina and Nick, now rooted on the Atlantic coast, began chartering bareboat sailboats in Maine and the Virgin Islands through the eighties and early nineties, and also raced sailboats during that time. In 1995 they started on a journey owning and racing several performance sailboats, competing in Annapolis, Newport and even traveling for One Design 35 racing in Marblehead, Key West and San Francisco through 2002.
Bluewater Sales Professional Chris Hall Jr., fondly remembers his first interactions with Nick and Tina in the mid 1990s when they came to Bluewater's Hampton Yacht Yard with their sailboat, requesting to dry sail it. "Dry sailing meant that Bluewater would launch it every time the Worths wanted to sail it, and haul it out every time they were finished," Hall explains. "Their plans for dry sailing and using Bluewater Hampton as home port worked perfectly for many years and throughout this time Nick and Tina became family to us."
The Sabre 42 with sailing/rowing dinghy
Making the Switch
Chartering sailboats in Maine through the eighties and nineties, Nick became attracted to the "Lobster Yachts" as they called them—Downeast style pleasure craft that took their design cues from the famed lobster boats of the Maine coast. "Lots of small builders around Maine were building these beautiful powerboats that rode a lot better and had bigger engines and better hulls that would plane," Nick recalls.
Around the year 2000, Nick purchased their first powerboat: a Dyer 29. This was against Tina's wishes, but Nick had a plan to smooth things over. "I named the Dyer 29 Christine and gave it to her for her birthday, all in hopes of receiving forgiveness; And it worked!" Nick exclaims. This started the succession of many Maine-built, Downeast style boats named Christine.
The Dyer was followed by a Duffy 35 and then a Sabre 42. "We did some research and became aware that Sabre Yachts did a much better job in building boats. Their reputation and quality was unmatched and the twin Yanmar diesels solidified the decision to buy one," Nick says. Sabre's long history of building high quality sailboats probably didn't hurt either.
Being members of the Hampton Yacht Club, Nick and Tina have enjoyed a long friendship with Chris Hall Sr. and Chris Hall Jr. In fact, Chris Jr.'s father-in-law, Greg, was the Bluewater broker who assisted Nick with the purchase of the Sabre 42 in 2011. After a few years of great enjoyment aboard their first Sabre, Tina and Nick were convinced they wanted to do extended cruising and live aboard, which led to a move up through two Sabre 48 models, assisted by Chris Hall Jr.
They cruised the Chesapeake Bay in the summer months with occasional stints to New England. With the greater space for living aboard provided by their 48, most winters were spent dockside in Charleston, South Carolina. The couple enjoys time with their children and grandchildren on and off the boat, and enjoy keeping their boat ship-shape while planning their next trips.
Chris Hall IV attending a christening of the 48' Christine with the Worths
"Sabre has a great dealer in Bluewater Yacht Sales," Nick states. "Their marina and excellent service yard are easy to communicate with and perform quality work." The Safe Harbor Bluewater yard in Hampton is also responsible for the commissioning of every new Sabre yacht delivered to Bluewater customers, which includes bottom paint, brightwork varnish, any additional systems installations and a final quality assurance check—in addition to the impressive 600 point inspection and 12-page report produced by Sabre's engineering team before each boat leaves their facility.
Superior Results
With their family continuing to grow and their cruising plans expanding, it soon became time to move up again. There was no consideration made for researching other brands, Nick and Tina are clearly hooked on Sabre. "We've visited the factory a few times and see the hands-on workmanship and quality that goes into every boat." Nick continues, "And, the turnover is very low. We see the same faces there in the factory year after year, pouring their talent into making these beautiful boats."
Nick appreciates the superior craftsmanship and Sabre's in-house design team who are very responsive and great to work with. "Each boat is an evolution of the prior one," Nick explains. "They corner well, the running attitude is great at any speed and the Volvo IPS efficiency is great!"
Chris Hall Jr. was also instrumental in the Worth's decision to move up again. Hall recalls, "Sabre was getting ready to announce the all-new 58. In my discussions with Nick and Tina, I mentioned that 'maybe' Sabre was going to come out with a bigger boat, and 'maybe' I could get my hands on some preliminary drawings."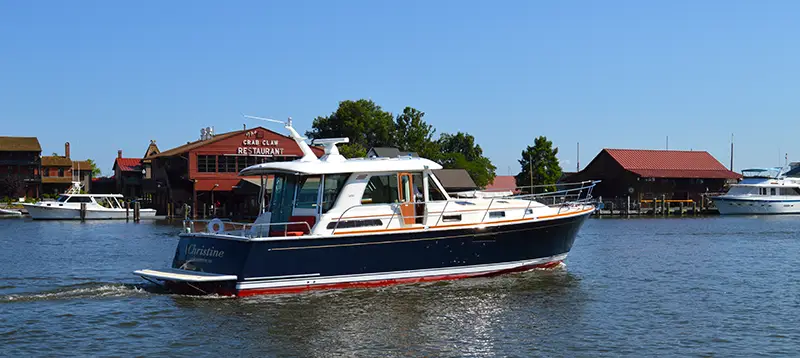 The Worths came to the United States Powerboat Show in Annapolis, where, with the help of Chris, were shown some finalized drawings and pricing. "Nick promptly handed us a deposit check in the middle of the boat show," Hall recounts. "Nick and Tina became the first buyers of the brand new Sabre 58."
Being their fourth Sabre and benefitting from a long relationship with Bluewater and Sabre, the couple knew what to expect during the build process and had frequent meetings with Sabre's National Sales Manager, Lynn Beaudoin to discuss ideas for customizations. Nick explains, "Tina collaborated with Sabre to make the galley work better for liveaboard cooking. Custom items include a Miele oven, custom cooktop, electrically raised cutouts in the countertop for storage and electrically lowering overhead cabinets, plus an electric grill in the cockpit."
Their Sabre 58's impressive amenties and customizations will allow Nick and Tina to extend their cruising plans beyond the Chesapeake and into New England with stops in Newport, Martha's Vineyard, Provincetown and many other places they once sailed to and have fond memories of.
"Sabre's design, craftsmanship and components are second to none,"
Nick explains. "The 58 is our fourth Sabre yacht we have purchased through Chris, Jr. and Bluewater. Their integrity is unmatched." That says a lot coming from a yachtsman with over sixty years of experience on the water!