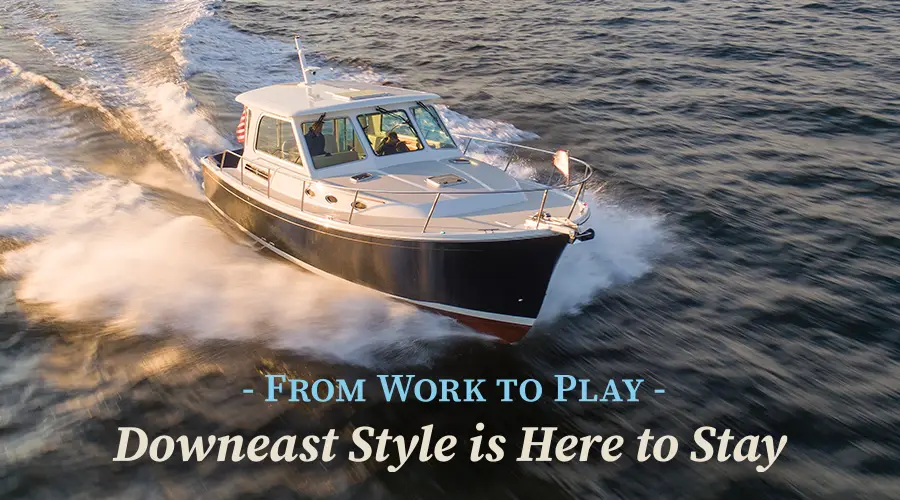 The History and Allure of Maine-Built Boats
When the term Downeast is used to describe a boat among certain company, there is always the potential for debate over the specific design attributes, materials and construction processes that have traditionally defined the category. Aficionados and purists may even tell you a true Downeast boat only comes from a small group of family builders still employing the original construction techniques from nearly a century ago. At any rate, most can agree that a Downeast boat is a uniquely handsome and classic form; originally born out of necessity for lobstermen to provide for their families, and now a genre adapted for maximum pleasure by a host of luxury yacht brands.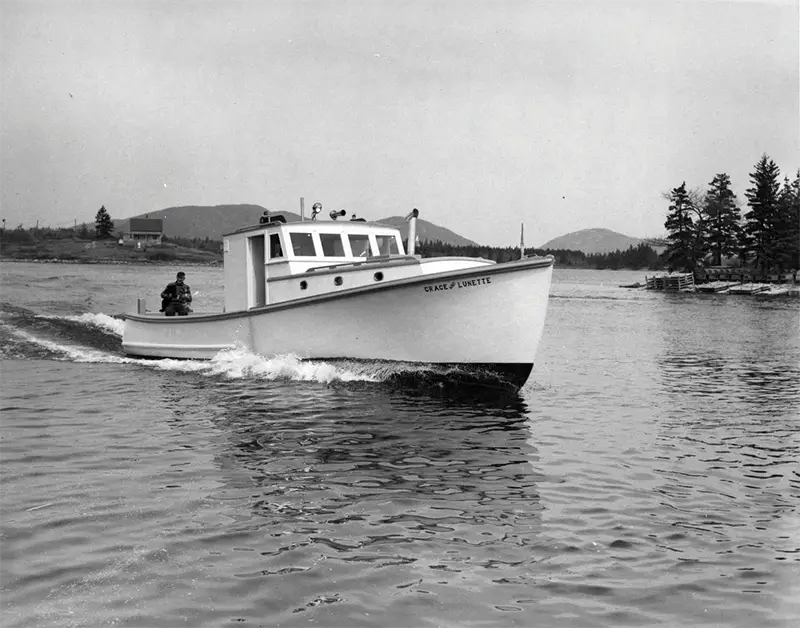 Mount Desert Island Historical Society (1948)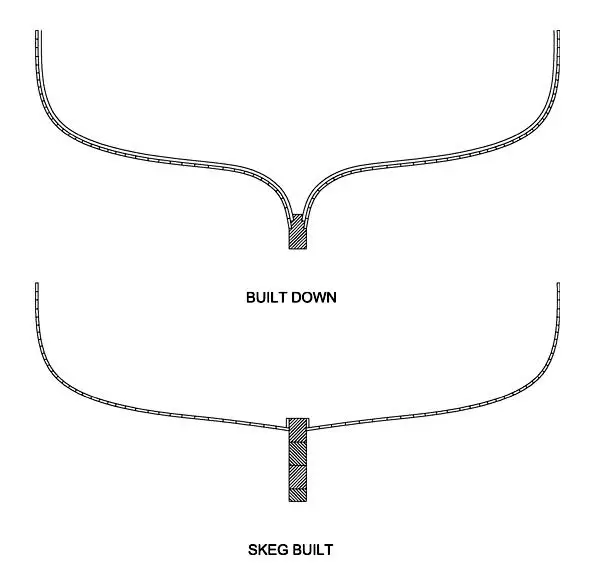 A Historic Workhorse
The phrase "Down East" or Downeast originates from the geographic locations of coastal New England, particularly Maine, although it's also used in parts of maritime Canada and North Carolina. In terms of boats, the Downeast moniker was originally coined for Maine-built wooden lobster boats featuring a full length keel. The simple, sensible configuration caught on as a dependable and economical solution for building small commercial fishing boats across the Eastern U.S. in the early 1900s.
The first engine-powered Downeast boats largely borrowed the full keel and rudder design from their sailing sloop predecessors. The rudder was still hung directly from the keel, only now a propeller shaft would exit the back of the keel and into a window carved out to allow room for a propeller. Traditionally, there have been two big distinctions that dominated the classic wooden Downeast boats: "Built Down" vs "Skeg Built," which refer to the construction process and orientation of the ribs and planks. These methods bore out differences in weight and carrying capacities, but both resulted in boats with bona fide Downeast pedigrees.
Despite the many variations and trends wrought by Downeast boat builders throughout a century of iteration, the overall exterior styling remains distinct and relatively easy to spot. Above the waterline, a long sweeping shearline that tapers from the bow towards a relatively low freeboard in the transom is the epitome of the early Downeast style. Like their sailing sloop ancestry, they often have a trunk cabin topped with an additional "house" for operation out of the elements. Some were built with a torpedo stern, others with a protected cockpit to keep the spray and wind at bay as lobster traps were hauled and set over the rails.
Modern hull infusion techniques would look like alien technology to the early Downeast pioneers
Bluewater Sales Professional and Downeast enthusiast, Chris Hall Jr. explains, "Original designs had very proud and tall bows with wide beams for stability. The heritage is rooted in the watermen who earned their living on these vessels." Hall admits that Downeast vessels were pretty simple, without a lot of bells and whistles, but Sabre sought to build on that in the 1990s. "Beautifully handcrafted interiors built from hardwoods, creature comforts that were unheard of, including air conditioning, all with the smooth, dry ride that the downeast style boats were known for."
A Modern Interpretation
In 1989, after enjoying nearly two decades of success building sailboats, Sabre Yachts worked to develop the first Sabreline motoryacht, dubbed the 36 "Fast Trawler." Naturally, they were influenced by their local Maine traditions, and it was easy to spot the Downeast heritage that was intentionally penned into the company's first motoryachts. Easy on the eyes, but also very seaworthy, steady and dependable, the first Sabre motoryachts became highly sought after and their popularity continues today with used examples from the era still fetching six figures.
Situated in Raymond, Maine—and their composites outfit and sister company, Back Cove Yachts located in nearby Rockland—Sabre is every bit a Mainer Downeast motoryacht. Sabre states that their range of motoryachts is a development of the comfort and tradition of the Downeast style, blended with the luxury and performance of a contemporary yacht.
Today, the timeless style is reflected throughout every inch of the Sabre and Back Cove model lineups. While the overall look and running attitudes pay homage to the early Maine lobster boats, below the waterline is where things have grown increasingly high tech. In addition to using modern composite materials, Sabre has moved beyond the traditional keel layout to develop their own modified-vee hull design. This was a logical step as the company evolved workboat concepts of the past to meet market demands. Innovations and solutions had to be made to deliver quicker recreational vessels, especially as the use of twin engines became more popular to push larger and larger luxury vessels. Additional development of the hull designs has progressed as Sabre introduced pod drive options from Volvo and Cummins, and Back Cove recently introduced their first outboard models. Each power innovation necessitates new design choices to improve performance and efficiency.
Having sold countless boats from Sabre and sister company Back Cove, Hall explains what it is about these boats that draws the customers in,
"Besides the gorgeous lines of the Sabre and Back Cove model range, owners enjoy wide and safe passages from the cockpit to the bow and vision at the helm is nearly unobstructed for a full 360° view."
"The rich teak and holly soles and handmade cabinetry are second to none and are truly yacht quality. All systems aboard every vessel are clearly marked and labeled for ease of servicing. Sabre and Back Cove have blended the lines of simplistic and high quality," adds Hall.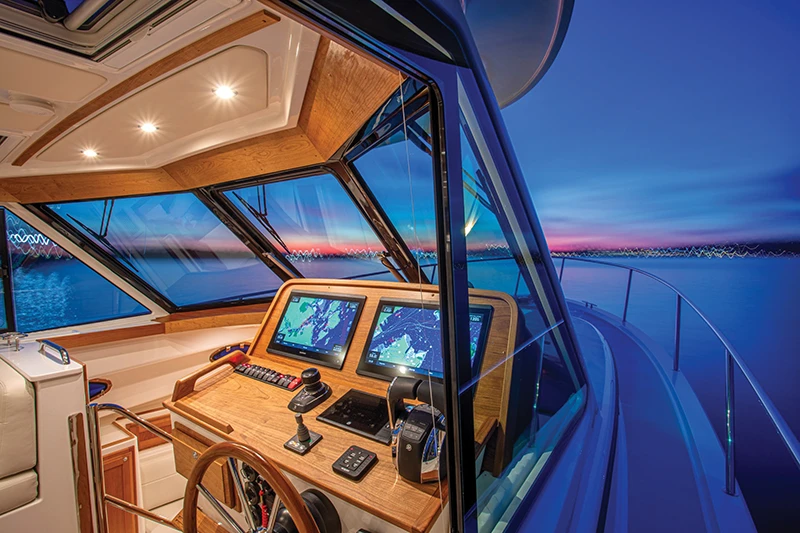 Applied Experience
Style and geography are only part of the Downeast story. The talented craftspeople at Sabre are highly skilled in their trade and take immense pride in their work. Many team members count their tenure by decades, not years, and have laid their hands on literally hundreds of semi-custom hulls. Sabre's motto, "Crafted in the Maine Tradition" not only embodies the styling of the boats, but of the high standards and impeccable finishes that go into every Sabre model.
Sabre and Back Cove Yachts have become renowned for their classic Downeast design and industry-leading quality and finish. This strong reputation can be attributed to their craftspeople and associates and their unceasing demonstration of artistry, dedication, and workmanship that has propelled the brand into the global yachting market while staying true to their Downeast heritage.
Although the use of the term Downeast in describing a yacht's appearance has become commonplace in the twenty-first century, there are only a select few who can truly claim to be building a Downeast boat with this level of quality and passion. Hall sums it up well in saying, "Throughout our 54 years in business, Bluewater has always strived to carry the best built and most respected brands available. We could not have done any better than to team with Sabre and Back Cove Yachts."