Non-Profits Organize Offshore Fishing Trips for Armed Service Personnel
Many an angler would agree that fishing can be good for the soul, and thankfully, there are several organizations leveraging that knowledge to help U.S. service men and women unwind, connect and rehabilitate. These organized excursions often include counselors trained in helping participants cope with Post Traumatic Stress Disorder (PTSD) and the harmful depression and anxiety that may accompany it. The Bluewater family is honored to be playing a role in several such thriving initiatives providing veterans and active military personnel with incredible offshore fishing opportunities.
Freedom Alliance
The Freedom Alliance was formed in 1990 by a pair of Vietnam vets with a mission to honor and support America's military and meet the rehabilitation needs of wounded veterans and their families. Freedom Alliance successfully mobilizes volunteers to provide hundreds of thousands of care packages to deployed troops, as well as provide assistance to wounded warriors and families who have experienced loss. The longevity and reach of the Freedom Alliance organization is massive, yet they still understand the profound healing that a small handful of veterans can experience during an outdoor excursion.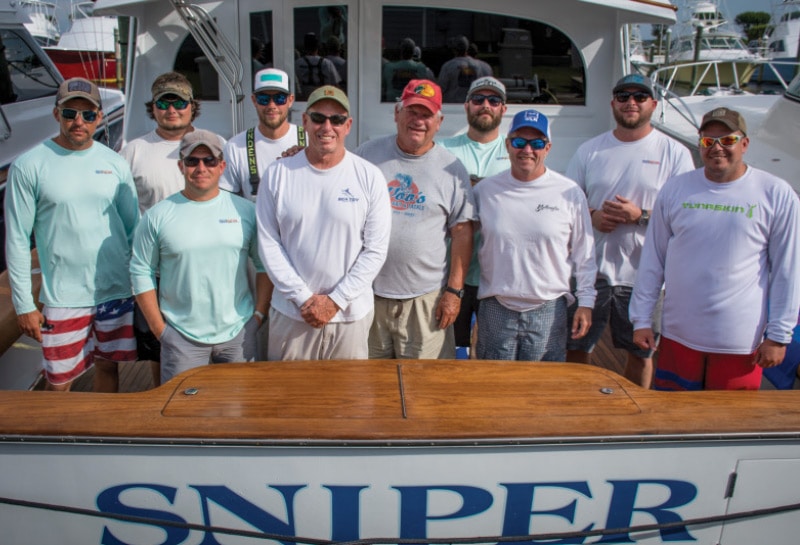 Recently, two Wanchese-based charter operations provided a day of offshore fishing for veterans via the Freedom Alliance program. The Qualifier was hired through a donation from Bill Pino of Squidnation and long-time Bluewater friends and customers Wayne Enroughty and Jimmy Baynes offered up the use of Sniper (both 56-foot Paul Mann boats). With the veteran anglers manning the reels, over 600 pounds of yellowfin tuna were brought to the docks, along with a healthy catch of dolphin.
While the catch that day was impressive, it pales in comparison to the healing experienced out on the water forming friendships with fellow combat veterans. Freedom Alliance President, Thomas Kilgannon explains, "Freedom Alliance knows well the struggles of our veterans after their military career is over—we take every opportunity to organize these sorts of rehabilitative fishing trips for them. They are allowed a reprieve from the daily grind; but more importantly, they get to connect with heroes in a similar walk of life."
freedomalliance.org
Operation WetVet
Osvaldo "Ozzie" Martinez Jr. served two tours in Iraq during his enlistment with the U.S. Marine Corps and returned to the states suffering from extreme depression and PTSD—his company had taken the most casualties in the battalion. Years of depression, anxiety attacks and nightmares were masked by alcohol and psychotropic drugs prescribed by the V.A., with no true healing in sight. Eventually, a series of events and chance encounters with former soldiers from his platoon inspired Martinez to form Operation WetVet.
After organizing a fishing trip off South Florida for a small group of friends, he felt compelled to do more. "I found in offshore fishing that I suddenly would get the adrenaline rush that servicemen feel in combat, just by hooking up with a big sailfish or gamefish. The guys on the deck start moving, and it's a little bit chaotic, but you have to get organized and you have to be disciplined to land the fish. I'm teaching guys that they can channel this adrenaline and achieve positive results." Ozzie continues by explaining that those struggling with PTSD experience these surges of adrenaline in day-to-day life. If not channeled in a positive way, they can result in feelings of grief, anger and guilt. He is working to change how veterans manage their PTSD and the variety of feelings associated with it.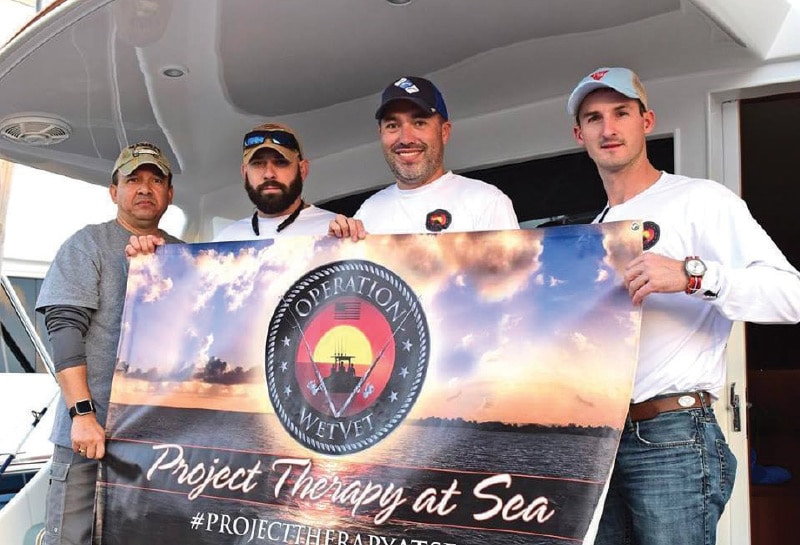 Operation WetVet enjoys an outing on
54' Jarrett Bay, Starflite
What began as an inquiry on social media quickly evolved into an arrangement between Operation WetVet and Bluewater's Randy Ramsey. Twice now he has provided the use of his 54' Jarrett Bay, Starflite, to host veterans on a day of camaraderie and fishing. "Anything we can do to help other people, especially the men and women who have bravely served our country, is always of great importance to us at Bluewater and Jarrett Bay, as well as me personally," says Ramsey.
Operation WetVet's "Project Therapy at Sea" has experienced great success since its inception and has undoubtedly helped veterans suffering with PTSD. "Maybe one day I save one of my friends from biting a bullet… that's enough for me," Martinez points out somberly.
operationwetvet.org
Operation Resolute
The military has long had pillars of support for soldiers and their families, with one of the most traditional being through Chaplains and their ministries. It is these faith-oriented pursuits that Operation Resolute has specifically set out to support. Their mission to serve chaplains, sustain families and strengthen soldiers, is achieved through biblical values and an impressive network of donors, partners and churches in North Carolina. Operation Resolute specifically focuses on active duty military personnel and their families, working to address the unique needs of military life so that marriages stay solid, parent/child relationships are positive, and the overall family dynamic remains healthy. They do this through many activities including family float trips, father/daughter dances and family activity days, including hunting and fishing trips.
"…they can channel this adrenaline and achieve positive results."
Operation Resolute founder Joel McDaniel explains, "While there are great ministries that provide support to families at the conclusion of their service in the armed forces, our focus is on the active duty warriors, the ones being deployed frequently to hot spots around the globe. Our dedication is to them and their families before, during, and after their missions." Working through chaplains provides Operation Resolute with direct engagement to active military and their families, where they hope to have a positive impact and foster deeper relationships within each family.
Bluewater customers John and Susan Stevenson, who enjoy supporting local organizations throughout their community, offered the use of their Viking 76, Accordingly IV for just such a fishing trip. Bluewater Sales Professional and Captain Peter DuBose ran the boat offshore for the benefit of several active duty warriors. They found a fun dolphin bite and made the most of a beautiful summer day away from their responsibilities ashore. Making new memories and strengthening friendships didn't end once the boat returned to the dock either. Captain DuBose and his wife Evelyn opened their home to over twenty people that night to enjoy their mahi mahi catch on the grill.
operationresolute.org
At the end of the day, these service men and women not only have memories that will last a lifetime, but new connections with others who walk the same walk and have suffered similar combat-related experiences. Each of these non-profit organizations strives to maintain contact with every soldier they meet, providing a lifeline during times of struggle. Bluewater Yacht Sales and our partners embrace these noble organizations working to support our armed services personnel. From the bottom of our hearts, thank you to all of our service men and women for fighting for our freedoms!