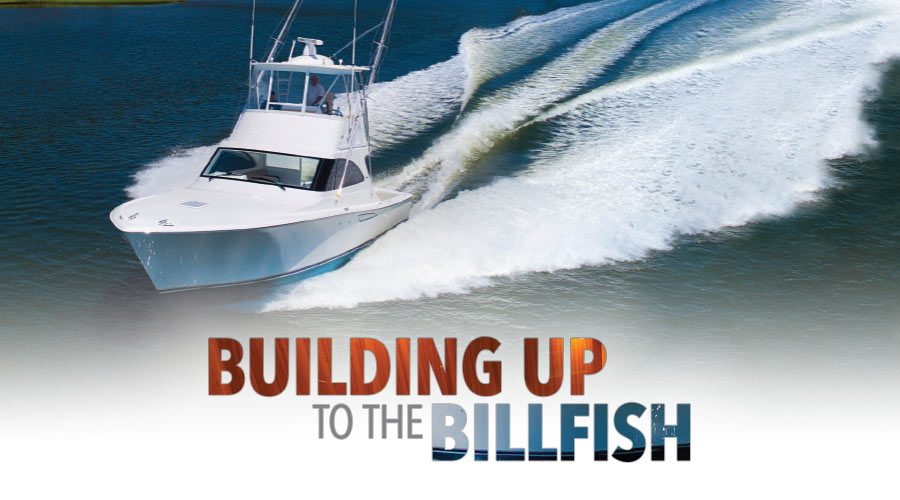 Photos courtesy of John Angelo & Madden Family
Viking's 38 Billfish is a Boat the Whole Family Can Enjoy
The year was 2012, and avid offshore fisherman Tommy Madden was ready to move up to a bigger center console. His boat of choice: a Regulator 34 CC. Although he hails from outside the Mid-Atlantic, Madden spent the fall and winter season each year fishing the Outer Banks of North Carolina.
His new Regulator was due to be delivered in March of 2013 and he requested it be dropped in Manteo, North Carolina so that he could fish it right away. It was a unique request for Regulator Marine, but they worked diligently to organize the delivery with Bluewater Yacht Sales Professional Bob Hoste at the Wanchese Yacht Yard and sales office.
"Bob (Hoste) never made a dime off me," Madden said. "But he became a great friend and worked with me to keep my Regulator there at Bluewater in the winter so that I could fish from Wanchese and Pirate's Cove." When the time came to move up again, Madden worked out the same deal with Regulator on a new 41 equipped with custom tower and quad Yamaha F350 V8 outboards. Hoste was again happy to assist with the delivery of his impressive new rig in Wanchese.
Sticking Together
Madden's four children often join him on offshore fishing trips, but he admits that his sole daughter, Stephanie Rose, is with him the most. While all the children love to go boating, Madden's wife Christine abstains due to a tendency towards sea sickness. When it came time for another upgrade, Madden became focused on having the whole family together.
"The amount of research and analysis I did was way over the top," Madden explains. "Extensive research, taking rides on other boats, going to boat shows… I was seeking the Holy Grail: including my wife in the fishing adventures." Madden's exhaustive research homed in on a single model and boat style available from just one builder—a new Viking 38 Billfish.
"The thing I just love about the 38 Billfish is that it's big for a 38, but not too big, coming from an outboard center console." Madden goes offshore frequently, and the 38 Billfish can still be owner-operated with just one or two people. "If I made too big of a jump in size, I would lose the ability to fish and boat as often as I want—needing a bigger crew to run the boat."
A commanding view from both the upper and lower level helm stations
Madden boasts about the substantial accommodations for a boat in this size class, but the big selling point was having essentially what he considers both an express boat and a flybridge. "When you're express fishing, it's great to run from the wheel to the cockpit and you get that 360-degree visibility you can't have with a convertible." Madden concludes, "Both express and flybridge boats have great benefits but also compromises, and the 38 Billfish melds those two together [with upper and lower helm stations] really well, and is such a unique boat."
Making the Move
With the perfect model chosen, the next step was to find one that was available immediately. That's when the enduring friendship between Madden and Hoste came into play, as Bluewater's stock Viking 38 Billfish was one of only a few available in the United States. To help make the deal as smooth as possible, Hoste organized the opportunity of taking in Madden's Regulator 41 on trade.
"I really feel like Bluewater made me a good deal and we were treated fairly," Madden said. "The deal gets extra praise from me because it involved a trade, but the process was seamless, and the one-stop transaction was of great benefit to us."
"I really feel like Bluewater made me a good deal and we were treated fairly"
Getting more space for creature comforts and a Seakeeper stabilizer was key to having Christine join the family aboard.
Sales Professional Bob Hoste enjoys a small christening gathering with the family.
The 38 Billfish is Madden's first inboard-powered boat and is a big step up from the center consoles he has owned all his life. The additional systems and big twin diesel engines are new to Madden, but Hoste made the entire process comfortable and helped Madden get familiar with the more complex systems on his new boat.
"Bob walked through every little thing and answered every question honestly and genuinely," Madden said. "Bob is humble, and he knows boats and it was clear his goal was to get us in a boat he knew we would absolutely love."
On the Run
Since taking delivery, the whole family has enjoyed several trips out, with their very first run offshore limiting out on tuna. Although cruising has never been part of the Madden family's m.o., their new Viking 38 Billfish has them looking to try some more relaxing trips while including Christine.
"The 38 has a Seakeeper that makes boating more accessible, especially for my wife," Madden adds. "Now that we have something that fits our family better, we plan to use the boat for more than just fishing offshore."
Madden admits that Bluewater's spec boat was very well outfitted from the factory, but there were a couple items he wanted to upgrade. A Release Marine pedestal rocket launcher for the cockpit along with additional rod holders were at the top of the list. After closing, the boat visited Bluewater's Hampton Yacht Yard for a few punch-list items and for her name, Stephanie Rose, to be emblazoned on the transom.
"My daughter and I took a trip to Hampton and met Craig Messick and his service crew," Madden recalls. "They were all incredibly friendly and great with communication as they worked to get everything wrapped up in time for Easter weekend travel. They went above and beyond by installing additional rod holders on the spot during our visit."
The Madden family is overjoyed with their new Viking as they plan their next cruising and fishing adventures, including an appearance at the venerable White Marlin Open in 2021. And so, a friendship forged from uncommon circumstances eight years ago, endures and grows to this day. "As a family, we're really excited for this next chapter," Madden exclaims. "There's no question I'll come back to Bluewater for my next boat."