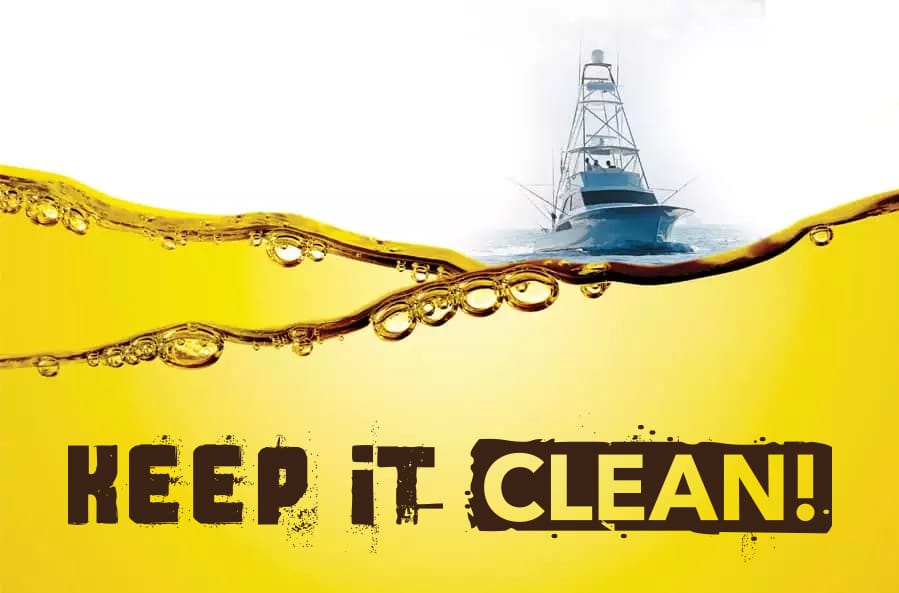 5 steps for Maintaining a Healthy Marine Diesel Fuel System
All the horsepower and advanced features available in modern yachts can be rendered useless if your diesel fuel is tainted and your engines run poorly as a result. Although diesel engines and their fuel systems are built to be robust workhorses, operational flaws can develop when burning sub-par fuel. RPM surging, excessive smoke and depleted fuel economy are just a few of the symptoms related to poor fuel quality. If not addressed in a timely manner, these unfavorable characteristics can lead to premature mechanical failures. Despite the age of your boat or the engine brand, there are several degrees of maintenance at your disposal to ensure tip-top diesel fuel performance.
Before visiting a fuel stop for the first time, consult with other boaters; good marinas—as well as fuel docks to avoid—usually travel by word of mouth. Be leery of fueling locations that aren't very busy or seem over-supplied for their level of traffic. The fuel in their tanks may be older, have large particulate matter floating about, or present other issues that your onboard fuel filters may not be able to handle.
Today's connected world takes the coconut telegraph to the next level, by way of web sites and mobile apps. Programs such as MarinaLife, ActiveCaptain and Waterway Guide's Explorer can provide a wealth of insight and recent reviews on marinas, prices and available fuel types. Leveraging technology and social networks to gain local knowledge while you're in a new place can be a simple, yet invaluable practice.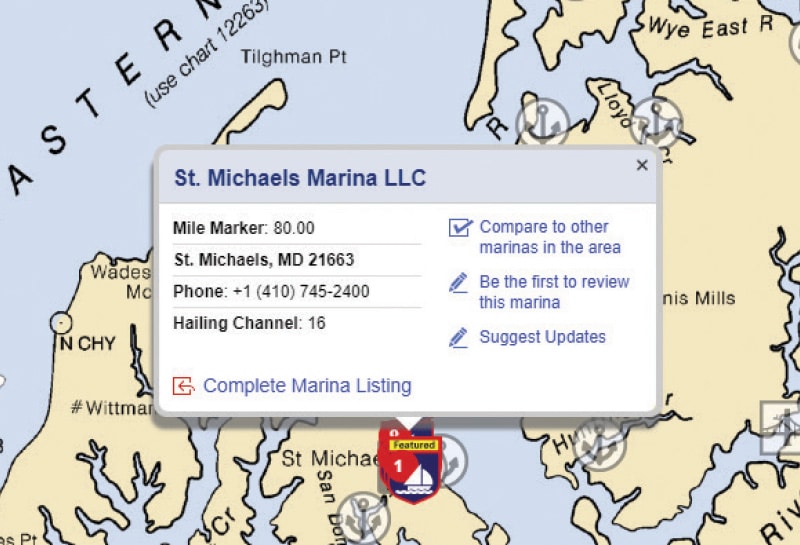 Talk to friends or check out reviews for new fuel stops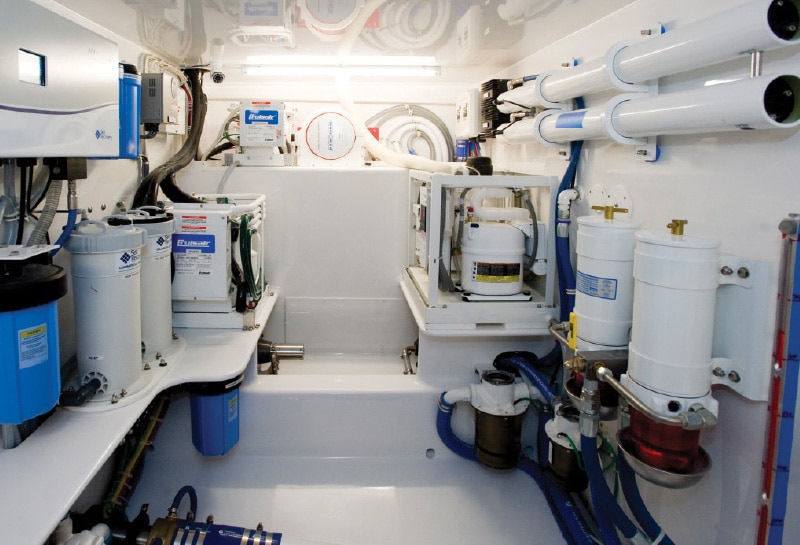 Get Fuelish: Racor-style fuel-water separators
are your first line of defense
Even a great marina can dispense poor quality fuel on occasion. It's best to be prepared, and of course, always keep spare replacement filters on-hand. It also pays to be familiar with recommended maintenance intervals and best practices for clearing the fuel-water separators of sediment. Most modern marine fuel systems have a recirculating flow which will include one or more fuel-water separators (often referred to as Racors) near the tank. Typically a bowl-style design, separators make for easy visual inspection, cleaning and bleeding of the suction side of your fuel lines. An engine-side filter, or pair of filters, then lie between the lift pump and high-pressure fuel pump, filtering out any last particulates before the fuel travels into the injectors.
Dan Webb of Gregory Poole CAT advises that fuel systems rarely grow more complicated, "not until you get into larger yachts with huge amounts of fuel to maintain do you see builders opt for more sophisticated systems like high-speed centrifuges." At any rate, following your engine operator's manual and recommended maintenance schedules are critical steps in keeping the liquid gold in your boat refined and flowing properly.
"Ensure the liquid gold in your boat remains stored and flowing properly."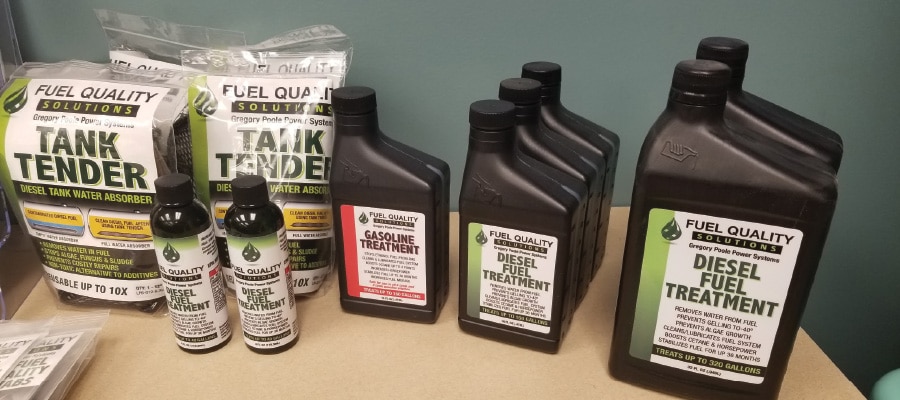 While separators and filters are the best defense in protecting your engine components from fuel sludge, they are not able to keep water from settling at the bottom of your tank and wreaking havoc in the form of corrosion and bacteria growth. This is where fuel treatments and additives enter the picture.
Boats and fuel tanks are inherently humid places, so many additive products have been developed to help combat and treat microbial growth in that unwanted water—thus maintaining your diesel fuel's effectiveness for longer periods. Companies such as Stanadyne, Star-Tron and Sta-bil all produce fuel conditioning treatments that have been shown to inhibit corrosion and even improve performance and fuel efficiency.
This niche of products focuses on chemically breaking down water and other contaminants into smaller molecular sizes, which can then be burned off safely by your engine(s). A conditioning product can also be combined with the use of a biocide (Valvtect and Biobor make popular options) which help treat and inhibit the growth of fungi, bacteria and algae in your fuel tanks. Biocides are powerful solutions that should only be used in their recommended dosages—necessary only when bacteria growth is suspected, or as part of a seasonal preventative treatment program. There are some downsides to biocides—they are toxic products that have been proven to aggravate filtration and combustion issues at times.
There are some newer products on the market which take a hybrid "all-in-one" approach; stabilizing stored fuel, breaking down water and sludge molecules, inhibiting biological growth and even improving horsepower. Gregory Poole Equipment Company's Fuel Quality Management division markets specialized treatments designed to stabilize fuel, improve efficiency, reduce smoke, and provide lubrication. Their Laboratory Manager Joe Bousquet advises that, "our fuel treatments increase octane levels in gas, and corresponding cetane levels in diesel." He also points out that the lubricity helps protect engines against extra wear from Ultra Low Sulfur Diesel (ULSD), which has been federally mandated in the U.S. since 2007.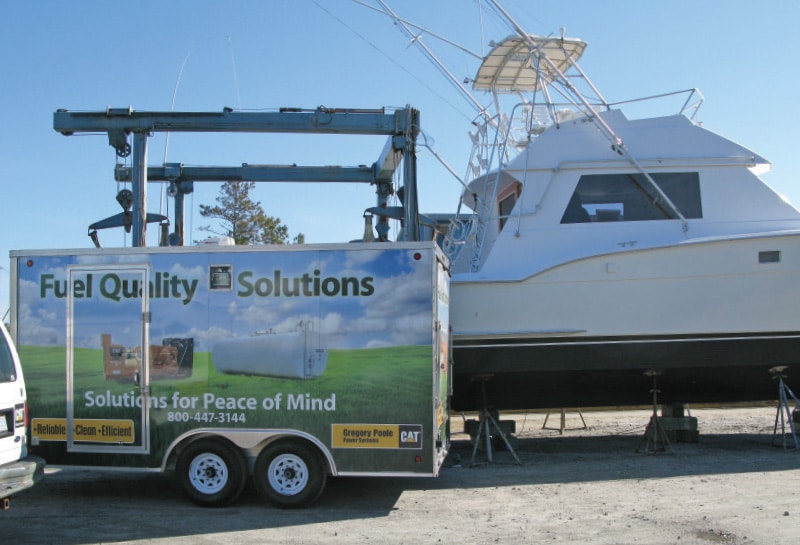 Mobile fuel polishing service
in action
Manager Joe Bousquet advises that, "our fuel treatments increase octane levels in gas, and corresponding cetane levels in diesel." He also points out that the lubricity helps protect engines against extra wear from Ultra Low Sulfur Diesel (ULSD), which has been federally mandated in the U.S. since 2007.
It's easy to talk about finding the best fuel and using the right additives, but some circumstances can be out of your control. Even the most meticulous and vigilant of mariners have fallen victim to fuel gremlins. Research shows that diesel begins noticeably degrading just 100 days from refinement. So alas, fuel sitting in a tank, whether in your boat or at the marina, can pose substantial risks that cleaning additives may not be able to treat.
"…fuel tanks are inherently humid places…"
Rick Ezell, General Manager of Marine Service at Western Branch Diesel helps explain the options for remediation when fuel additives are not enough. "If diesel fuel is left to sit for long periods, there may be a high concentration of water due to excess condensation inside the tank," Ezell explains. "Services are available for fuel polishing plus tank and line flushing, but the expense can become pretty considerable to have it done right." Fuel polishing services typically entail a mobile rig which pumps, filters and returns your diesel fuel to your boat. It's a process that takes a few hours, depending on the amount of fuel of course, as it circulates through the conditioning rig a few times.
The Gregory Poole team advises that the worst-case scenario is a "pump and dump" where a boat owner stands to lose a sizable investment in fuel, or even face tank or fuel line replacement. With little visibility into much of the system, it can be hard for a captain to ascertain the severity of a fuel contamination incident. This is where Fuel Quality Management's sample testing can provide valuable insight. For a small service fee, you can have your existing diesel fuel tested for quality. Bousquet says, "it takes about a week between sending a sample to the lab, incubating for bacteria and algal cultures and receiving the final results." Based on that data, his Gregory Poole team can advise on the best remediation plan or recommended treatments.
Ongoing Treatment & Monitoring
Once clean, the next stage in diesel fuel treatment consists of additional filtration, conditioning and monitoring equipment designed to prolong the service life of the fuel system and engine components. AXI, Hy-Pro and Croft are some of the companies innovating a variety of fuel conditioning devices, filtration control, breathers, and electronic monitoring aimed to further improve onboard fuel quality.
The latest marine diesel engines rely on advanced computers and insane injection pressures that approach the 30,000 psi mark. As a result, fuel system components are more susceptible to wear and pre-mature failure from contaminants and inconsistencies in fuel. AXI advises that the injection process itself aggravates diesel, and is what leads to fuel "darkening," as the non-combusted percentage of fuel is returned to the tank. Dark brown, or even black fuel indicates "agglomerated" diesel which is a leading cause for clogged or blocked injectors.
Magnetic fuel conditioners are small, in-line devices designed to break down foreign molecules and metal particulates to combat this specific issue, without liquid biocides. In concert with water prevention and a proper maintenance or treatment program, these devices can effectively scrub and brighten your fuel while you run, avoiding clogs and blockages.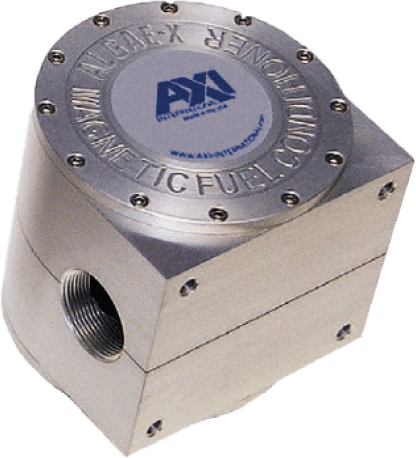 "…sample testing can provide valuable insight."
In conclusion, the best defense against degraded fuel quality is a multi-pronged approach to maintaining and treating your boat's diesel system. While outfitting your boat with a slew of additional fuel treatment and conditioning systems is not for everyone, it's a burgeoning field of technologies designed to eke out maximum performance. Considering these five areas of focus should help protect your vital engine components and avoid down-time, while also boosting fuel economy and performance—all great benefits that should be well worth the effort.