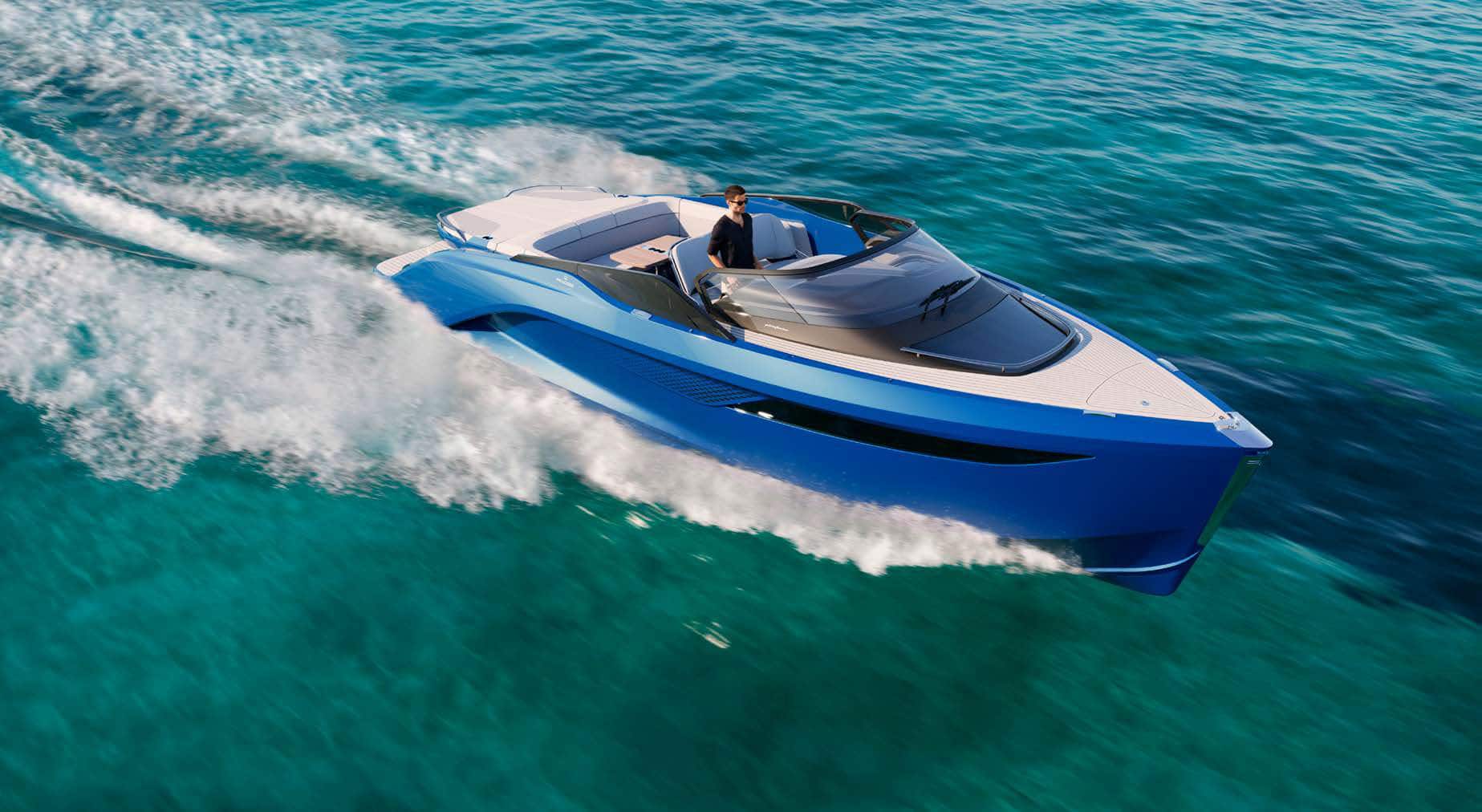 A Collaboration between Princess Yachts, Pininfarina and BAR Technologies helped birth the all-new R35
Pininfarina
is a world-renowned Italian design studio with over 85 years of heritage, penning some of the most iconic and breathtaking luxury sports cars for multiple generations. The R35 immediately catches the eye with her incredibly sleek form and those massive air intakes molded into the aft hull sides. There is definitely some Italian supercar DNA in this new yacht design.
BAR Technologies has been at the forefront of high-speed yacht designs and played a main role in the most recent America's Cup series which featured flying catamarans. These high-speed sailing cats used composite foils and daggerboards developed by BAR Technologies to exceed speeds of 40 knots on the race circuit. Naturally, when Princess wanted to extract more speed from their revolutionary sport yacht, they turned to BAR Technologies' expertise.
High-Tech Foils and Propulsion
In addition to using carbon fiber throughout the entire build of the R35, Princess and BAR Technologies developed the Active Foil System (AFS). These twin foils do not elevate the boat from the water but rather provide improved dynamic stability and increased efficiency. An onboard computer makes roughly 100 calculations each second, continuously adjusting the angle of the foils to provide the ultimate ride experience.
Due to their superior power to weight ratio, gasoline engines were selected for this new yacht instead of diesel. The R35 is powered by twin Volvo V8's, each developing 430 horsepower which is enough to produce speeds in excess of 45 knots.
In-House Composite Fabrication
When it came time to take the R35 from concept drawings to physical creation, Princess did not farm out the carbon fiber duties. Instead, they outfitted their facility with all of the equipment and tooling required including large ovens that are needed to cure the carbon fiber. This massive investment will benefit the entire Princess line from 40 feet to 40 meters, including the new skills gained by their craftsmen in composite technologies.
With typical construction methods, carbon fiber produces an average 15-20% weight savings over glass fiber in the marine industry. These savings were not satisfactory for the Princess team. By utilizing resin film infusion techniques when working with carbon fiber, the R35 was able to up the weight savings to 25%.
Weight savings became an obsession and the extensive use of carbon fiber was not the only trick up their sleeve. The Princess team opted to avoid using gel coat on the boat which would have added over 650 pounds to the finished product. The R35 instead is painted after the infused carbon receives a thin coat of fairing to hide the fiber weave from printing through.
Further weight savings was achieved with materials selected for the interior. Solid surfaces use industry-leading lightweight components like Esthec floors that are both beautiful and durable. And, the interior is every bit Princess: flawless fit and finish with an impressive collection of color options for both soft and hard surfaces.
This obsession over weight savings paid off. The half load displacement for the all-new Princess R35 comes in at just 14,000 pounds!
A Revolution has Begun
The entire Princess team is undoubtedly excited about this revolutionary new model and the new direction for Princess design and technology. Although Pininfarina led the design of the R35, Princess' long-standing partners in yacht design, Olesinski were along for the ride and are working to implement aspects of the R35's design language into the next generation of Princess Yachts.
Executive Chairman, Antony Sheriff has revealed that the composite and foiling technology pilot tested on the R35 will be making its way to larger Princess models. While you may not witness an S78 breaking 45 knots, we are certain these new technologies will further improve on Princess' long-standing hallmarks of stability & efficiency. With impressive weight savings and AFS technology in larger yachts, new smaller, high-horsepower engines can provide the same if not greater speed and performance over today's designs.
Without question, Princess Yachts is entering a Revolution in luxury yacht design, construction and performance!