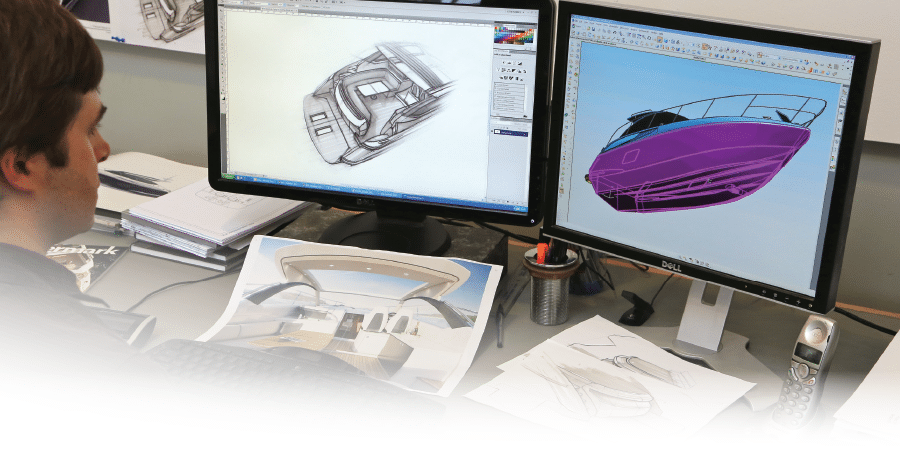 High Tech Tools & Data Develop Each New Princess Yacht
Big Data. Computational Algorithms. Machine Learning. To many of us, these may be meaningless buzzwords of the computer age. But for modern naval architects, these are quickly advancing fields of research that are helping to redefine the next generations of luxury yachts, such as those designed by Olesinksi and Princess.
In recent years, Princess Yachts has experienced considerable growth and increased market share, aiming to deliver nearly 300 yachts—up to 40 meters in length—within the next year. With an order book currently stacked to over $1 billion U.S. dollars in commitments, it should be abundantly clear that this is one seriously massive boat building operation. There are many attributes that contribute to this success, but possibly the most important is the meticulous design and conception of each Princess model.
A Proven Relationship
It all started in 1980 when Princess (then Marine Projects Ltd) partnered with Bernard Olesinski to design the 30DS. Bernard developed a deep vee hull design and the resulting Princess model enjoyed great success, being praised for its comfortable ride and excellent seakeeping qualities. The acclaim was palpable, and as Bluewater's John McDevitt explains, "Olesinski and his team of naval architects and engineers have designed every Princess since."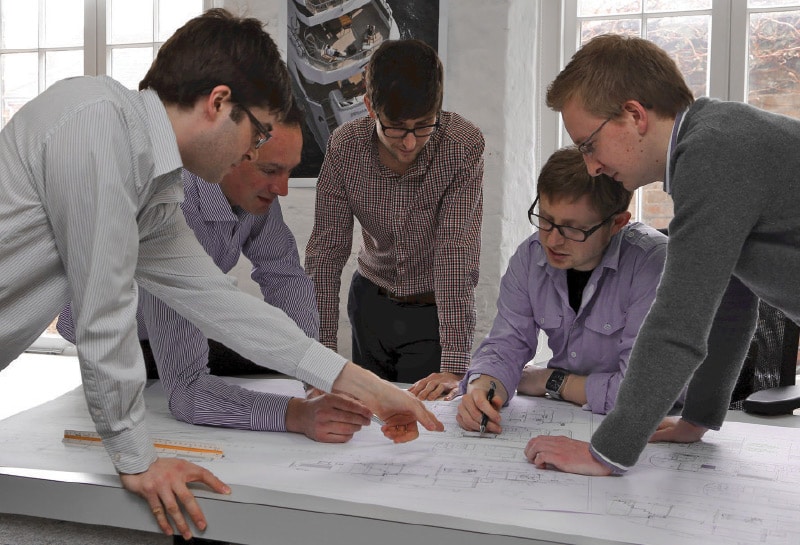 However, today's new models have grown exceptionally in proportions, luxury appointments and refinement. To meet demand and continue in pushing the envelope, Olesinski has frequently adopted the newest technologies and even innovated proprietary software which aids in their design process.
Getting Started
Developing a new model from the hull up can be a lengthy and expensive venture for a production builder, often to the tune of tens of millions of dollars. Entirely new hull signatures can be put to the test in both virtual and real-world tank testing utilizing advanced computer software and scale models, respectively. It is in today's computer-aided realm where great efficiencies in time and money can be made—a realm where the Olesinski and Princess partnership is thriving.
A new model project between Princess and Olesinski kicks off with discussion about design objectives and specific product requirements. The team of engineers and designers will then pull from the bank of data they've developed and propose the type of hull that would best suit the project. "This might be a further evolution of a well proven design or we might choose to introduce a hull with some novel features resulting from our research and development program," explains Gerard Grandcourt, Head of Naval Architecture at Bernard Olesinski Ltd.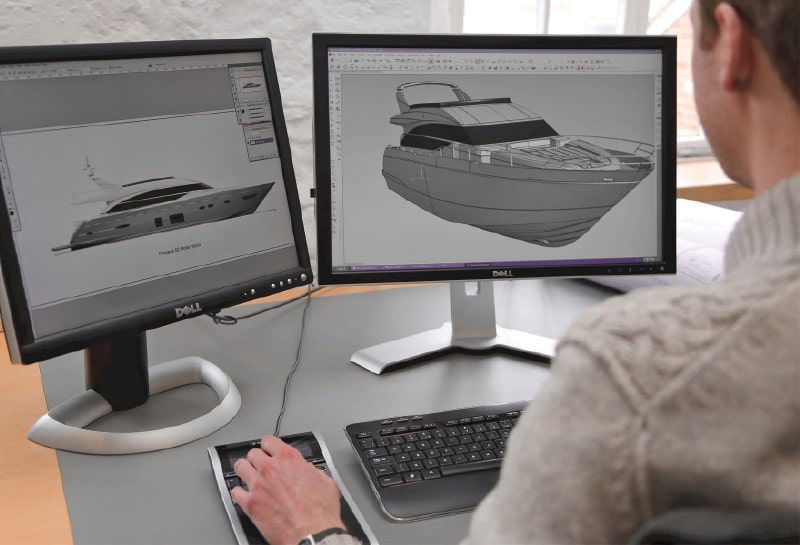 Substantial Screen Time
The first conceptual sketches of a new Princess design are created with a wide range of styles that in time are narrowed down to a top-3. Then the leading designs are integrated into computer-aided drafting (CAD) software and work begins to incorporate the various machinery, structural components, and interior accommodations. In this way, designing a new hull-form is always a give-and-take procedure. Engineers are constantly balancing a hull form and its efficiencies while keeping a keen eye on how changes affect available interior space and equipment layout.
"During the development stage, a hull will typically be refined 40 to 80 times to meet specific project requirements," advises Bill Edwards, Head of Research and Development. The Olesinski R&D program utilizes cutting-edge software and techniques to tweak a specific hull form in hundreds of different ways to determine the best mix of comfort and performance.
"…a hull will typically be refined 40 to 80 times…"
Deep Data
Edwards explains that computational fluid dynamics (CFD) have become the most widely used method for testing new hull forms. He helps break down this technology, "CFD involves simulating the water flow around the hull using a powerful computer cluster to accurately predict resistance and running trim angle over a range of speeds. CFD is often used to create a parametric study with hundreds of hulls of varying characteristics.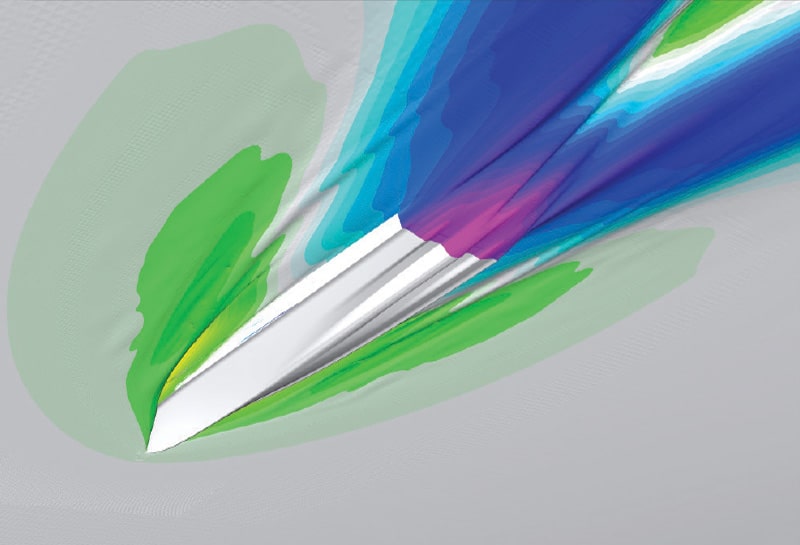 The results can then be analyzed to determine the optimal combination of attributes for the design under consideration." If we lost you at 'parametric,' it gets even more technical… "Mathematical techniques, such as genetic algorithms and neural networks, allow us to interpret the results of these studies and be confident that the hull design selected represents the optimum combination of design features," he adds.
For years, Olesinski has been compiling this data, particularly details on the shape and behavior of various hull designs and their CFD characteristics. They have developed an in-house software program, Hull and Hydro, "that not only creates mathematically fair, smooth curves, but also automatically manipulates the hull form and volume, taking into account the center of gravity, deadrise, weight and height of the yacht," Edwards states. The group also utilizes a comprehensive weight database loaded with thousands of components that comprise the many onboard systems of each yacht. The combination of these tools has allowed Princess and Olesinski to more accurately determine the final weight and center of gravity of a new boat along with continually assessing the impact of modifications during the design process.
Into the Tank
While a live tank test may not be able to provide the wealth of computational data the software systems can, it still helps to witness live water hitting the hull. As such, Princess and Olesinski occasionally utilize two types of tank testing; towing and free running. Grandcourt describes a towing tank test as an open scale model of the hull which is mechanically pushed through the water at speed, "…whilst the forces acting on the hull and trim angle are measured. This information can be crosschecked with CFD results to ensure that the methods agree."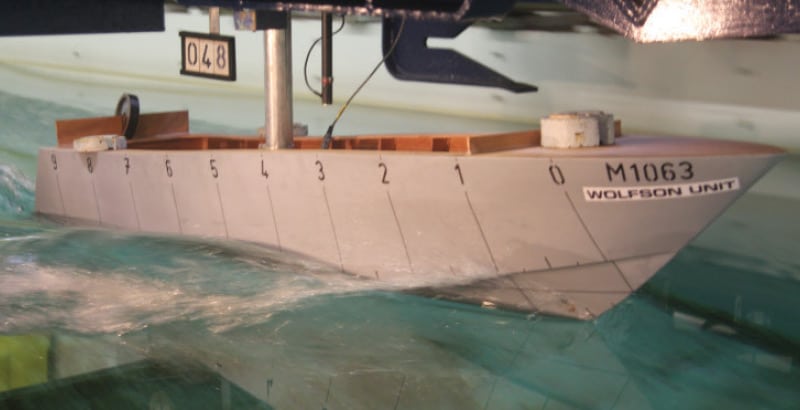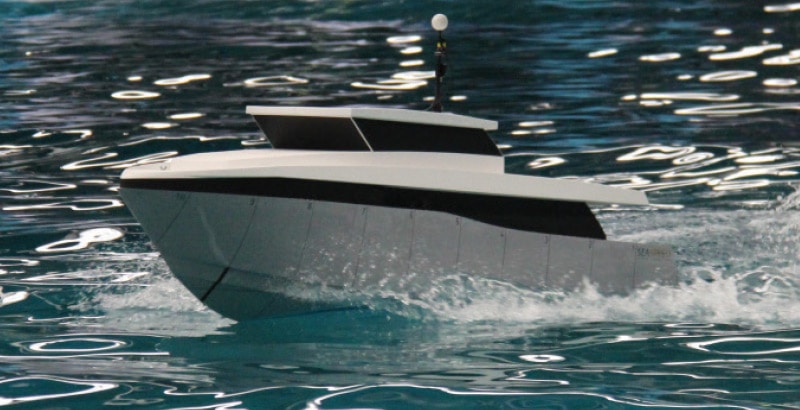 Many digital simulations are run, with tank testing playing a final role in major hull form updates
"Free-running model testing is used when we need to assess the seakeeping and handling characteristics of a new type of hull," continues Grandcourt. In this case, a self-propelled scale model is built with instruments which measure speed, motion and acceleration. The model is remotely operated in a large tank equipped with a sophisticated wave maker. Typically, turning maneuvers are tested at different speeds in calm water. Various significant wave heights and periods are also simulated, and the model is run at different speeds and angles to the waves. "This data allows direct comparison of the comfort aboard and level of control compared to existing designs and test models."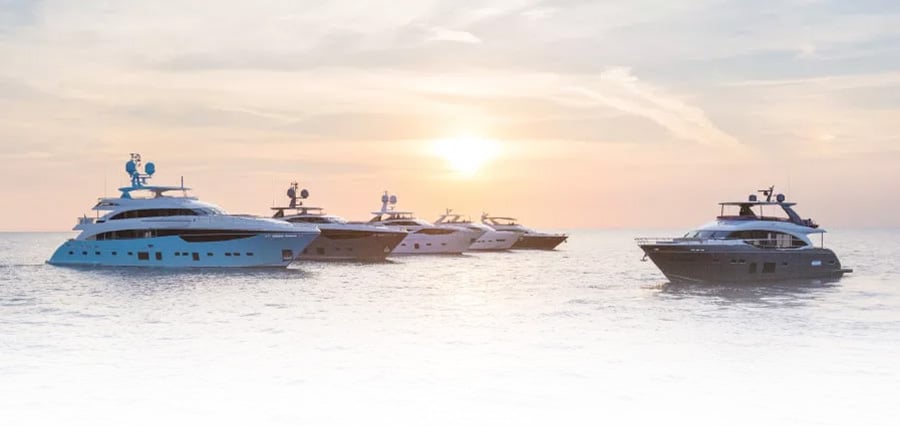 "Princess builds a truly remarkable yacht."
In Real Life
Once a new design has reached a mature state, a full-scale mock-up of the interior is built and often a scale model of the external deck(s). These are then used alongside drawings, artistic renderings, CAD models and technical documentation for comprehensive review and ergonomic adjustments. This process allows for any final modifications to be made before the Princess design team signs off and tooling at the factory ramps up. With product cycles averaging four years and Princess ambitiously releasing 2-3 new models each year, the Olesinski team is always studiously designing some aspect of the next Princess yacht design.
Furthermore, the work doesn't end once a new model is launched, as Olesinski engineers participate in initial sea trials and collect data through electronic motion sensors. "The information gathered on a new model is included in a continuously growing database which proves invaluable in validating calculation methods on future designs," Edwards says.

Bluewater's Chuck Meyers sums up a recent sea trial at the factory in England, "Princess builds a truly remarkable yacht. They are exceptional sea boats for their size. Princess' location in Plymouth runs right out into the English Channel and ultimately the North Atlantic, where each boat is pushed to perform and impress their guests."
Over the last thirty-eight years, Princess Yachts' designs have evolved and somehow always seem to be a step ahead of the competition. This is, in part, thanks to highly rewarding partnerships like that with the Olesinski team. Combining their obsession for perfection with Olesinski's forward-thinking innovations, Princess Yachts has become an undisputed leader in the global motoryacht market. Admittedly, the future is exceedingly bright as we anticipate the next evolution of Princess Yachts' luxurious and highly-vetted designs.
Looking to the Future
In addition to anticipating virtual reality being used in the ergonomic design process, Grandcourt points to a variety of innovations that we could soon see implemented on Princess Yachts:
"The knowledge gained from simulation technologies has unlocked the prospect of introducing new types of hull forms that have wide ranging benefits. Wave piercing bows, differing stem angles and new spray rail and chine arrangements are all possibilities. In addition to improving efficiency, comfort aboard will continue to be a driving factor. It is likely that new types of stabilizers will aim not only to improve on existing motion reduction technologies, but also contribute to the hull's efficiency.
I can also envisage closer integration of control systems so that propulsion, steering, thrusters and stabilization will be replaced by new technologies that perform more than one function. Paired with navigation systems, operation will be controlled within a single interface, providing a seamless end user experience and allowing the hull to perform exactly as the designers intended."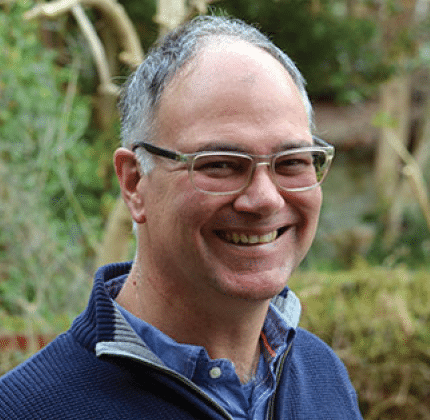 Gerard Grandcourt
Head of Naval Architecture
Bernard Olesinski Ltd.