Back Cove's New Outboard Models Prove Fast & Spacious
It was 2018 when Back Cove unveiled plans for their first outboard powered Downeast style boat. Bluewater reported in-depth on this clean sheet design that included twin outboard power options from Yamaha and Suzuki. At the time, the 34O became the fastest Back Cove model ever produced. Kevin Burns, Back Cove's Vice President of Design and Product Development told Bluewater, "The 34O really shines at speeds over 30 knots, the ride is solid but remains sporty and responsive. At wide open throttle, the ride is exciting but gentlemanly."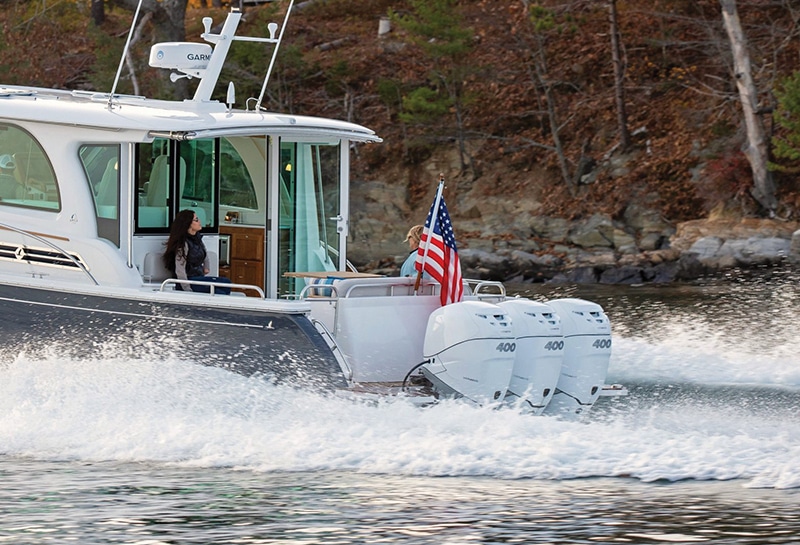 The design team at Back Cove did not rest on this one model and less than two years later had announced the 39O with triple outboard options. Another genuine from-scratch design, the 39O offers a galley-up arrangement with plenty of seating for guests in both the salon and cockpit. The master stateroom down forward is accompanied by another settee to port, with the full head to starboard. Athwartships are a pair of secluded and comfortable single beds for guests.
With outboard power replacing the single inboard diesel engine, interior quarters and storage space has been increased dramatically. The comfortable lounge area down forward is unique to the 39O without sacrificing the second guest room found in the Back Cove 372 and 41. The cockpit is also larger and features a table for outdoor dining and an aft-facing bench.
"…Interior quarters and storage space has been increased dramatically."
Back Cove 39O
LOA: 43′ 0″
Beam: 13′ 6″
Draft: 3' 0"
Fuel Capacity: 520 gal.
Water Capacity: 97 gal.
Holding Capacity: 42 gal.
Air Draft: 12′ 7″
Power: Triple Suzuku DF350s
Triple Yamaha F300s
Triple Mercury Verado 400s
The amount of space afforded by moving the engines to the transom can't be understated. The 39O's cockpit sole raises on electric actuators to afford access to a generous, finished storage area where the diesel engine, generator and corresponding systems would normally reside on the traditional inboard model.
This new advanced hull form provides the refinement and luxury expected from Back Cove owners while offering up to 1,200 horsepower from triple Mercury Verado outboards. Boasting a top speed of 44 knots (50 mph) and a cruise of 34 knots (39 mph), there is no denying the new 39O with optional Mercury Verado power is a fast cruiser! The outboards make her powerful, but also refined—the noise levels at the helm remain below 70 decibels from idle through 4,000 rpm. Reaching into the top rev range of the outboards only raises the decibel reading by about 10 points.
With the more powerful outboard option the Back Cove 39O still offers a 300-mile range on a single tank at cruise speed. The outboards also allow this 43-foot beauty to draw only 3 feet of water compared to 3' 7" and 3' 9" for comparable inboard-powered models from Back Cove.
There is no doubt that Back Cove hit a winning formula with their new outboard model lineup. Fresh designs, a revolutionary hull form, added storage and guest space along with a poised and quick demeanor. Back Cove has continued to innovate their model offerings with the new Outboard line while maintaining the refinement and Maine craftsmanship that has marked the brand for over eighteen years.

Back Cove 39O
Available at Bluewater Yacht Sales