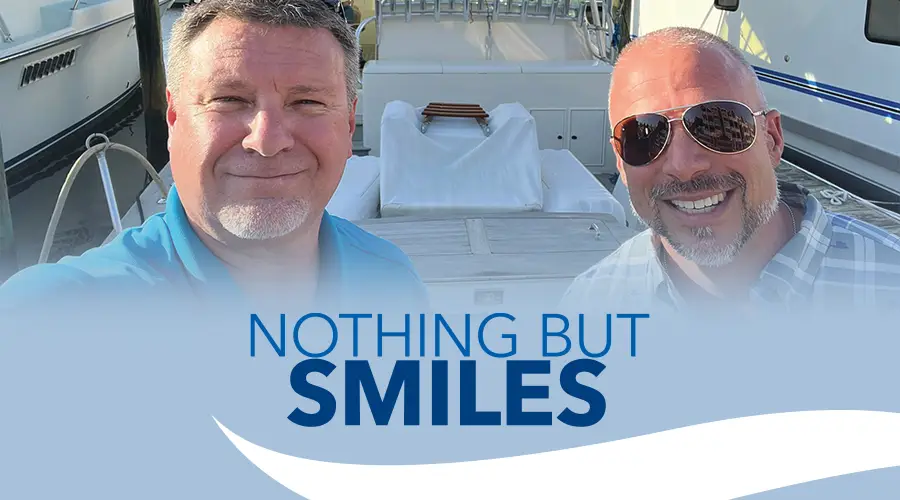 Bluewater Sales Professionals Emphasize Relationships to Replicate Success
Although the current condition of the boating industry is what some may consider unprecedented—high demand, short supply and little relief in sight—­for a seasoned sales professional, it's just a different climate to work in. Many members of the Bluewater sales team have been around long enough to witness several highs and lows in boat sales and the marine industry. As in times past, they make some adjustments to their course heading and keep putting their best foot forward; always aiming to serve the customer's best interest.
Our sales team closes hundreds of deals per year, no matter the market conditions. With so much recent volatility, we wanted to dive a little deeper and share with you what makes our team so successful year after year.
Loyalty and Longevity
Chuck Meyers, hailing from our Baltimore office, began his yacht sales career over 18 years ago with Jarrett Bay Yacht Sales and was part of the merger between the two companies that brought him to Bluewater. Meyers starts off by saying it takes a lot of hard work. "There's no real set secret—it's all about the relationship building with your customers and working at retention and being available 24/7." Meyers enjoys putting in the hard work, traveling for his customers and joining them at boat shows, rendezvous events and factory tours.
"Success is selling the same boat multiple times, and selling to the same customer over and over," Meyers says.
"It's all about treating the customer right and maintaining a relationship after the sale. It's not a one and done deal."
Meyers continues the relationship after the sale by being available to the customer for service, travel advice and other opportunities.
When asked about his experience working with Bluewater, Meyers explains, "Being a company fully committed to the yachting lifestyle, we can hang our hats in multiple places." Meyers utilizes long-standing relationships with colleagues, management, service advisors and vendor partners to provide the best service to his customers. He also boasts about the company's strong principles and extensive marketing program: "Bluewater has exemplary ethics, and without any doubt in my mind—the best marketing program to give great exposure to listings."
Commitment to Serve
Working with Bluewater in Hampton for ten years, and as a yacht broker for over twenty years total, Scott James says a lot of his clients are repeats and referrals. "Referrals come from a variety of good sources: happy customers to start with, and also the new customers they introduce me to at the many boat shows and fishing tournaments I attend. They are a huge factor in my overall business."
Meyers agrees, "The best way—and my favorite way—to meet customers, is referrals. It is the ultimate compliment in sales to have someone recommend your services to a friend, colleague or family member."
The pathway to success for James is about commitment to the customer and utilization of the resources Bluewater offers to every Sales Professional. "You gotta do what you say you're going to do," James affirms. "If you use the tools that you are given effectively, the relationships will be easy to develop." James continues, "Bluewater has a big toolkit to pull from— service, marina, finance—it's up to us to use those tools." James also praises Bluewater's in-house financing and documentation team. "I am a big fan of the worth of that group and the people we have. They have been a tremendous help to me and in driving our mutual success."
Built on Relationships
Chris Hall Jr., son of Bluewater's founder, can claim a lifetime of involvement with the company. "My father started Bluewater when I was one year old, and I became a full-time broker in 1997," Hall explains. His favorite way to meet new customers is when he's on his personal boat on a trip and strikes up a conversation with someone on the dock. But like James and Meyers, Hall agrees, "Referrals play a humongous part in my sales."
"My father has preached on it for years: our business is built on relationships. The absolute best way to retain customers is to have a relationship with them," Hall says. "Stay in touch with your customers and build a lasting relationship," Hall states. "This way, if that customer is thinking about buying or selling their boat, they wouldn't think of anyone else but you to deal with!" Hall is proud to have such a strong network with the Bluewater family of companies.
"Our sales and service department work hand-in-hand to take care of our customers. Being able to assist our customers full-circle certainly helps us as salespeople."
Success can come in many forms and may be defined differently by many; however, it seems there are some essential bits of the formula that our team agrees on. Customer retention is imperative to ensure repeat business and referrals. Retention is achieved by hard work and diligence, but perhaps most importantly, treating the customer like family—not just another transaction. We are so grateful for our passionate and hard-working team and are proud to have them as our brand and company ambassadors all along the Atlantic East Coast and beyond!