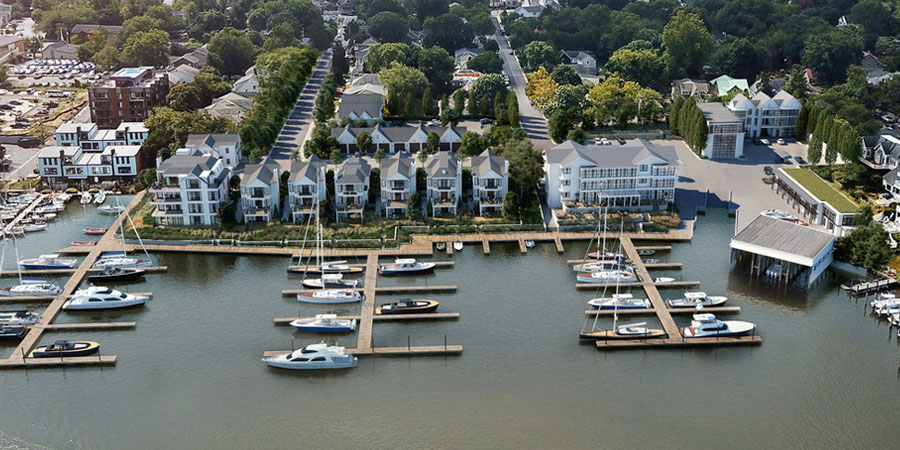 South Annapolis Yacht Centre Partners with Mid-Atlantic Yachting Authority for Redeveloped Marina Village
Bluewater Yacht Companies (BYC) is excited to announce its latest endeavor in Maryland that includes a new sales office and service location in downtown Annapolis. Located just west of the Eastport Drawbridge along Spa Creek, the South Annapolis Yachting Centre (SAYC) is in the heart of one of the most highly visible and exclusive communities on the Bay. Following a fresh vision under new ownership, SAYC has been searching for a strong partner for marine operations of their new facility. Bluewater's 52 years of yacht sales and service expertise throughout the Mid-Atlantic – providing customers with exceptional experiences in all aspects of boat ownership from purchase to sale and in service and full refits – proved to be an excellent fit for this new facility in downtown Annapolis.
The yacht sales arm of Bluewater will enjoy an all-new office space within a new high-tech building that integrates environmentally-sensitive site design, which includes pervious surfaces, a green roof, rain gardens, storm filters, and micro-Bioretention areas to drastically improve the unfiltered stormwater pollutants that are currently flowing into Spa Creek. In addition, the SAYC property will feature thousands of native trees, shrubs, grasses, and perennials that will bring new life to the site and reconnect it with the Spa Creek watershed in a positive way.
The yacht service and maintenance aspect of BYC at this new facility will boast service bays and storage space on the hard and be complemented by a 75-ton Marine Travelift and deep haul-out basin. "This new Annapolis presence will enable us to provide concierge service to our sales clients while also offering service and support to all of our customers throughout the Chesapeake Bay area," explains BYC Partner and Service Director Earle Hall. "This new partnership with South Annapolis Yacht Centre will mutually provide untold benefits for both organizations as we grow together."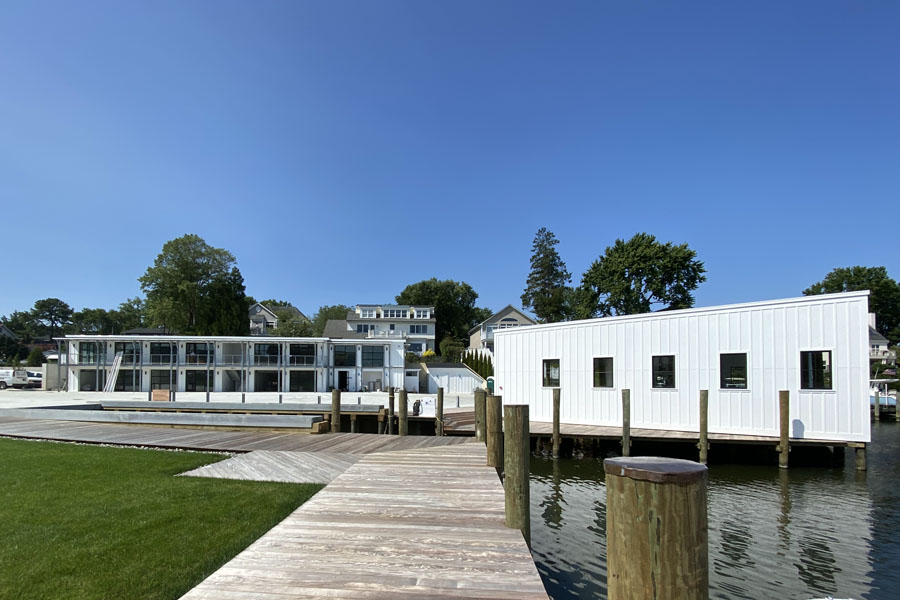 This new location and the impressive facilities will provide BYC the opportunity to promote many of their featured new model brands in the mid-Atlantic's strongest market, including Regulator, Valhalla, Viking, Jarrett Bay and Princess. "Providing our signature Bluewater Service in the Maryland and Northern Chesapeake region, along with the world-class brands we represent is sure to be a game-changer for our company and the South Annapolis Yacht Centre," commented BYS General Manager, Wyatt Lane.
The SAYC features over 70 slips, each with metered electric up to 100 amps, freshwater hookups and wireless internet service. The marina can accommodate yachts up to 135 feet in length while offering an average 12-foot water depth at the T-head docks. This location along the southside of Spa Creek is considered the most protective haven for yachts in the area while still providing quick access to the Chesapeake Bay and Severn River. Many amenities are within walking distance of the SAYC or a short water taxi ride which are available on a frequent schedule along Spa Creek.
Bluewater Yacht Companies is eagerly awaiting the full build-out of their new sales office space and service bays, which are being brought to completion over the coming weeks. This new location at the South Annapolis Yacht Centre will complement BYC's current Maryland locations in both Baltimore and Ocean City. A
kick-off event and grand opening are scheduled for October 23rd and 24th
 to include new and pre-owned yachts on-display and available for a private tour by appointment along with sales and service professionals on-site to greet guests and customers and answer questions while adhering to CDC-recommended best practices.
Bluewater Yacht Sales - Annapolis, MD