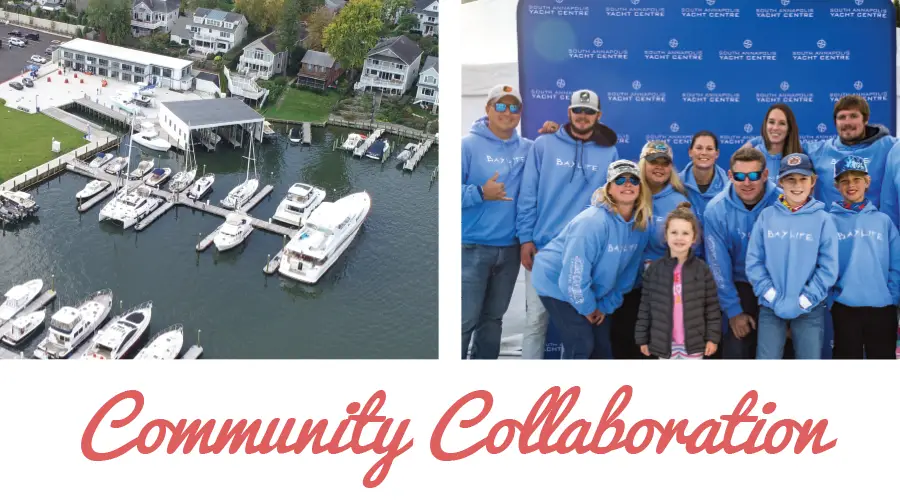 Bluewater's New Annapolis Location Rallies Around Customers and Community
Nestled in the quaint community of Eastport, the all-new Bluewater Annapolis office is quietly becoming a steward to the community and recognized as an active member of the neighborhood. Realizing the value in engaging communities, Bluewater's in-house Finance Manager, Vera Sohovich has taken the lead in organizing more regional events, customer gatherings and local outreach from our new office in Annapolis. "Most of what I do is making relationships with the customers and within the community," Sohovich explains. "Developing new relationships and nurturing current ones helps to foster the family feeling."
While boat financing is certainly a full-time job in the current market, Sohovich is also passionate about customer outreach and retention. Bluewater Annapolis offers yacht sales and concierge service and support at the South Annapolis Yacht Centre (SAYC) on Spa Creek. This beautiful new facility has become the hub for many unique events and some familiar ones as well. The 15th Annual Fish for a Cure (F4AC) benefit tournament was held for the first time at the South Annapolis Yacht Centre with plans to return in 2022.
Rallying the Community
Entering their third year with growing popularity, Bluewater's Regulator Rally events were also started by Sohovich, with the first one being held at Mears Point Marina on Kent Island with over 30 boats in attendance. Not just an opportunity for fellow Regulator owners to gather and enjoy an afternoon at a unique spot, these events commonly include vendors like Garmin and SeaDek to answer questions and showcase new equipment along with a Regulator factory representative. When vessels are available, Bluewater staff will also bring new stock models to showcase and offer demos.
Other unique events for the Annapolis area include a Princess VIP Preview the Saturday before the opening of the Annapolis Boat Show. Attendees enjoy cocktails, live music and boarding the newest Princess model. A water taxi is available between the Annapolis Boat Show and SAYC to bring customers and guests back to Bluewater on Friday evening of the show for a cocktail hour. Sohovich has more plans on the horizon for holidays including Independence Day, Christmas and St. Patrick's Day.
Bluewater Annapolis gets Festive
Although a great deal of focus is placed on customer relationships, Sohovich and her Annapolis team do not ignore the community and opportunities to serve. They even volunteered a Regulator boat to be Santa's sleigh for the City of Annapolis' tree lighting ceremony. South Annapolis Yacht Center Operations Manager, Remy Anderson adds, "When the original sponsor canceled last minute for our local Christmas event in downtown, Bluewater immediately stepped up with a truck and boat to bring Santa in, making the whole event very Annapolitan!"
Mr. & Mrs. Claus pose in front of their sleigh
Not only are there many events held at SAYC, but Bluewater has collaborated with the marina in an "oyster gardening" project as part of an effort to continually improve the health of Spa Creek, the Severn River and Chesapeake Bay. "Our efforts don't stop with our customers and Bluewater family," Sohovich says. "We also enjoy building relationships with the people around us and throughout the community!"
Another environmentally responsible initiative was launched by Bluewater Annapolis Service Manager, Mike Waldow who sponsors a shrink-wrap recycling program. All wraps cut from boats at SAYC and neighboring marinas enter a special dumpster for collection, to be recycled as opposed to being disposed of with regular waste destined for an incinerator or landfill.
"We are very lucky and grateful to have Bluewater as a tenant and partner."
— Remy Anderson, South Annapolis Yacht Centre
Anderson adds, "They definitely have a strong community involvement and have really established their brand throughout the Bay area."
Party it Up!
As Finance Manager for all Bluewater locations, Sohovich oversees hundreds of transactions throughout the year but only gets a chance to meet a portion of those buyers in person. Knowing just how exciting it is to take delivery of a boat, she has helped organize many Boat Closing Parties that include champagne, both for consumption and for christening of new boats, along with catered food, gifts and Bluewater swag. When one customer expressed their fondness of a Dark n' Stormy, a cocktail composed of Gosling's Rum and ginger beer, Sohovich went out of her way to bake Dark n' Stormy cupcakes to be served with Dark n' Stormy refreshments at his Closing Party.
"These are all little ways of hugging the customer," she explains. "We really enjoy spreading the family feeling that comes with the Bluewater Experience."