Cruising into a Second Life on a Back Cove 39O
Most of us have an activity we enjoy that allows for an escape from the pressures and rigors of everyday life. For Marshall Cross, growing up on the James River in Newport News, Virginia, his escape has always been boating. "I do not play golf or tennis or take up a hobby – I boat!" Cross exclaims. "Throughout most of my life, boating has been my solace, my inner peace, my cabin in the mountains, if you will."
Like Father, Like Son
Fond memories of Cross' youth include sailing Hobie Cats on the James River, along with fishing and duck hunting. "My dad owned a 16-foot Slickcraft with a 100-horsepower Mercury outboard, probably one of the highest output motors of its time," Cross explains. He not only inherited a love of boating from his father, but also a passion for general surgery, becoming a medical doctor just like his old man, John Armstrong Cross, Jr. Marshall worked closely with his father and became an accomplished Doctor of General Surgery with decades of helping patients in the Newport News hospital system.
"Boating is one of my great joys in life," Cross exclaims. He and his father both practiced general surgery together for many years, and when free time came available, it was filled with fishing excursions and trips down the ICW together. Eventually, as Dr. Cross [the elder] approached retirement, their practice was sold off to the local hospital system and Marshall continued in general surgery under the new umbrella.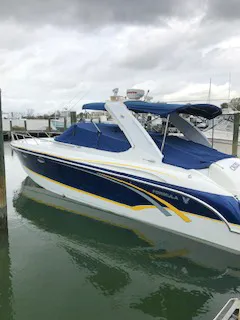 "We enjoyed many trips down the ICW to the Outer Banks and into Albemarle Sound aboard dad's Mako." However, one trip went from glass conditions to 5-foot seas without warning, Cross explains: "That was the most nervous time I have ever had on a boat, and it was then I decided I needed something bigger."
In his search for a bigger boat, Cross met Scott James of Bluewater Yacht Sales, who assisted him in purchasing a 33-foot Formula Sunsport, and subsequently a 37-foot Formula that James found and surveyed for him in Louisiana. The 37' Formula afforded overnight cruises and plenty of memories around the Bay and south to Albemarle Sound.
Unfortunately, the demands of his professional life kept Cross at work more often than at home or on the water, leaving him to reassess his priorities. Always just a phone call away, James assisted with the sale of the 37 Formula as Cross reevaluated his time. "I realized I worked way too much, too fast." Cross continues, "My father retired from general surgery at age 70 and passed away at 75. He wrote me a note telling me not to do what he did. 'Go explore the world,' he said." Cross concludes, "I have learned that I must take advantage of making new memories and a new life while I still can."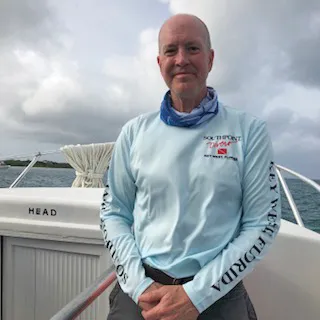 A Change of Pace
"I had been flipping through magazines seeing boats in that size range with outboards on them, and then I saw the concept photos of the Back Cove 39O, and I loved the Downeast look, the space, the stability of a boat with that much displacement and beam," Cross explains. Once Cross had narrowed down the field, it was just a matter of time before James found the right opportunity.
In the summer of 2020, another customer had put money down to order a new Back Cove 39O, but then their plans suddenly changed. James briefed Cross that there was a chance to negotiate for that contract on a boat already under construction. James and Bluewater's long-time relationship with Back Cove led to Cross being offered a sea trial aboard hull #1 of this new model while it was at Bluewater in Hampton. "I test drove that boat and by fall of 2020 we had a contract, and my new boat, hull #8, delivered in summer of 2021," Cross recalls.
Equipped with his new dream boat, Cross was not yet prepared for big adventures as he continued working and caring for his mother. "I ordered this boat 1-2 years before I knew I would need it." Cross says, "An opportunity arose, and I took it."
The Time Has Come
Cross recently retired in the spring of 2023 and excitedly shares his plans for travel and adventure aboard his new outboard-powered Back Cove. Cross is attending the annual Bluewater Summer Cruise in July at St. Michaels Marina and he plans to travel up the Chesapeake early and stay beyond the event. "I plan to make trips south to Beaufort, Wilmington, Charleston, Savannah and Fernandina Beach," Cross explains. "I can easily travel 100-150 miles a day, making stops along the way."
Cross did not land on the Back Cove 39O as his perfect boat simply based on some images in a magazine. His research and travel plans played a big role in the decision, and as it were, the 39O is a perfect match. "I like the lines of the boat, the outboards, the range," says Cross. When considering his dream to traverse the Great Loop, the mariner must consider a low mast height, lower draft, maneuverability and having all the amenities for comfort.
"The Back Cove 39O met all the criteria, Cross exclaims."
This boat also surprised him. Originally spec'd with Yamaha power, the outboards were unavailable from the manufacturer when it was time to power the boat. So Back Cove installed a triple set of supercharged Mercury Verados rated at 400 horsepower each. Cross rattles off the performance numbers Back Cove obtained with this power package: cruise speed at 35-37 knots and a top speed exceeding 40 knots. Despite a lifetime of experience and love for Yamaha Outboards, "I have been so satisfied with the Mercury outboards and they are really quiet," Cross admits.
Nothing but the Best
As Devlin made its way through production at the Back Cove facility, Cross was also very pleased with the communication and the photo updates he would receive along the way. "Communication with Jamie [Bloomquist] at Back Cove and other guys—they are phenomenal. Anytime I had a question, during or after the build, they have been quick to respond and outstanding with their post-sale service," Cross reports.
Upgrades to the boat include a shark gray hull, faux teak swim platform, and radar along with the electronics package of his choice, including a Mercury joystick control for the triple Verados that also works in tandem with the bow thruster. Cross was initially hesitant on the need for the joystick control, but James was persuasive in the system's convenience and safety. "I did not think I needed it, but when the wind blows and you're trying to dock, the joystick is nice for easily swinging around a 27,000-pound boat!" he exclaims.
"I cannot say enough good things about Safe Harbor Bluewater in Hampton," says Cross. "Bluewater Salesman Scott James is top notch. Guy Moorman, Lee Turlington in service, Dave Farlow on the docks, Brandon Mumford… everybody at Bluewater is like your family."
As Cross enters retirement and prepares to set off on a season of adventure in his new Back Cove 39O, we are excited to follow along. And, no matter where his travels may take him, he is likely to enjoy that family feel he has enjoyed in Hampton since taking delivery of his boat. "One of the advantages of Bluewater joining Safe Harbor is that you become part of a family the moment you deal with the company, and now a much bigger family once you're a Safe Harbor member." With a new boat and the largest marina support network in the world, Marshall Cross is well on his way to fulfilling his father's suggestion to work less and explore more.