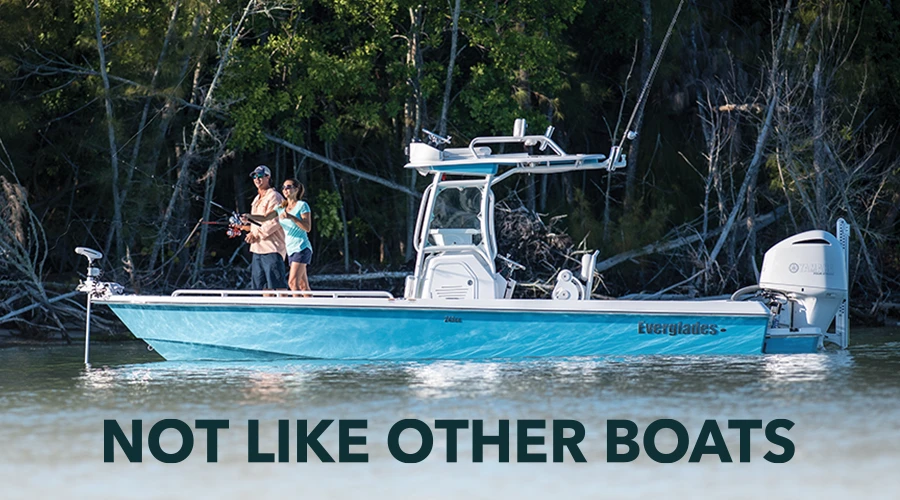 Everglades Boats' Strength & Durability Sets Them Apart
Over a year has passed since Bluewater Yacht Sales became the exclusive dealer for Everglades Boats in both North Carolina and Virginia. Our team of sales professionals, admins and management has delighted in introducing this brand to our customers and impressing them with the patented RAMCAP structural foam and assembly technology. Now, we take a deeper dive into the brand to learn more about what makes an Everglades boat special.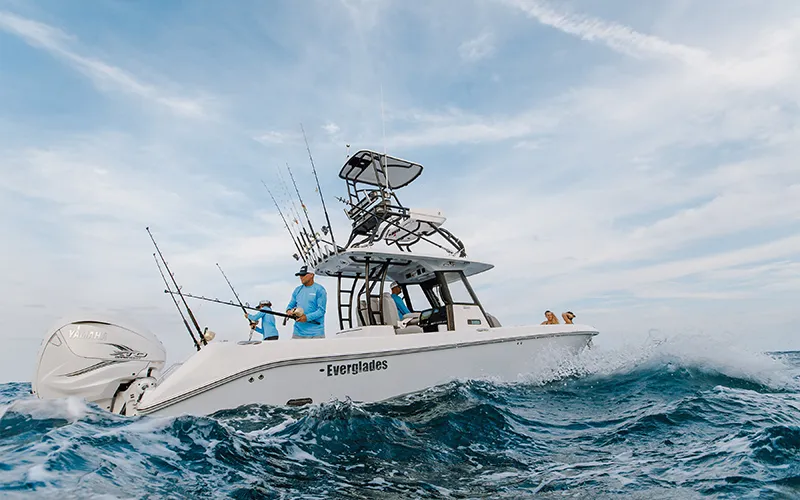 In order to gain a deeper look into this Edgewater, Florida-based boat builder, we tapped the experience of James Allen, Everglades' Senior Manufacturing Engineer and Tech. Allen got started at Everglades in 2005, albeit reluctantly. "When I interviewed at Everglades, I wasn't sure I wanted to get back into boats again," Allen recalls. After working for another boat builder for four years, Allen had become bored with his job. "However, when they took me around the facility and showed me how the boat is built, I realized,
"these are not normal boats, there is a lot of engineering in them."
Allen started out on the assembly floor and worked his way through the ranks while also spending time in different departments and a variety of positions. He has worked in assembly, warranty and customer service, product development and engineering, and now his current role overseeing production lines 1 through 4, responsible for models in the 24- to 36-foot range. "Working at Everglades, it is very intricate because this is not how you normally build a boat," Allen explains. "RAMCAP is incredibly safe, reliable, and a high-tech construction."
Filling in the Blanks
RAMCAP, an abbreviation for Rapid Molded Core Assembly Process, was innovated by Bob Dougherty and won the National Marine Manufacturers Association (NMMA) Innovation Award in 1999. Six-pound structural foam is used to create specially shaped blocks that fit perfectly into voids of the hull before a second infused liner is installed with structural adhesives. These high-density foam blocks ensure the entire void between hull and deck liner is filled, and provides a tremendous amount of bonding surfaces, largely reducing the need for hardware fasteners.
A side benefit to this revolutionary construction process is that the inner liner is finished to a brilliant white gel coat. While the liner adds strength and rigidity to the entire structure, it also ensures no water can get to the foam or hull skin. That benefit of a resilient finish is seen beneath each hatch and in the bilge areas. "People buy Everglades for the quality and the ride but when they open up a hatch or the bilge, it is completely different from other builders, being finely finished," Allen says.
Allen's personal ride is a legacy Everglades 200CC flats boat. He looked hard to find it and really enjoys taking it out when he has the time. His other hobbies and interests include an also-rare '96 Chevrolet Impala SS show car that is lowered on airbag suspension. "I'm kind of a car nut and garage tinkerer," Allen admits. "I also own a lifted ATV with snorkel that I run out into the woods and swamps to throw some mud around."
Recently, Allen was able to partner with Everglades for an Earth Day waterway cleanup event. "My 200CC was perfect for cleaning up the islands around the Indian River North and surrounding tributaries of the Intracoastal," he says. If he ever considered upgrading from his flats boat, Allen would go with the new 243CC. "I would have no issues taking her out in the New Smyrna Inlet," Allen exclaims.
Different Durability
While boat building takes some experience and mechanical inclination, Allen tells us that no matter the skill level of the employee, the training and mentoring of the team is an ongoing process at Everglades Boats. Allen exclaims, "After 18 years at Everglades I am still not bored!" When issues or priority tasks arise, Allen jumps on resolving those items in between his usual day-to-day tasks and working one-on-one with the team as needed.
New customers of Everglades are very proud of their boats and share photos of their travels and fishing with the factory and their dealer. While Allen enjoys these types of visual testimonials, there are other photos sent in by customers that tell a different story. When hurricanes and other catastrophic storm events affect coastal communities, boats and their accompanying docks and marinas commonly take a pounding. However, the toughness of an Everglades hull has been demonstrated and wowed their owners on a number of post-storm occasions, according to Allen.
"One of our customers had a 350 LX tied up behind his house and a storm surge went through and heaved the boat onto his pool deck, on its side." Allen continues, "Besides some minor gelcoat damage, the boat was fine. It looked like it had just been gently lifted up and set there," but it was obviously much more violent than that. Many more stories have come in through the years with similar outcomes. "After a serious storm, the owners are amazed by the strength of their Everglades boat —the damage is usually superficial with no gelcoat breach." Allen summarizes, "people are simply amazed by how well their Everglades weather the storm!"
These owner stories and testimonials bolster Everglades' claim of building an amazing, unsinkable boat. Each boat, once it is delivered to the customer, provides the new owner with a safe, comfortable, piece of equipment that rides great.
Bluewater Sales Professional Blake Tice speaks highly of the RAMCAP construction process but also focuses on the great ride once the completed boat is in the water. "The reverse chine keeps the water away from you, deflecting the spray. But it also allows the boat to bite into the water, which makes it very agile in turns and while you're underway." Tice also points out the tremendous build and finish of even their smallest boats like the 253CC: "The bilge area beneath the aft casting platform is huge and offers great access to all your electrical stuff, and everything is labeled and easy to get to." Tice concludes,
"Everglades does a really great job in the details."
"When a customer buys an Everglades they will always benefit from what they cannot see: the hull structure and the strength built into the RAMCAP construction," Allen explains. "The safety and security our boats offer is peace of mind, knowing that no matter what happens, you have a boat that will never hit the ocean floor."