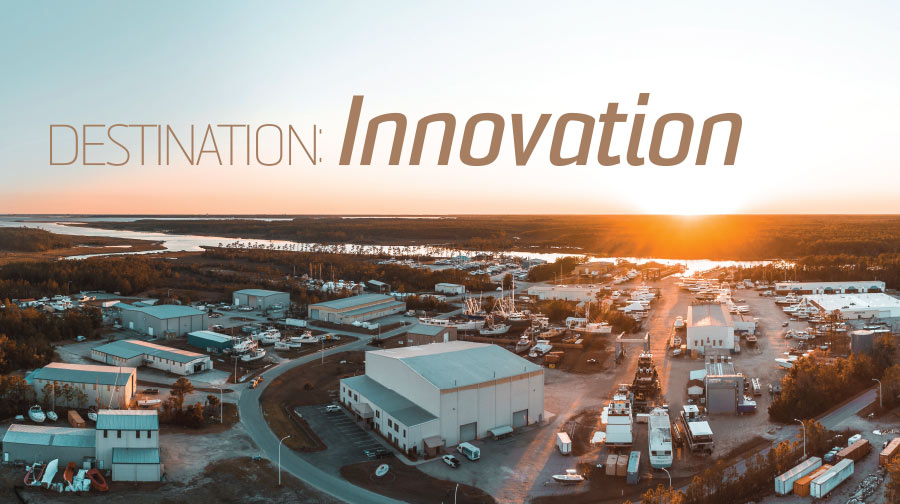 Jarrett Bay's Reputation for Excellence Benefits Customers of All Kinds
For a boating enthusiast, a trip to the Jarrett Bay facility could be likened to Charlie's first impression of Willy Wonka's chocolate factory. Traversing the grounds with eyes wide and jaw dropped, marveling at the grand scale and buzz of activity while the teams hover around their creations. Only here, the workers wield a variety of impressive tools and heavy machinery to turn wood, fiberglass, steel and more into highly valuable works of art.
On any given day at Jarrett Bay you can witness an incredible range of work; a superyacht being meticulously prepped for a full repaint; new engines being lowered into an elite sportfishing boat; or routine bottom jobs for center consoles on up to 300-ton commercial vessels. All are tended to with the same high purpose and attention to detail by the Jarrett Bay team.
Meanwhile, the design and engineering teams are conceptualizing their next resin-infused breakthrough. These ever-lasting creations—secret lay-ups of components that may include carbon fiber, foam, marine lumber, fiberglass or even Kevlar—bring advanced performance improvements to new construction and refit projects alike.
Getting Serious
Long known throughout the world as a premiere custom Carolina sportfish brand, Jarrett Bay has done some serious growing up over the years. Founded in 1986 to build a relatively modest 52-foot single-screw charter fishing boat, Jarrett Bay now encompasses a sprawling 175-acre campus accommodating every major marine service category.
From autopilots to zincs, the affiliates in the Jarrett Bay Marine Industrial Park in Beaufort, North Carolina can attend to your every boating need. Gregory Poole Cat, Performance Diesel (MAN) and Western Branch Diesel (MTU, Volvo Penta and Westerbeke) are on-site to have your engine maintenance and repowering needs covered. Since 2005, the Gregory Poole Cat Marine Center has been one of the most advanced modern facilities in the region, housing not only ultra-modern machine shop bays and technology training spaces, but also a parts distribution system featuring 24-hour support. Directly next door, and sharing a dock along the ICW, the Bluewater Yacht Sales office is perched with a view of the southern side of the haulout basin. Saddling the other side lies the Jarrett Bay Fuel Dock, Ship's Store and Crew Lounge. Jarrett Bay's VP of Development Ed Stack has overseen the upfitting of this crucial customer touch point and launched national marketing campaigns to ensure locals and ICW passers-by alike are aware of the variety of supplies, sundries and competitive bulk fuel rates available at Jarrett Bay.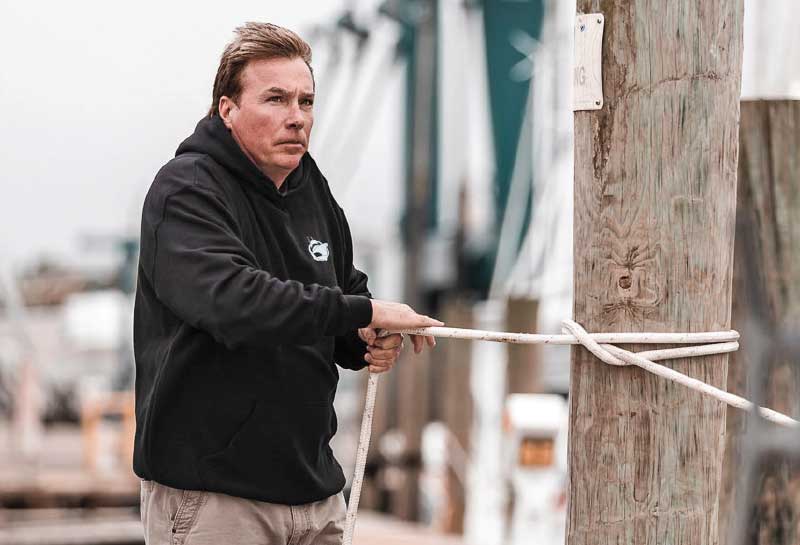 The message is clear; Jarrett Bay is much more than a boat builder or even service yard. Ship's Store Manager and Dock Master Bruce Connor now sets the tone for transients and regulars frequenting the fuel dock. "Bruce is the voice of Jarrett Bay on the VHF and is the first and last face our customers see when arriving or departing. Day or night, Bruce is always out there making it happen." acknowledges VP of Operations Tate Lawrence.
In recent years, Jarrett Bay has significantly expanded their workspace footprint as the anchor tenant of the Marine Park. By doing so, they've greatly increased the number of high bay, indoor service buildings, while also making room for new corporate offices and a comfortable crew lounge. The high bays facilitate both service and construction activities for large boats with massive towers and superstructures and the on-site lounge provides a respite for live-aboard captains and crews while keeping them within earshot of the repair action.
Another business that's been expanding in the park is East'ard Marine Supply, offering thousands of parts, tools and rental equipment for projects of all kinds. Working at Jarrett Bay in some capacity for 21 years, Purchasing Director Rich Melke oversees the operations. "We work hard every day to make sure the teams and contractors have the products they need to stay on the job and keep everyone's activities well-supplied and moving smoothly," he explains. "Something I've learned during my careers in the US Coast Guard and here at Jarrett Bay is how important the team around you is." Melke is just one of many long-tenured team members who help keep the pulse of the Marine Park beating at the perfect pace.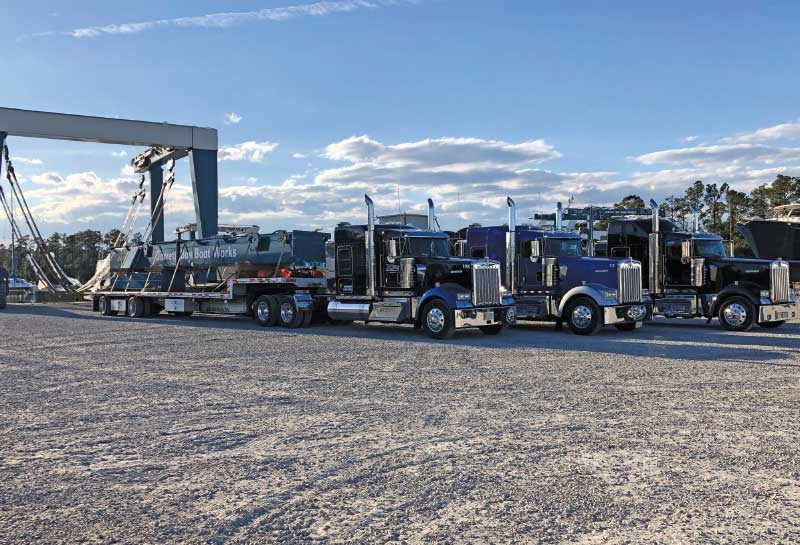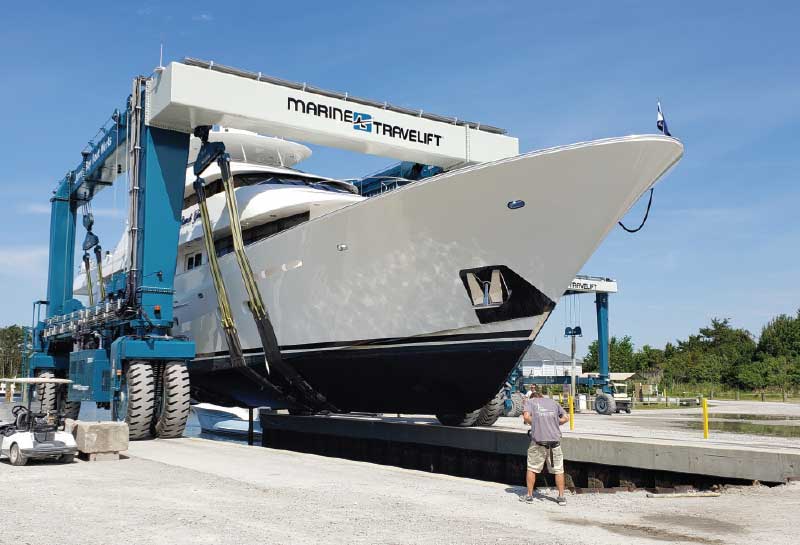 No Project Too Big
On any given day, you can see some very big boats being serviced at Jarrett Bay. Not only are they equipped to handcraft their own sportfish upwards of 84- and 90-feet, but the service yard often accommodates superyachts seeking either routine maintenance or more complex refits and repowers. One of the primary tools that recently upgraded Jarrett Bay's capabilities to serve these large vessels was the addition of a 300-ton Marine Travelift. Initially arriving as a convoy of giant steel parts, this big blue behemoth was assembled on-site in the span of a couple weeks and was online and operating by early Spring 2019.
This was a serious upgrade over the company's 220-ton lift and was instantly responsible for luring a new stream of larger service projects to Beaufort. Among the first haulouts were new luxury yacht customers and a series of large commercial fishing vessels—all who were now able to avoid longer trips to competing shipyards. Two Westport 130s, Beach Girl and Endless Summer both made quick use of the convenient Crystal Coast service stop-over on their way to their summer destinations. Project Manager Donnie Lee explains that Jarrett Bay's previous 220-ton lift could have handled the weight of these sleekly designed luxury yachts, but not the length and upper deck appendages. Besides having a longer frame to distribute the load, the new 300-ton lift is fashioned with a bolting flange that allows for easy changes to the hoisting configuration in order to meet a greater variety of hull and superstructure dimensions.
Shorter, tank-like steel commercial boats are like lead weights compared to the Westports' feathery fiberglass construction. The team at Jarrett Bay is skilled enough to accommodate either type of customer.
"I own eleven commercial fishing trawlers. The addition of the new 300-ton lift will enable me to use Jarrett Bay for my entire fleet,"
explains Chris Fulcher, owner of Fulcher's Point Pride Seafood. "We now have the option of performing needed work locally, instead of using a boatyard in Alabama. It is significant to me to keep this revenue in North Carolina."