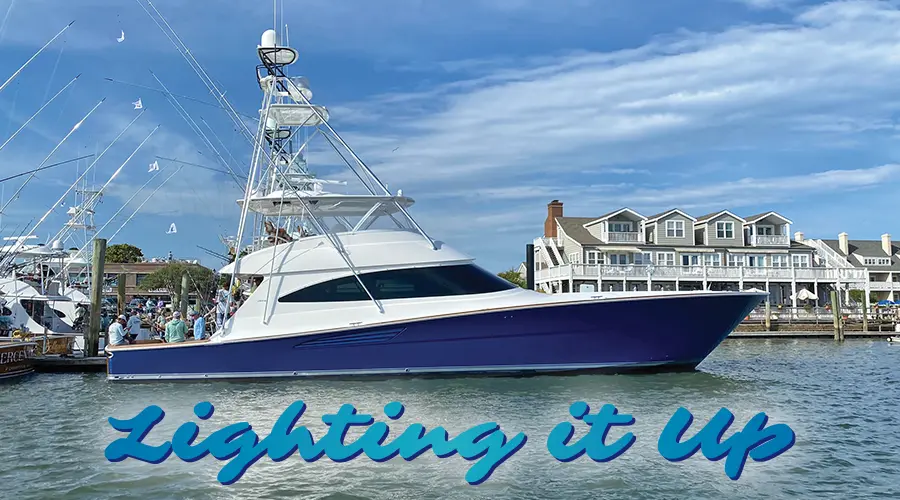 New Viking 72C, Safari, Immediately Impresses on the Tournament Trail
What happens when you've reached the apex of your sport, been through all the equipment you can imagine and fished most of the world's billfishing hot spots? What is there left to strive for? Well, there's always more fish in the sea to target, and sometimes a better boat to track them down in.
Robert McNeill has been fishing for big game most of his life, but is as excited as ever to keep on chasing after marlin. "We just have so much fun at it, whether it's going after blue marlin at home or striped marlin down in Cabo," he begins.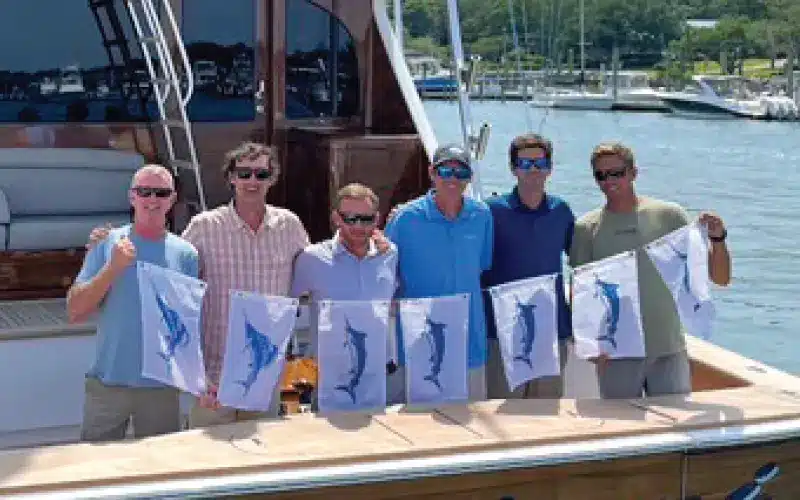 Robert and his father Sandy have also invested a considerable amount of their lives hunting, including taking many expeditions to Africa back in the day. That's how the name Safari became emblazoned upon a progression of boat transoms over the last 25-plus years. Based out of Wrightsville Beach, the family has owned several large sportfish convertibles over that time; boats from the finest manufacturers, both custom and production. While the brands have changed, the one constant has been their Sales Professional and friend, Clark Sneed of Bluewater Yacht Sales.
As far as active billfishing teams go, the McNeills have held onto their boats for relatively long stints. They fished their 68-footer for over ten years and have owned a Garlington 61 for almost as long. However, all good boats tend to trade hands eventually, and if you're lucky—the change comes along with some big upgrades. That's what happened when they took delivery of the latest Safari, a stunning custom Aristo Blue Viking 72C, in early 2022.
Between the overall seaworthiness and performance, to the game-changing technologies provided by the new stabilizer and sonar systems; both the McNeills and their Captain, Moon Crossman, are flat out raving about the Viking 72. "It's so fast and handles the seas so well, and with the gyro, if we need to go… we'll go!" exclaims Robert.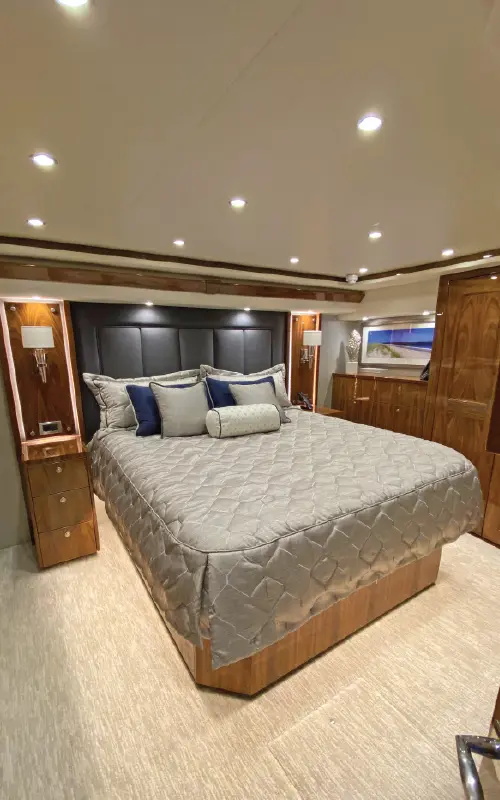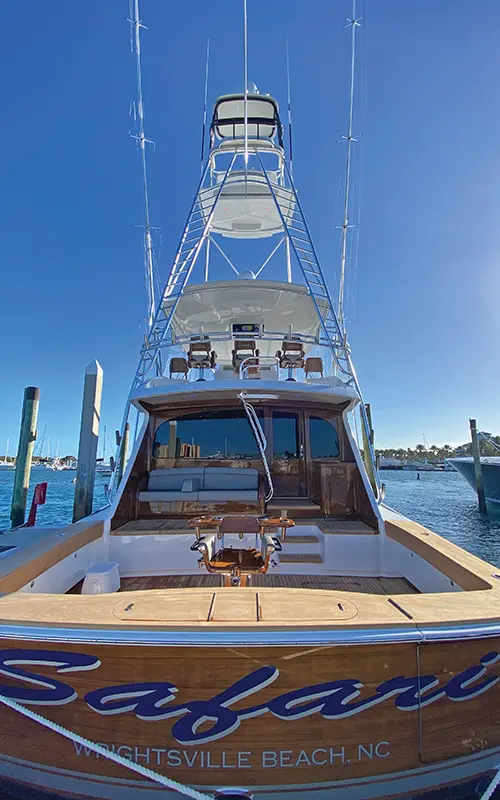 Getting Acquainted
Capt. Moon was hired midway through the Viking's build process, and recounts picking it up from the factory in New Jersey and bringing it to Florida. It was then outfitted with its Palm Beach Tower and electronics by Atlantic Marine Electronics, along with completing the final punch list at the Viking Service Center in Riviera Beach. "With the new MTUs and hull form, this boat can pick up and run, but still maneuvers great," he says.
The 16V MTU Series 2000 engines provide a whopping 2,635 horsepower each, and Crossman confirms that he can push the boat through just about anything Mother Ocean can throw at it. Moreover, the 72 seems to hit a real sweet spot in terms of being large enough to comfortably accommodate many anglers and guests while staying agile enough to effortlessly corral a fast-moving fish or challenging slip assignment.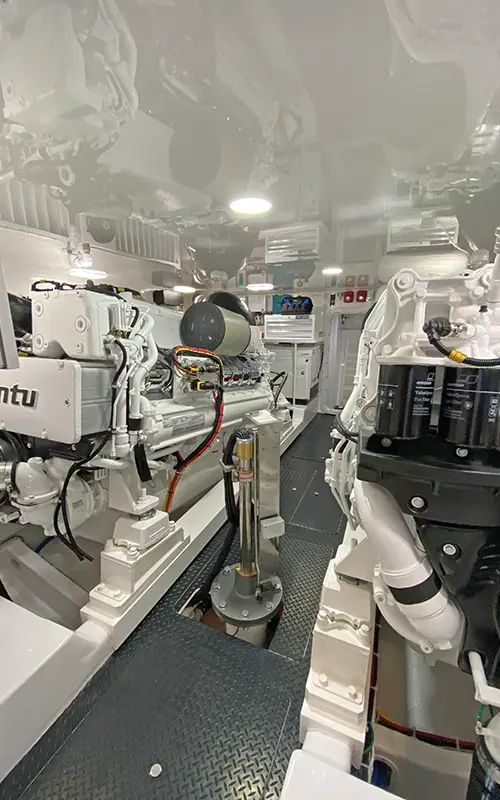 Both angler and captain are quick to bring up the "omni" which is short for omni-directional sonar, a relatively new tool not available in their older boats. "I can't imagine fishing without it now and really don't want to," says Robert. "I'm for anything that helps us have fun and catch more. It's incredible for getting on a mark and staying on it."
Expanding on the Seakeeper gyro-stabilizer, he says, "I've never had a problem with sea sickness, but the difference it makes is still incredible. I know Dad is way more comfortable." The gyro allows them to fish more days and longer hours, and include more family and friends than was ever possible before. For example, sharing an epic day of fishing during the 2022 Big Rock tournament with almost 20 people aboard! As many experienced anglers have pointed out, feeling it will make you a believer, and a stabilizer has become a must-have piece of equipment in any new build. Robert implores, "Would Viking even build a boat without one now?" It seems unlikely.
During the build process at Viking, Bluewater's Clark Sneed worked tirelessly as a conduit conveying wishes and updates between the family and the factory to outfit Safari. While his parents were involved with configuring the interior accommodations, color schemes and decor, Robert was most interested in spec'ing out the helm electronics, working directly with Chad Clarke of Atlantic Marine Electronics. "AME created a layout and then I moved a few things around wherever we wanted it, and thankfully Moon ended up liking it too. Anything we wanted to do, [Viking and AME] were willing to accommodate us," Robert says.
On the Hunt
After taking delivery in Palm Beach, the Safari team set out to "learn how it all worked," figuring out the new omni-directional sonar and perfecting their teamwork on the new boat while fishing in the Bahamas. "The Production vs. Custom Shootout was the first time we fished on it and we caught a blue, a couple whites, and sails," reports Robert. April gave way to May, when they entered the first Mid-Atlantic tournament, their hometown Cape Fear Blue Marlin Tournament. Getting this time together on the boat between anglers, Captain and mate was a great opportunity to find their groove, and they capitalized on it with a sensational run in the Big Rock Blue Marlin Tournament, capturing the Release division crown.
Robert explains this past season aboard their new Viking was easily the best of all the years he's fished, with at least 15 blue marlin released personally, and certainly the Safari team's best showing ever at the Big Rock. Overall, he says,
"the Viking is hard to beat,"
and points out that most owners' time is very precious. "Viking has the ability to pump boats out so much faster than anyone else and at such a high quality, I don't see how you can't go Viking. Plus, if you've ever spoken with [Viking CEO] Pat Healey, he is always responsive and remembers people's names, and I really appreciate that."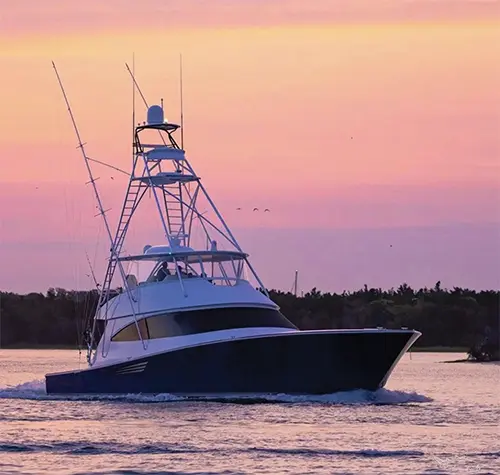 Having such a spectacular first season in their newest boat may be hard to top, but rest assured you'll be able to find the Safari team at many of the usual tournament stops this year, including the Cape Fear, Big Rock and likely the White Marlin Open, before turning their attention back to hunting in the fall.
From a broader perspective, perhaps the most exciting thing isn't just the accomplishments of Safari, but also that of other Viking 72s. Mercenaria and Sea I Sea are additional Bluewater customers enjoying great success with this model while fishing in the Mid-Atlantic and Caribbean. It seems the 72C throttled up with MTU's highest power rating, is becoming the platform of choice for many of Bluewater's premier sportfish customers.