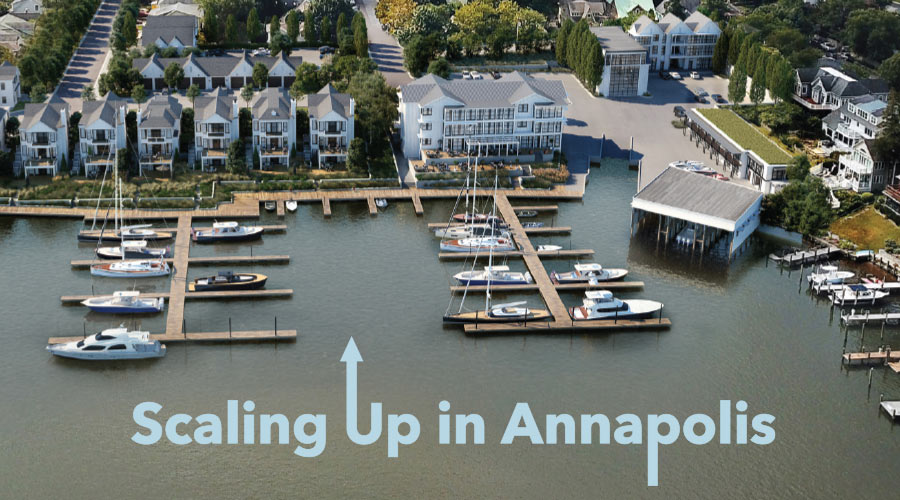 Reimagining Sales, Service & Support at the South Annapolis Yacht Centre and Marina Village
The Bluewater family of companies is excited about its newest endeavor in Maryland which includes a sales and service location in prestigious downtown Annapolis. Just a stones-throw from the U.S. Naval Academy, the South Annapolis Yachting Centre (SAYC) is in the heart of one of the most storied and esteemed communities on the Bay.
Following a fresh vision under new ownership, SAYC was searching for a strong partner for marine operations of their new facility. Bluewater's 53 years of yacht sales and service expertise throughout the Mid-Atlantic—providing customers with exceptional experiences in all aspects of boat ownership, from purchase to sale, service and full refits—proved to be an excellent fit for this new facility.
This new Annapolis location complements Bluewater's other Maryland offices in Baltimore and Ocean City and serves as an easy relocation from the previous Grasonville facility. For team members previously based out of Kent Island, re-opening in Annapolis simply meant moving their offices a few clicks west on Highway 50, into one of the most notable neighborhoods on the Chesapeake.
The newest TraveLift on the Upper Chesapeake
Most importantly, the location provides "a home base" for servicing Bluewater customers on the Upper Chesapeake. No longer will this customer base need to travel to Hampton, to have their boat serviced by the Bluewater team. The service and maintenance aspects at this new facility boast indoor/outdoor bays and storage, facilitated by a new 75-ton Marine Travelift operating on a deep-water haul-out basin. "This new Annapolis presence will enable us to provide concierge service to our sales clients while also offering service and support to all of our customers throughout the Chesapeake Bay area," explains Bluewater Partner Earle Hall.
The service operations are being led by Mike Waldow, an experienced yard manager with deep roots in Annapolis. Hall says, "Mike's customer service skills are beyond reproach, and we are delighted to have him."
The impressive new facility will also provide Bluewater the opportunity to promote many of their featured new model brands in the Mid-Atlantic's strongest market, including Regulator, Valhalla, Viking, Jarrett Bay and Princess. "Providing our signature Bluewater Service in Maryland and the Northern Chesapeake region, along with the world-class brands we represent is sure to be a game-changer for our company and the South Annapolis Yacht Centre," commented Bluewater General Manager, Wyatt Lane. Right away, Bluewater started introducing events at the location, including the "Annapolis Fall Preview" and a Grand Opening event showcasing new models from Viking, Regulator, Valhalla and more.
The sales team is enjoying an all-new office space within a new high-tech building that integrates environmentally conscious site design aimed at drastically improving the quality of stormwater runoff flowing into Spa Creek. In addition, the SAYC property features thousands of native trees, shrubs, grasses, and perennials that will bring new life to the site and reconnect it with the historic Spa Creek watershed in a positive way.
SAYC features over 70 slips, with metered electric up to 100 amps, freshwater hookups, and wireless internet service. The marina can accommodate yachts up to 135 feet in length while offering an average 12-foot water depth at the T-head docks. This location is considered the most protective yacht haven in the area, while providing quick access to Chesapeake Bay and the Severn River. Chandlery and grocery stores are nearby: the Eastport Shopping Plaza and many wonderful restaurants are well within walking distance and the area benefits from downtown Annapolis' first-class waterfront hotel and transportation amenities.
The Bluewater partners are excited to be operating the newest and most advanced facility in the area, in what Earle Hall calls a "boutique setting" in downtown Annapolis. In fact, it's always been part of their plan to better serve the Upper Chesapeake. He concludes, "this new facility allows us to be here for our customers the minute they have a need."