Sea I Sea Releases Their Way to Multiple Tournament Titles and a New Viking Convertible
In a field of 56 teams with over $467,000 in cash awards up for grabs, the 32nd Annual Pirate's Cove Billfish Tournament presented another over the top week of white marlin action and a tight finish among some of the leading boats on the circuit. The Viking 66, Sea I Sea owned by Bluewater friend and customer Don Mills and run by Captain Rob Mahoney held off the competition to achieve a first place win and a cool $175,400 by releasing 15 billfish overall. The victory was propelled by a flurry of activity on day 3, as the Sea I Sea team racked up the majority of their points in this single, exciting day of white marlin fishing and concluded with a forceful follow-through, releasing four blue marlin on the final day.
Although Swansboro, North Carolina locals, Don and Frances Mills have a home in Pirate's Cove and have been bringing their entire family to enjoy the festivities of tournament week for around 10 years. Their sons Bill and Brandon with their growing families continue to join them, the two of whom are constants in the cockpit of Sea I Sea—especially at tournament time. Frances and their daughters-in-law, Julie (Bill) and Juliana (Brandon) enjoy fishing as well and are Alice Kelly tournament veterans. As Don explains, the boat and fishing are very much a family affair, as is business with both sons working with him.
So the boat doubles as client entertainment in between both competitions and seeing to business affairs.
The crew aboard Sea I Sea last season included Captain Rob Mahoney, Mates Lucas Jolly and Tommy Farella and anglers, Don, Brandon and Bill Mills with Alex Peebles and Wells Hula. The first day of the tournament was met with strong winds and rough seas that kept all but three boats at the dock. With four fishing days total and only one lay day allotted for each team, it was clear the next three days of the tournament would see everyone wound tight—game faces in the morning and either humble or grateful at the pavilion by night.
Leading the Action
Day 2 of the tournament saw 53 teams on the water. Aboard Sea I Sea the fishing started a little slow but ended on a promising note with a double header of white marlin, good enough to feel they were in it. But it was Day 3 that really turned on, as the Sea I Sea crew released nine of the 104 billfish tallied by the fleet that day and catapulted them to the top of the leader board with 1,100 points. The several doubles that hit their baits kept them hopping and the excitement shot through the roof. Although an impressive day on the water, the battle wasn't over yet, as three teams trailed closely at this point, each with 900 points going into the final day of fishing. In order to maintain their lead, the team would need to be focused and driven—which is easier said than done after two consecutive days of hard-core fishing.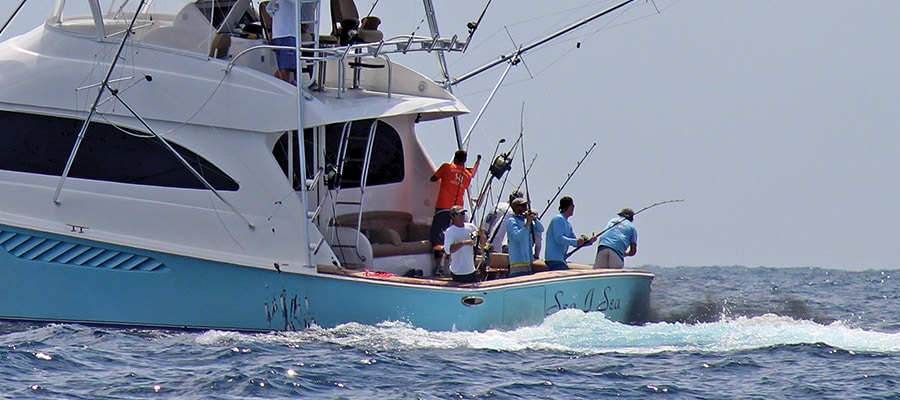 As owner Don Mills described, "our third (the fourth fishing day) and final day, we caught double blue marlin early and then it dried up. Rob moved later and just as we got our lines in the water we got another double of blue marlin!" When asked if the week created any stress he was quick to explain—"As for anxiety, I do not think any of us really had time to think about any of that. Rob never showed any anxiety and it reflected through to all of us. Everyone seemed to enjoy the week and each day was special. We all got along and just like when we are hosting clients, Rob had everything planned and organized." A couple of blue marlin double headers on top of a day of multiple double whites will definitely smooth you out during tournament week!
The expertise of the team led by Captain Rob and the skilled handiwork of the mates aboard Sea I Sea culminated in a solid margin of victory, winning the Pirate's Cove Billfish Tournament by 400 points. Mills recalls, "It was so exciting—words cannot express how we felt in that moment. I'm happy for my whole crew and Capt. Rob, they're all like family. We were just very blessed and fortunate." The Sea I Sea team persevered and fished their hardest each day, and it paid off in dividends and a major tournament title!
Don gives all the credit to his crew, as the start of 2015 saw a revitalization of their boating experience. Mills explains a recent transition had the family questioning the value and level of enjoyment and relaxation the boat brought to them. A big boat requires a larger commitment than many realize, and the crew is a key aspect of ensuring smooth operation, focusing on scheduling, maintenance, provisioning and practice. "We actually thought about selling, but fortunately stopped and realized we still enjoyed boating and needed to see if we could get back to enjoying the water as a family again. When Rob met with our family it clicked—like magic." After a season that included the big win at Pirate's Cove, they added the North Carolina Governor's Cup Championship to the notches racking up on their belt. The new program included a new level of organization, a heightened focus on tournament level practices and a fresh sense of hospitality whenever they and their guests set foot on their boat.
It was so exciting—words cannot express how we felt in that moment. I'm happy for my whole crew and Capt. Rob, they're all like family.
For the Future
2015 saw the Sea I Sea re-emerge from nearly quitting the scene to winning it, big time, and that caused a spark or two in Mill's mind. As his family grew, he'd felt the need for more room—and the last year demonstrated that there is more to owning a boat than just paying the bills. Recent experience demonstrated that with the right direction and crew, a bigger boat would not necessarily mean bigger problems. "I really wanted a larger cockpit and with our oldest grandson turning 5 this September, we felt that having a Seakeeper might make it easier to take him and the other grandchildren—as it should make it more comfortable for them to venture offshore," Mills explains. "We went to meet Captain Ryan [Higgins] to sea trial the Viking 70 and experience how the Seakeeper actually worked. It was everything that is said about them. It is a game changer!"
A new boat would be a 4th Viking for the Mills and the 3rd one that they have bought with Bluewater salesman Jud Black. "After we sea trialed the 70 with Don, I was pretty sure that he was going to make a move up, but the 70 gave Don some concerns—it wasn't quite the perfect fit with everything he and Rob had in mind," Jud explained. "Pat [Healey] kept urging us to come to the plant to talk about it. After all our years working with Viking, I was fairly confident they could accommodate," he chuckled, "they haven't let me down yet."

Pat Healey and Captain Ryan Higgins of Viking, along with Jud Black sat down with Don, Frances and Captain Rob Mahoney. What Pat revealed took them by surprise— still literally on the drawing board—was a brand new model, unveiled as a 72' convertible. After much discussion and dissemination, the Mills were convinced this would be the boat they wanted and committed before they left the factory. "Rob has been up to the factory several times, working diligently with project manager [Keith Monahan] over-seeing our build. Rob is very specific on what he wants and Viking has really worked great with us. We've made a lot of changes to make this a very special boat for us," states Don. "We are all so excited. The tough thing is having to wait!" Jud reports that he and Bluewater already have a sale pending on the 66' Sea I Sea, and with the team anticipating the delivery of the 72 in late Fall, they'll be fishing the 2016 season on another boatarranged by Capt. Rob. The plans for 2017 are already on the table according to Don, "We will take the new boat back to Florida next January and then hopefully to Mexico to do some fishing—as well as any other special trips Rob comes up with!" Just keep an eye out where ever the billfish are biting, and you might see the new Sea I Sea.