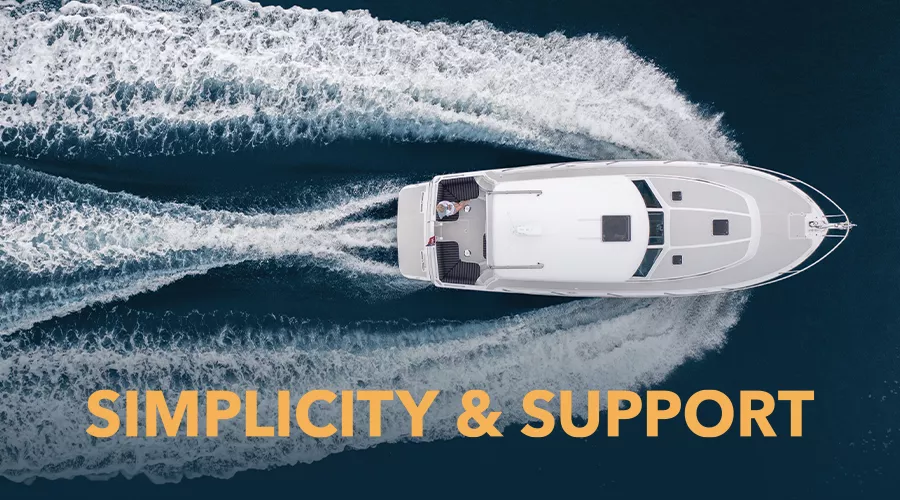 Back Cove Focuses on Pleasing their Customers with Top Performing Models
Franklin D. Roosevelt is credited with pointing out, "A smooth sea never made a skilled sailor." As the past few years have proven, we have many skilled sailors in our midst, including the boat building experts at Back Cove Yachts. While weathering the uncertain forecasts of the economy, supplies and inflation, the Back Cove team battened down and made deliberate choices to ensure their model offerings remained precise and of the highest quality in order to continue exceeding customers' expectations.
Four years have passed since Back Cove unveiled plans for their first-ever outboard-powered boat, the 34O (where 'O' is for Outboard). Met with high demand and resulting praise, it was clear this new model, riding on an all-new hull form, had hit on a winning formula. The in-house design and engineering team at Back Cove did not make us wait long for a larger follow-up model: the 39O. With horsepower figures reaching 1,200 and top speeds of 44 knots, Back Cove reinvented expectations for Downeast style boats.
These new models have endured a backlog of orders while enjoying rave reviews at boat shows and local marinas, including the 39O being honored with the People's Choice Award at the Newport International Boat Show. With power options from Mercury, Yamaha and Suzuki and loads of features and amenities included, Back Cove has made it easy for customers to order their perfect version of the new outboard line.
Choppy Seas
As demand and excitement continued for both the outboard lineup and Back Cove's inboard diesel models, the global pandemic created a moment of pause for the company and the marine industry as a whole. Initial reactions could not have forecasted the sudden increase in demand for boating, nor the material and labor shortages that followed. With raw materials, components and labor all in short supply, Back Cove realized that in order to maintain the quality and workmanship of their product, they would need to pare down their model offerings, and are now producing just four models. This would ensure they could continue best serving the customer while navigating current supply and labor constraints.
Kevin Burns, VP of Design and Product Development at Back Cove and sister company Sabre Yachts helps shed additional light on these behind-the-scene issues from the boat builder's perspective, "It feels as if we are in a race to see what can be more disruptive: having the personnel or having the parts for the personnel to assemble the items." Burns explains how the supply chain has become full of holes for so many products, big and small. Every material and component has been affected, from engines and seats, down to fittings, stainless steel hardware, resin and even caulk. Shortages and shipping delays are commonplace for raw materials like resin, fiberglass laminate and coring materials.
"The perception in the market is that these issues were a 2020 and 2021 problem, but that problem has not been alleviated," Burns explains. "Availability of parts and laborers have not improved at all and arguably has become the worst it has been over the last two years." Another misperception has possibly arisen due to end users seeing prices on retail goods like cars and boats increase, and their assumption is that manufacturers are taking advantage of the fluctuations by simply jacking up prices. However, consumers must realize that the supply chain issues are compounded by inflation, fuel and transport price increases across the board. Inevitably, these price increases must be passed to the consumer for a manufacturer to remain profitable.
Doing it Right
Boat builders have been placed in a particularly difficult situation by the increases in material costs due to the length of the sales and construction process. In short, new boats that were contracted a year ago at a specific price cannot be built for that same price today.
Burns concludes,
"Supporting our customers and our dealer networks in every way we can is the top priority right now."
An order backlog is nothing new for Back Cove products. Dealers and owners understand that demand must be balanced with maintaining the highest quality and handcrafted details of each Back Cove model built. Unfortunately, the increase in demand has been coupled with a reduction in both the labor force and availability of components required to build a boat. This resulted in Back Cove making strategic decisions to maintain production levels including their current four boat model availability. Back Cove shipwrights and craftspeople continue with the same passion and dedication that has driven Back Cove through nearly two decades and over 1,000 hulls.
"We are putting a tremendous amount of effort into navigating this while still delivering the best boat possible." Burns continues, "It is important for our owners to know that the reason why they're going through Bluewater Yacht Sales to purchase a product like Back Cove is because they are able to have confidence that they are the top focus, and their boat is the top focus."
Perhaps the most potent formula for success at Back Cove is their unrelenting pursuit of providing the best boating experience for every owner. This is Bluewater's passion and top priority and easily explains why our relationship with Back Cove has remained in lockstep throughout the years. And, as for the current issues we face, Burns concludes, "Something's gotta give but it will never be the boat."
New Models from Back Cove Yachts