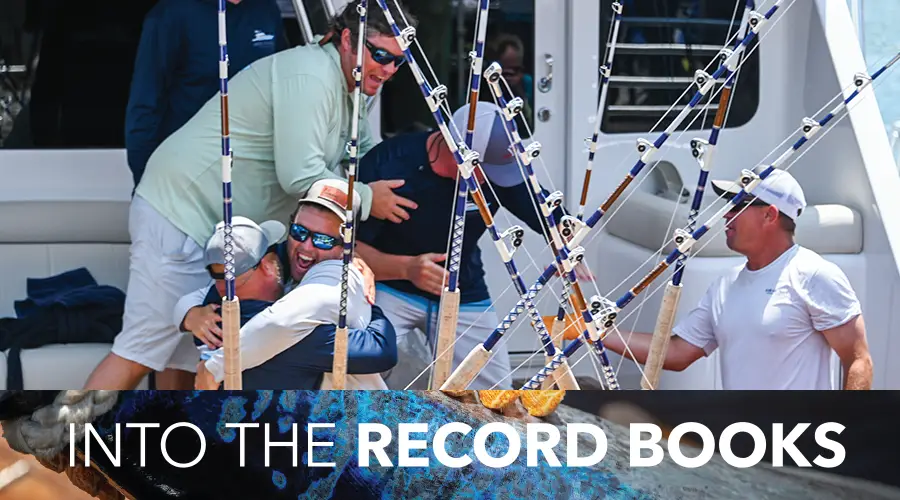 Bluewater Customers Claim One of the World's Largest Tournament Payouts Ever
With a colorful history of over 60 years, the Big Rock Blue Marlin Tournament has had more than its share of excitement, huge crowds and massive fish. Held every year in early June in Morehead City, NC, the Big Rock regularly draws America's top billfishing teams and is watched by spectators around the world. The week-long tournament offers prizes for the heaviest blue marlin and other gamefish weighed, total billfish release points, daily pots, and a variety of other payouts.
Some have called the Big Rock the 'Super Bowl of fishing,' and that may be an apt description in terms of the huge crowds and global attention the event garners. But unlike playoff football, the week starts off with the tournament completely up for grabs by an enormous field of teams. Sure, experience, skill, luck, equipment and teamwork come into play, but moreso than perhaps any other sport, an amateur greenhorn could be just as likely to reel in the winning fish as a lifelong veteran in another boat nearby. Granted, the caliber of the boats, equipment and their crews play a big part in any success, it's not entirely dumb luck.
While none of the fish weighed during the week came close to the tournament record 914-pound blue marlin caught back in 2019, this 64th edition of the tournament completely shattered records in other ways. With an incredible 266 teams and over 1,500 anglers entered, the total available purse of payouts soared to $5,858,875 this year.
2022 Big Rock Blue Marlin Tournament
New Boats, New Accomplishments
Enter the Mercenaria, with experienced owners on their second or third Viking sportfish, and aided by Bluewater's Scott James in a series of transactions. Having taken delivery of their new 72C in Spring of 2021, Capt. Neil Sykes and the Mercenaria crew had plenty of long-range fishing trips to fulfill, but perhaps never could have imagined winning the Big Rock in such short order.
Mercenaria at the 2022 Big Rock Blue Marlin Tournament
As has happened in the majority of recent Big Rock tournaments, Monday, the first day of fishing, was packed with hook-up activity, boated fish and spectator anticipation, as the field of teams scrambled to bring in the first big fish and lock-in a guaranteed check in the "Fabulous Fisherman" division.
Angler Matthew Brown told Big Rock TV that day, "It was a slow beginning, but before long I heard, 'Matt, you're up!'" Captain Neil Sykes described the fight and the rest of the experience, "The fish ate a plug on the left short, it was a pretty bite. Then it took off jumping away from the boat before taking a u-turn and greyhounding towards us. I had to push up the throttle to get away before it put too much belly in the line. After all that jumping, I think it just wore itself out. Fifteen minutes later we had it next to the boat and it just laid there to give us a good look and an easy gaff shot." The tournament has minimum weight and length rules for qualifying fish, so becoming skilled in quickly sizing up a fish at boatside is essential, but still nerve-racking. "When it was jumping I didn't think it was big enough, but when it rolled over next to the boat I could see it was short, but really fat. I was more nervous on the ride home, staring at it, hoping it was over five-hundred."
Mercifully, the MTU-powered Mercenaria made that trip to the scales more quickly than most of the fleet could have. By 2:04pm they had weighed in their blue marlin at a respectable 572.6 pounds and set the bar for the rest of the tournament. Having entered the Fabulous Fisherman division, and in bringing the first blue marlin over 500 pounds to the scales, Mercenaria had just ensured themselves at least $777,750 in guaranteed prize money.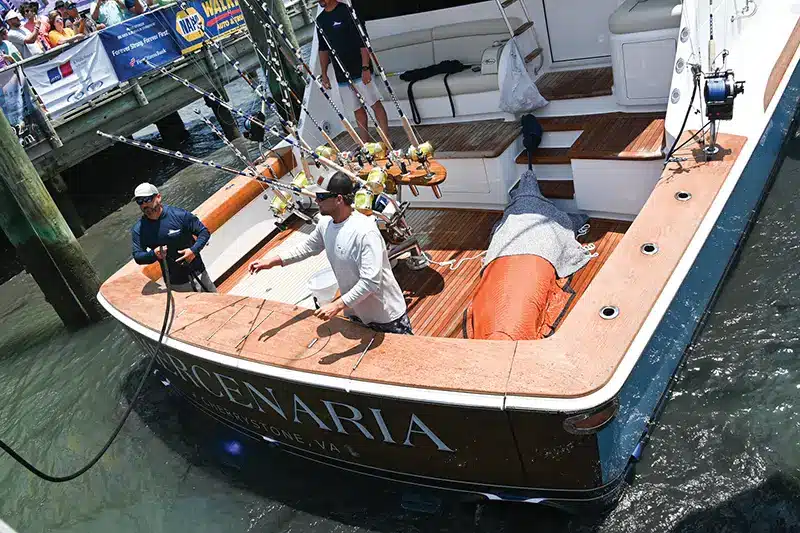 Then the team's exhilaration quickly turned to tension, as they waited through five more days of fishing to see if anyone could manage to leapfrog them on the leaderboard. "I was stoked we won the Fabulous Fisherman prize, but had little hope that the fish would hold 1st place all week. That's a decent fish, but not a giant and we were fishing against the best in the game," explained Sykes. That provided the mindset for the team the rest of the week–focus on themselves and go out and try to catch a bigger one–just like everyone else was trying to do.
Over the course of that Monday afternoon and in the coming days, several more blue marlin were weighed. And each time, the Mercenaria team and their supporters sat on pins and needles as the boats would run in from offshore and hoist their fish. Ultimately, they were able to breathe a sigh of relief each time, as the scale was read out to the eager crowd at Big Rock Landing—no one brought in a bigger blue marlin the rest of the week, and Mercenaria won a total payout of a whopping $3,489,813—the second largest individual billfish tournament payout in history and certainly the largest for the Big Rock. Sykes added, "I'm so glad it hung on all week and super happy for my boss and crew, they all deserved it!"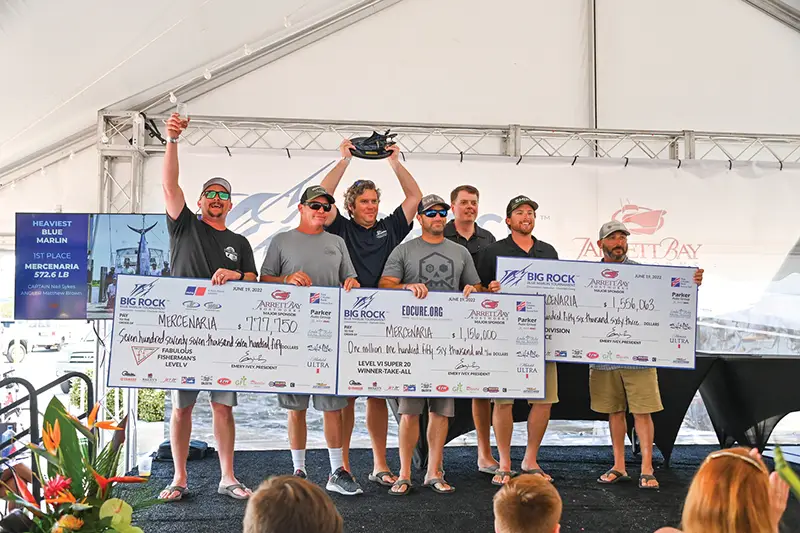 Mercenaria wins a total payout of a whopping $3,489,813—the second largest individual billfish tournament payout in history
Sistership Success
Luck, timing and skill all come into play to win the heaviest marlin prize in the Big Rock. But categories for billfish release points are arguably the most competitive. The release division typically becomes a showdown between the top teams with vast amounts of experience fishing together, along with the hottest hour-to-hour knowledge of where the bite is most dependable. Range, speed, coordination and communication are essential to reeling in and releasing the greatest number of blue marlin, white marlin and sailfish over the course of the week.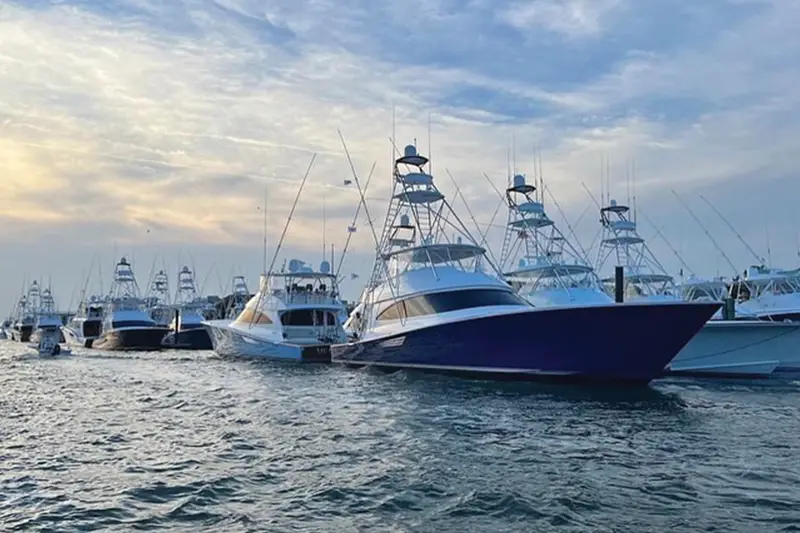 Sitting Pretty: Mercenaria & Safari even shared
the same dock during Big Rock
Coincidentally, another new Viking 72, Safari, owned by long-time Bluewater customers did just that—winning the billfish release category in 2022. Anglers Robert McNeill and Brett Goulding finished the week with a 650 point lead over the next two boats and walked away with another sizable chunk of that record purse—what amounted to $111,562.50 for their hard work.
Robert McNeill guesses he's fished over twenty Big Rock tournaments by now, doing so in nearly a half-dozen sportfish convertibles sold to his family by Bluewater Sales Professional Clark Sneed. All of Safari's experience fishing together certainly was on display, as was their beautiful new 72C, and they deserve every accolade!
Safari Captain "Moon" Crossman admitted there might be something special about these Viking 72s… "The fishability is great for a bigger boat. It can pick up and run, but also maneuvers great. The New MTUs have no delay. While wheeling around and backing down on a fish, it has incredible responsiveness," he explains.
The 72C also seems to have good harmonics, essential in not spooking any fish away. Particularly during the Big Rock, the Captain recounts seeing fish everywhere, "the sides, corner, all over…" and raved about the sonar, but says that's not what helped them find the fish; it's still all about locating that different patch of water along a break. McNeill interjected about the importance of the omnidirectional sonar, pointing out that once you find the good water holding fish, the sonar is key in helping to stay on top of them while trying to lure a bite.
Omnidirectional Sonar
Not Your Average Fish Finder
So what's with these "non-sonar" categories anyway?
Over just the last few years fish finder and chart plotting technology have evolved greatly in abilities and sophistication. No longer are hull-mounted ping transducers considered the best tech by Captains and owners; now boats are being built and retrofitted with telescoping sonar equipment that can sense fish in 360° at up to 5,000 feet away!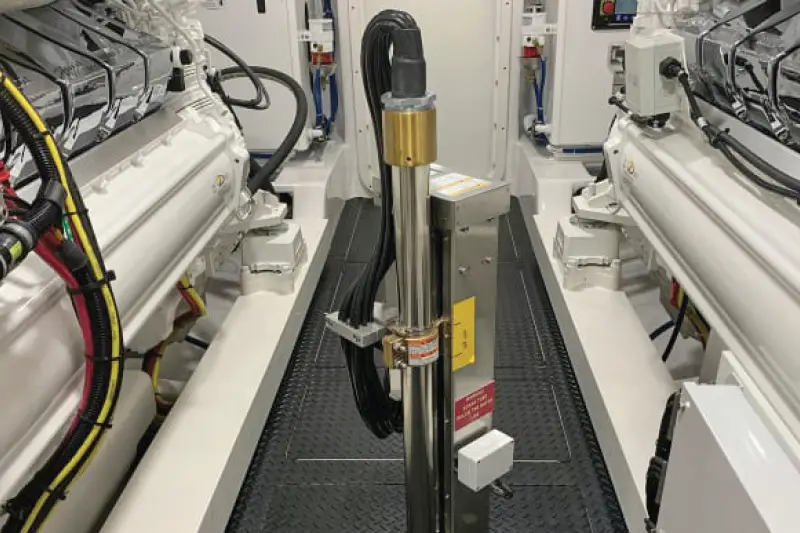 Think of it as the reverse of a submarine periscope; a large tube is installed vertically along the centerline of the hull bottom, which allows for the omni-sonar equipment to deploy 4-5 feet under the boat when looking for fish, and retract back up out of the way when not in use. This ability to extend down completely clear of hull forms and running gear is what allows for a full range of view, and Captains even have the ability to direct and focus the beam in specific directions for improved pickup.
Now considered a not-so-secret weapon by many, omnidirectional sonar has been so transformative that the Big Rock and other tournaments have selected to award divisions separately based on which boats are and aren't using the technology.
"On Monday we were marking a lot of fish, but not catching any. We started questioning the spread, and everything we were doing," recounted McNeill. Next they took two lay days and then returned to fishing on Thursday with a full boat: upwards of 17-18 family and friends aboard! Crossman described fishing an entirely different area than Monday, "I spotted something just a little bit different, with barely any other boats around, and knew that was it. We picked up a little sailfish right away and then a blue marlin. Before we knew it, we had our second and third marlin caught and released without even getting the teasers back in the water." They won the daily prize and chalked up a great day of blue marlin fishing with all those friends and family involved.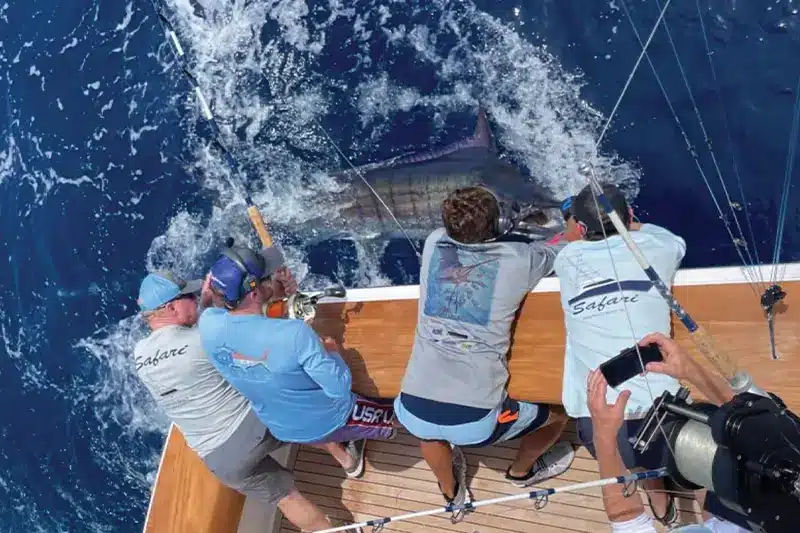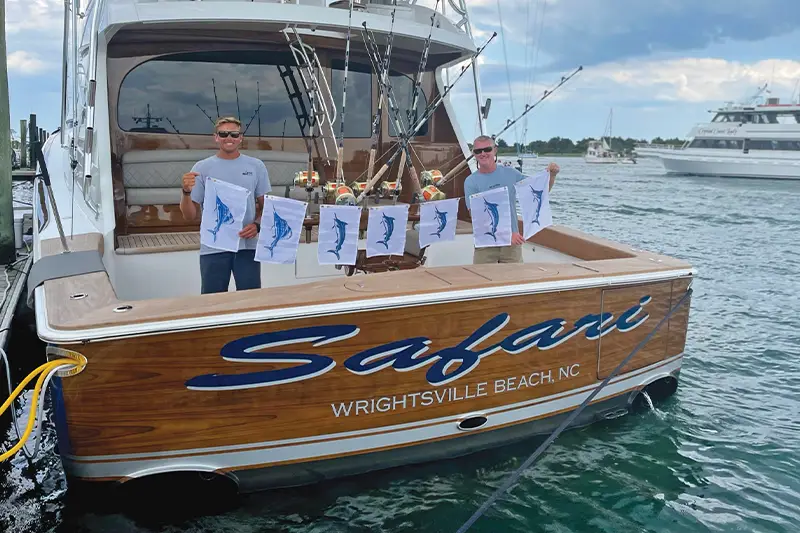 "I don't think we missed a fish. We caught everything we saw!"
McNeill agreed that the team and the boat were dialed in like never before. In over twenty years of big game fishing, he's never had such a great season of blue marlin fishing off North Carolina, and winning the Big Rock release division certainly marked Safari's best showing yet.
But Wait, There's More!
Additionally, Bluewater customers and friends aboard the Roshambo, Mack 900 and Sea Toy all managed to notch daily jackpots for their feats in releasing the first billfish on 4 out of 6 days. The Jarrett Bay Marlin Fever also placed 2nd (on time) in the non-sonar release category, and had the Junior Angler Release champion, Henry Daniel.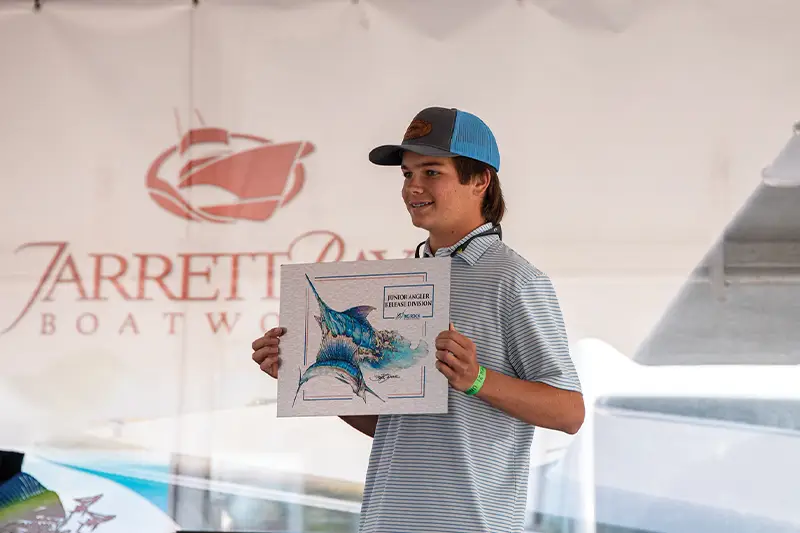 Mercenaria, Safari, Fender Bender, Viking 62 Demo, Inspiration, Chainlink, Sea Striker… the list goes on and on of Bluewater customers who have made history with big winnings in the Big Rock Blue Marlin Tournament over the years. The Bluewater team is incredibly excited for our customers to be rewarded for all their efforts in rising to the top of the billfish tournament world, and we'll proudly keep doing our part to help them stay there!