Jarrett Bay 70 an Ideal Test Bed for New High Horsepower Engines
Powering large sportfish vessels to higher speeds has long been a balancing act between horsepower and weight. Put simply, when adding more horsepower via increasing the number or size of combustion cylinders, the size and weight of the engine increase too. Thus, one of the many challenges of engine development for this segment is to endeavor in packing more power into smaller packages. New high horsepower engines have been developed that answer to the challenge of more power with less weight and bulk.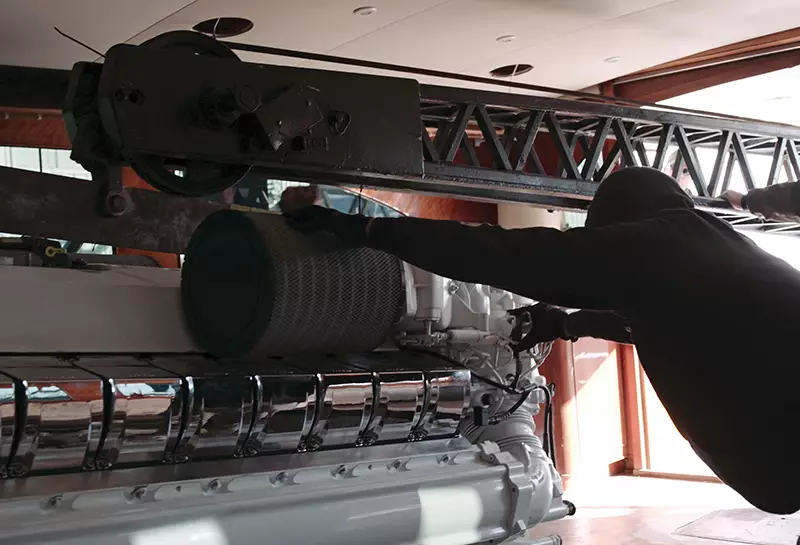 Caterpillar Marine has been working to deliver on just that with the development of their new "B" series of recreational marine engines. "The C32B is a major evolution of the venerable C32, which has been in the industry for quite some time, especially around yachting. Through a number of modifications and improvements, such as the air system, strengthening of the block, modified pistons and more, we've now got 2400 horsepower," explains Caterpillar's Charlson Smith. Formerly, Cat's highest rated pleasurecraft engine was 1925 mhp—a V12 going up against competitors' larger (and heavier) 16-cylinder products for the bragging rights of powering sportfishing's largest yachts.
To follow through on the years of development of the B series power systems back at Cat headquarters in Germany, the company invested heavily into testing and demonstrating their new C32B engines to the U.S. marine market. Jarrett Bay custom hull number 48, a 70-footer, was one of the first boats in North America to be chosen for this demo program, and was the first repowered boat to hit the water with the new power plants in 2021.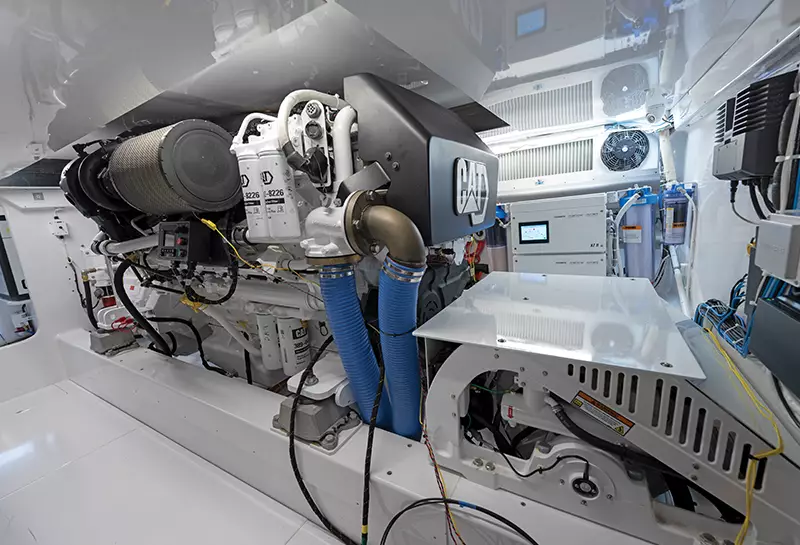 Going from 16- to 12-Cylinder engines allowed
for space to install twin gyro stabilizers
A Perfect Platform
"What's unique about hull 48 is it was originally built [launched in 2006] as a test platform for another engine manufacturer," explains Jarrett Bay Engineer Peyton Lanier. In fact, it was the first boat and hull form the company was able to send overseas to the MARIN laboratory in the Netherlands to be tank tested. "This is really awesome because we get to take the data from the original engine manufacturer's test platform, and compare it with the C32Bs," says Lanier. Smith and his colleagues at Caterpillar wholeheartedly agree, "We found it fitting when the C32B was ready for tests, that we would have this particular 70-foot Jarrett Bay to test out our own 2400 horsepower engines."
Caterpillar's documentation states that these engines are more powerful, quieter, and feature new long-life filter technologies, all while fitting into the same general footprint as the prior C32 models.
Despite the C32Bs being designed to be a drop-in replacement and ideal repower solution, there is still a lot of work that goes into these repower projects. When considering a repower, especially one that adds more horsepower, there are a plethora of items to be considered, including everything connected to the engine. In a nutshell, more horsepower likely means different back-pressures and thus exhaust, plus stronger shafts, struts, tubes, and bearings. Basically, most of the running gear, including propellers and rudders, are going to be beefed up or updated, and that can take a considerable amount of mechanical modifications in that area of the hull bottom.
Of course, every modern engine also relies on new technology and updated electronics—the wiring, control modules, and auxiliary systems are all replaced and likely have different footprints and wire chases to plan out. From the engine room to control stations and down to multifunction displays used to interact with the engines, all the equipment is new and their connections need to be reconfigured and perhaps rerouted.
The repower of hull 48 was carried out at Safe Harbor Jarrett Bay in Beaufort, North Carolina throughout 2021 and even showcased in a three-part series of their award-winning YouTube video series, the Jarrett Bay Insider. Despite supply and shipping delays affecting the original completion goal, the new Iron Leader debuted in the Fall to rave reviews and over 135,000 YouTube views! "We are really looking forward to this upcoming fishing season and using her through the winter too, just accruing more hours and making this product just as good as it can be," says Smith.
"Working on this project with Jarrett Bay, Caterpillar and Gregory Poole­, the partnership between all three organizations has really been great,"
says Jamie MacDonald of Gregory Poole Marine. "When we inherited the boat with the previous competitor's engines, we did an exhaustive sea trial, testing and a lot of data collection. We took noise levels, smoke levels, performance for acceleration, overall top end speed, and had a baseline set for the existing boat and then did a similar process with the C32B. And with that we have some very good comparison data."
By all accounts, the performance testing and extensive sea trials confirmed everyone's expectations for the C32B to make the boat both faster and quieter. "What we noticed once the boat was repowered with the C32Bs was three things really: One, a significant increase in the top end speed. Two, drastic reduction in the smoke levels and namely around acceleration. And three, she became a much quieter boat," Smith summarizes.
He also details the added benefits of packing this power into a smaller package, "Dropping down from a V16 to a shorter V12, we've unlocked not only a lot of weight savings but also a considerable amount of space savings, so that allowed us to install two gyroscopic stabilizers ahead of the C32Bs. So now not only do we have great power, it's quiet, but we've got a very stable boat, a great fishing platform. So, for the fishermen that will be in this cockpit, it's a far more pleasant experience." And that's exactly what it's all about for our partners at
Jarrett Bay
and
Gregory Poole Marine Power
—and something you can't easily quantify in numbers—creating a great fishing platform and continually providing better experiences for our customers.
Look for Iron Leader on the 2022 East Coast Tournament Circuit this Summer.